Dave Lewis: "When Belarus Ice Hockey Federation found me, I thought of Ruslan Salei"
New coach of Belarusian ice hockey national team holds his press conference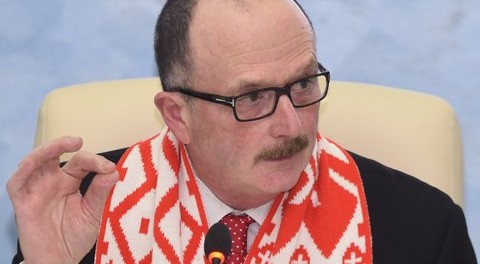 Belarus Ice Hockey Federation's President Igor Rachkovskiy signed a contract with Dave Lewis, a new head coach of the Belarusian national ice hockey team in Belarus Olympic Committee's residence. After that both men had a press-conference. The journalists got the information about the contract's conditions, the plans for the next Olympic season and about the main team's problems.
Here it is the Belarusian national ice hockey team members for December 15-21 training camp:
Goaltenders: Stepan Goryachevskikh (HC Ugra), Igor Brikun (HC Gomel), Mihail Karnauhov (HC Dinamo-Shinnik).
Defenses: Andrey Antonov (HC Avtomobilist), Vladimir Denisov (HC Ak Bars), Oleg Goroshko, Eugene Lisovets, Eugene Nogachyov, Ilya Shinkevich (all — HC Dinamo Minsk), Dmitry Korobov (HC Atlant), Nikolai Stasenko (HC Severstal).
Forwards: Vyacheslav Andryuschenko (HC Neftehimik), Sergei Drozd, Artur Gavrus, Alexandr Kulakov, Pavel Razvadovskii Andrey Stepanov (all — HC Dinamo Minsk), Artyom Kislyi (HC Toros), Andrey Kostitsyn (HC Sochi), Evgeni Kovyrshin (HC Severstal), Andrey Stas (HC CSKA), Aleksey Efimenko (HC Sibir), Artyom Volkov (HC Avangard).
The journalists were mostly interested in the details of cooperation with the Canadian specialist.
Igor Anatolyevich, would you comment on the contract's period and details…
– We plan to cooperate with Dave during the whole Olympic cycle (till the Olympic Games-2018). But at the moment the contract is valid until the end of the season, i.e. until May, 31st. It was not our offer. Lewis said honestly, that he wouldn't accept any other hockey clubs' offers. But being a professional he wants to demonstrate his working abilities, he wants to show his best being the national team head coach. As for the salary, it's not higher than Glen Hanlon's was.
Is there set a strict number of days the coach should spend in Belarus?
– The final contract's conditions, proposed by Dave Lewis's agent turned to be acceptable. Moreover, frankly speaking, they were more acceptable than those proposed by Hanlon and Krikunov. It's evident that Dave understood us. He understood that no one could ignore the result. The previous day we discussed thoroughly our goals. In particular, we plan to get the World Ice Hockey Championships bronze medals in 2015-2016, and in 2017-2018 we are to be the finalists. Generally, Lewis got the point – we should stick to the highest priorities. The federation, in its turn, provides the specialist with living and insurance and with tickets for him and his accompanying people.
What does "to show the best" mean?
– Lewis agreed to work till 2018. He wants to show his professionalism, his methods of coaching, he doesn't want us to make hasty decisions. I highlight, we don't intend to be on wires and to change coaches every half a year. We need a systematic approach, that's why we thank the Canadian for having accepted our offer. We met Lewis the previous day and had been talking all day long. And I was surprised by Dave's detailed preparation for the conversation. Our opinions about the main tasks coincide at 99%. He understands that it is a must to get down to work immediately.
Is he going to work only with the national team?
– No. Dave will help us to elaborate the general program, the youth hockey development included. It's indispensable to start from coaching staff. Lewis is ready for that.
Why Kalyuzhny, Meleshko и Platt are not the members of the December training camp?
– They have their personal problems. For instance, Aleksey has to attend a medical examination. But despite that, being the team captain and the acknowledged leader, he will go to Switzerland by all means. It proves that the team is the family. Kalyuzhny had a chance to have a rest, but he decided to join the team.
Is Andrey Mezin a candidate for the goaltenders' coaching?
– Everyone is a candidate. Today Aleksey Shcheblanov occupies this post. However, I have no a right to
interfere in the head coach's work. Of course, the federation can determine some rules and give an opinion, but it's Dave who makes final decisions.
A Canadian Dave Lewis, a new Belarus national ice hockey team head coach, says the following:
– I want to thank Belarus Ice Hockey Federation for having found me. I was really surprised by the offer to become the head coach. I'm ready to share experience with other team coaches and young players. I'll help everyone who needs that. I'm going to see youth players' matches.
Who will be your assistants in Switzerland?
– Andrey Kovalyov, Oleg Antonenko and Aleksandr Zhurik. Of course I should have a closer look at them. Probably next time other people will assist me. It also may happen before the upcoming World Championships. We can expect some coach staff changes.
Dave, is it possible that you will head a club from the National Hockey League, for instance?
– No. I am fully concentrated on the Belarusian national team. I had worked in The Detroit Red Wings for 18 years, and there isn't any possibility of the contract renewal.
What are your fresh memories of the working experience with our national team?
– I remember that when I was leaving, Ruslan Salei called me. It happened some days before the Olympic Games. Rasti is still in my phone book. And when the federation called me, my first thought was about him. Ruslan was a great player with a big heart. After the crucial loss to Switzerland he tapped on my shoulder and said: don't worry, let's have some beer and a pair of chicken wings. I was surprised because as a rule, hockey players tend to talk in a narrow cycle after failures. Generally, I have only positive memories of my work in Belarus.
During your career you dealt with many great players. Who is an example of professionalism, in your opinion?
– Yzerman, Lidstrom, Fetisov, Larionov, Hasek. I would like to talk one more time about Aleksandr Salei. He's really a Big Man. Every time he fell he got up. He trusted his teammates, they did the same. By the way, it's highly important. There are no little things in the sports of high results. We should do everything for the team's benefit. Coaches, players, massage therapist, managers – everyone should think the same.
I have been examining the World Championships team's results for two weeks and came to the conclusion that they have problems with unequal games. For instance, this year the power play teams became only the 15th in the World Championships, in 2013 – the 16th and in 2012 – again the 15th. As for the short-handed games, in 2014 Belarus finished in the 13th place, in 2013 – in the 14th and in 2012 – in the first place. And one more thing, "goals for and against" statistics is the following: in 2014 – 20:20, in 2013 – 10:21, in 2012 – 11:23. This numbers are essential, and surely they will be taken into consideration.
Which Belarusian hockey players do you know?
– I know Mikhail Grabovski. He's a wonderful player. I would call him one of the best hockey players in the world. Of course I know the Kostitsyns, Antonov, Stas. Yesterday I followed Aleksey Kalyuzhny's actions in HC Dinamo.
From outside it seems strange that you left NHL and started working so far from your motherland…
– My wife supports me, but I doubt whether my 16-months-old grandson realizes what's happening. Life is unexpected. There are certain reasons why I'm here.
What are the team's drawbacks from your point of view?
– Before we go to Switzerland we are to have tree training sessions in Minsk-Arena. And I will work on the power play. Before that I will meet the team to explain my main idea and prove that we are on the right course. But the first thing to do is to meet the players and get to know them better.
Text by pressball.by