Making the MOST Festival: Minsk meets Kasabian
The British rockers headlines an open-air festival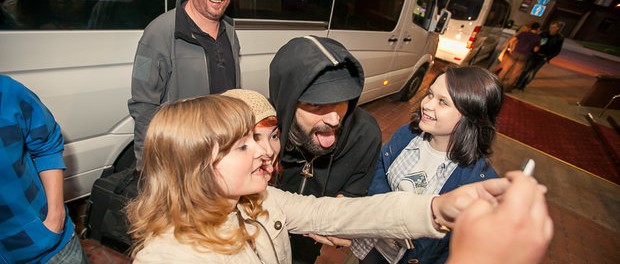 This year, the British band Kasabian performed for its first-time ever in Belarus, headlining the MOST Festival held as normal on the grounds of Minsk's Boravaya Airport. They were welcomed in treated in high style after arriving on July 2, staying in the 5-star President Hotel near Ploshcha Kastrychniskaya.
The band, named for Linda Kasabian of Charles Manson fame, is best known world-wide for its 2009 single "Fire" (from the album West Ryder Pauper Lunatic Asylum), which, with a video reminiscent of their namesake's life and times, became the anthem of the English Premier League. The band has since built a strong fan base across Europe, including in Belarus.
Afisha.TUT.by spoke with some of the fans of the band who began camping outside of the President Hotel when an online fan group released word that the band will check in there.
Valya (age 20): I'm here with a friend. We came together, though I'm the one that's the fan of the group. Tomorrow (July 3) we'll both go to MOST. I've waited a long time for Kasabian to come (to Belarus). I'm hoping to get a picture with the band, but things will be as they will be. I've been into the group for around two years.
Stepan (age 19): On July 3, I'm going to be at the MOST festival. At the festival, I'm instrested in seeing three groups: Kasabian, Leningrad, and Valentin Strykalo. Maybe also the Guana Apes, but unlike Kasabian, they aren't my top interest. I've never before met musicians, but decided to walk today from my place on Kalvaryskaya to the President Hotel (to see the band). There aren't a lot of people here today, but that's even better. It's not only more likely to bet an autograph, but a photograph as well. And that's good because I have a camera, but forgot my pen and notebook. We've been waiting for somewhere around 20 minutes, but the group is delayed. But then what stars arrive on time?
At 10:17 p.m., three vehicles finally arrived at the President Hotel. When the musicians stepped out, those fans fluent in English stepped up and began asking for autographs. The band members were kind to their fans, and agreed to be photographed with them. After 15 minutes of mingling with the Belarusian public, the musicians went up to their room, and after some time, the fans dispersed and went home after meeting their idols. However, one fan, Daria, stuck around to tell about why she likes the popular Indie band so much.
Daria (age 24): The first time I saw Kasabian was on MTV. For five years now, I've been a fan of them. One of my girlfriends read somewhere on the Internet that the band members will arrive att the President Hotel around ten o'clock. Essentially, we came here just to drink coffee after work and meet Kasabian. I'm so very glad that such a dream came true! I was especially pleased that Tom (Meighan, vocalist) allowed us to take photos, and Sergio (Pizzorno, guitarist) signed autographs.
The Guano Apes, a German alternative group described as a "fusion of metal, pop, and rap," arrived at the same hotel as the British headliner, but according to Sandra, the coordinator for the singer collective, their fans were not as attentive as the fans of Kasabian, as the group was not met by a similar gathering on their arrival to the President Hotel.
Today, July 4, the MOST festival will continue at 3 p.m. on the Boravaya Airport grounds. Today's lineup includes the Russian ska-group Leningrad, American Christian-Alternative group Skillet, Russian alternative metal anti-establishment group Louna, Ukrainian pop punk group Valentyn Strykalo, and the Minsk-based veteran pop-punk group Leprikonsi (Leprechauns).  Ticket prices for this year's event have gone from 800,000 to 1 million BYR (80-100 USD). Quickly reviewing today's acts:
Leningrad: Formed in 1997 in St. Petersburg, this Russian ska group is renowned for being perhaps the band that makes the most artistic use of Russian mat (obscenity) in its lyrics. As such, they are the band most likely to be fined under the new Russian law outlawing vulgarity in public speech. The band went on hiatus in 2008, and after it returned to the stage in 2010, most of its newer works have been sang by jazz-inspired Yuliya Kogan, rather than the original lead, Sergei Snurov (known to his fans as "Shnur"). The band reached its high-brow prominence (much to the disgust of such prominent detractors as former Moscow Mayor Luri Luzhkov) when its music was featured on the soundtrack of the 2005 film "Everything is Illuminated." More recently, one of their songs found its way onto the video game Grand Theft Auto IV.
Skillet: Formed in 1996 in Memphis, Tennessee, this American Christian Alternative group has been instrumental in popularizing its genre among what is normally a more secular audience.  Originally a side project put together by Tennessee progressive rocker John Cooper (formerly of Seraph) and guitarist Ken Steorts (formerly of Urgent Cry), the name skillet came from the blending of music styles from its members, said to create something new as if they were cooked together in a skillet. The music still retains traces of post-grunge, the music style that best described their earliest works, but with a fusion of metal, hard rock, and "soaring alternative rock" mixed in, according to American critics. Their latest release, Rise, represents a further evolution of the band's sound, which will likely be representative of their introduction onto the Belarusian scene.
Louna: Also founded as a side project of musicians within the more established alternative metal group Traktor Bowling, this is probably the newest band at the festival, having formed in Moscow in 2008. With a name that is something of a French transliteration of the Russian word for "Moon," the group is led by an Armenian-born female vocalist, Lousine Gevorkian (known by her fans as "Lou"). Having been critical of Russian politics and religion, the band has just begun to develop a following in the United States following a 26-city tour last fall. It was nominated in March by Canada's Juno Awards for Group of the Year (eventually being defeated by Canadian Indie act Tegan and Sara). Gevorkian's voice was recognized early in 2013 as being the best in Russia, surpassing the likes of superstars Diana Arbenina (of the Night Snipers) and Zemfira Ramazanova.
Valentyn Strykalo: Youtube has spawned a number of rising stars, but few that have followed in the same trajectory as that of this Ukrainian group. In 2008, Yuri Kaplan posted a critique of Russian artist Vyacheslav Melezhik, awarded four years earlier as "Meritorious Artist of the Russian Federation," issuing his humorous message under the guise of "Valentyn Strykalo of the village Buriltsevo." Continuing through a string of similar critiques, he eventually gained international fame with a review of Dima Bilan's Eurovision 2008 performance, which led to his appearance at the Comedy Club Dnepr Style. Eventually, Kaplan and friends took to the stage themselves in 2010, and released their debut album "Surrender and relax!" in 2012. Their second album "Part of Something Bigger" came out last year. The group continues to tour and build up a following in the former Soviet countries.
Leprikonsy: The home boys of the MOST festival, these veteran rockers got together in 1996 after lead singer Ilya Mitko left the punk band Kindergarten and formed this new hardcore group. Naming themselves for the Irish leprechaun, the group released a demo in 1997, and by 2000, the band compiled their debut album "You and us, we were SUPER". Now with eight albums out, their latest release was in 2011, entitled "The Present," which featured the voice of Russian comedian and on-air personality Vadim Galygin. They are the last band on today's billing at the MOST Festival.