Mirnyi and Chan fall in Wimbledon finals
They gave it their all, but came up short.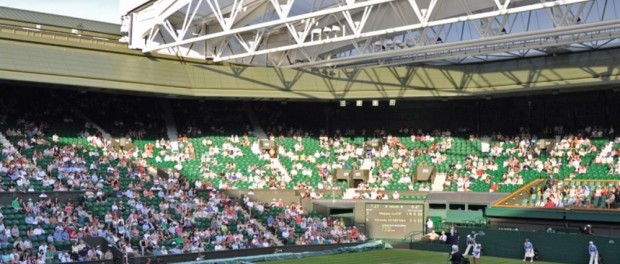 For much of the world, the highlight of Wimbledon on Sunday was the match in which Serbian Novak Djokovic defeated Swiss veteran master Roger Federer in a singles match that lasted three hours and 56 minutes. However, for most of Belarus, the real highlight took place just after the 47 cm-tall gilt silver trophy cup was awarded to the Serb for the second time in his career.
In the mixed doubles, Belarusian giant Max Mirnyi and his Taiwanese partner Chan Hao-ching came in at 14th seed, while their challengers Serbian Nenad Zimonjic and Australian Samantha Stosur came in at 15th to the final match in the world's oldest and most prestigious tournament. Even while the online congratulations for Djokovic continued and the cloudy skies started to lightly sprinkle, Mirnyi fired out the first serve on Centre Court, which eventually resulted in the first points awarded for the Eurasian favorites. However, once the Euro-Australian challengers got hold of the ball, over the remainder of the 26 minutes of the first set, they came back to win 6-4.
The second set didn't look much better for Mirnyi and Chan at the outset, despite Stosur suffering from a double error early in play. As the clouds built, so too did the gloom for the 36-year-old Mirnyi and 20-year-old Chan. Zimonjic, age 28, and Stosur, age 30, defended against a brief rally by their opponents, but then after the third play dominated for the remainder of the set, crushing the Belarusian-Taiwanese team 6-2, ending the Wimbledon tournament in straight sets.
For Stosur, this was the first title she's earned since her US Open singles title in 2012, and Wimbledon commentator Caroline Cheese noted that she was "first on the opening day of the championships, losing her first round singles, but she's stuck around 'til the last match of the tournament – and got her reward."
Only the day before, Mirnyi and Chan appeared well on their way to a title, having defeated Daniel Nestor and Kristina Mladenovic in straight sets, 7-6(4), and 7-5.
"Looking back over my career, there are many moments that you can just point out as highlights, and being in Wimbledon finals is certainly one of those," said Mirnyi after the win. "I don't know what it is. I've been here playing for a number of years and I've been in three mixed finals, including the Olympics. It must be something to do with London and being with the girls, I guess," he joked.
His partnership with Chan had formed around the time of the French Open just a month before, and the lack of time on the court together was blamed by Wimbledon commentators as part of why Stosur and Zimonjic came out on top.
It is difficult to say what the future holds for Mirnyi, who resides in the U.S. state of Florida despite representing Belarus in the British tournament. He still has a decade to go to reach Martina Navratilova's record of being the oldest champion, having won the mixed doubles at age 46 back in the 2003 Wimbledon match. Still he expressed his pleasure at sharing his experience in tennis with the up-and-coming Taiwanese player, who he described as "a young and promising player with great potential."