Fabulous circus water show was presented in Minsk
"Circus – a show of gigantic fountains" started on the 30th of January.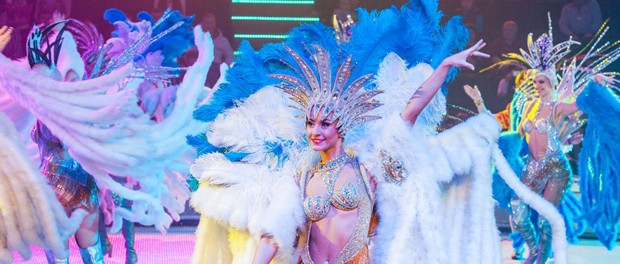 "Circus – a show of gigantic fountains"  is a unique performance in which the artist's activity is closely related to water and even moreover, this liquid itself is one of the chief actor.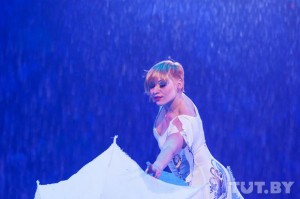 The trapeze artists Ksenia Stepanyuk and Maria Syulgina surrounded by lovely aquatic flowers rise on belts under the circus dome; 9-year old Aldana Abullayeva twirls hoops standing on the deck of a little ship made by Technical Show Director Yuri Bazanov.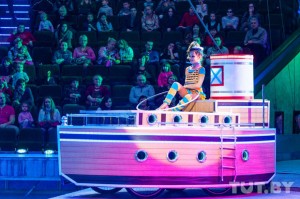 Special construction was built up on the arena – actually it is a pool that is able to holds about 120 tons, there are more than six hundred pipes around show ring from which the eighteen meters water streams are squirting out.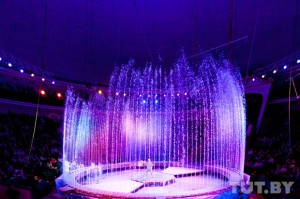 It should not be unmentioned about the Dolly and Domino clown duet that uses "a wet theme" in reprises.
The performance in which Domino in striped beach costume is trying to have a swim but sea operated by Dolly by the huge panel from the audience hall slips away looks especially quizzical.
Domino does not want to bear such mockeries, therefore he arms with a water machine gun and starts to water giggling spectators and his offender without understanding that not only the sea is controlled by the panel.
It is noteworthy that tame tricky animals like bears, dogs, cats and monkeys participate in the "Circus – a show of gigantic fountains" along with people – gymnasts, acrobats, equilibrists. Circus artists say animal participation is a peculiarity of the performance.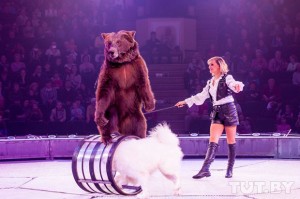 Amazing light design and, more precisely laser installation that is presented to spectators in the end of the performance is also worth mentioning.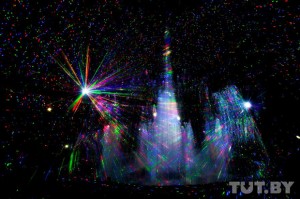 According to the artistic director of the program, Russia Honored Artist Lada Sarnatsky (she is the clown Dolly at the same time), the show is also unique because of mobility. It means that show is able to play on tour. Therefore Belarus has already become the fourth country where this performance is given.
"Circus – a show of gigantic fountains" will be demonstrated in Belgostsirk until May.
Text by TUT.BY
Photo by Alexander Kalenik.