Cities of Belarus: Stolin
It is time to visit Stolin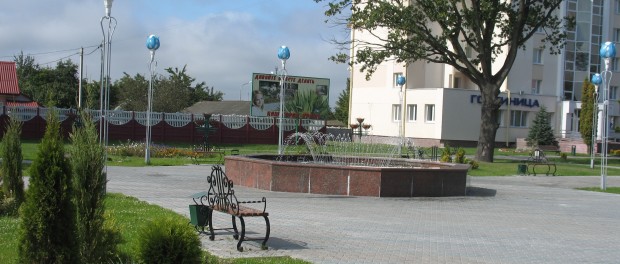 There are a lot of wonderful historical places in the world, some of which people may never have heard of. One of them is beautiful and fascinating town Stolin, the heart of Belarusian Polesia.
Geographic location and description
Stolin, is a small cozy city, which is situated in the south-east of Belarus (it is about 15 km away from the Ukrainian border), on the river Horyn, on the right tributary of Pripyat. The location of the town is at the crossroads of two important routes. The first route leads southwards to Sarny and Kiev (Ukrainian cities), the second leads northwards to Pinsk and also eastwards to David-Horodok (Belarusian cities).
It is interesting to note that the Stolin district is the biggest district in the Brest region. About 14 000 people live on sanguine land. If you come here you will note that the region is home to Russian, Belorussian and Ukrainian native speakers. There are also many different dialects of these languages or sometimes their specific, strange for the first sight, mixtures, but there are something mysterious, charming and sweet in their pronunciation.
History of Stolin
Slolin is a relatively new Belorussian town. If to believe ancient chronicles, the first mention about Stolin is dated to 1555 year.
And why town has such original name? It is not, of course, under a veil of secrecy. The origin of the name "Stolin" is explained by next stories. True it is or not we can just guess. The first story tells that local fisherman pulled out 100 (hundred it is "sto" in Russian) "Leeni" (local fish). According to the second story twelve mighty brothers, who ruled over seven nearby cities, chose Stolin as place for their meetings and made it as a capital city (Stolny Gorod; "stol" it is table).
At that time Stolin was a great commercial and industrial center of ceramics and fragments of ceramic vessels, which were found later by archeologists, are evidence of these historical events.
Stolin has gone revealing historical development path during all time of its existence. Town was a part of Grand Duchy of Lithuania (the second half of the 13th century), part of Polish Empire (from 1569 to 1793 years), also was a member of Russian Empire (from 1793 to 1917 years) and during 1921-1939 years was under Polish authority. Such historical and multicultural variety leaved a mark on culture and originality of local population.
Modern Stolin
Nowadays Stolin is very comfortable for living town with fast-developing infrastructure. The economics mainly concentrates on agricultural domain but service sphere also takes a big part.
If to speak about educational sphere, it is necessary to note next educational establishments: three schools, agrarian-economical college, vocational-technical school. That`s why everybody can choose his own way to success.
How to get to the town
If you decide to visit Stolin you can do it using some comfortable bus or not less comfortable train. Bus terminal is located at the main entrance to the town (at the crosswords of ways to Pinsk). Railway station is situated out of town (about 11 km far away from Stolin). But there you can take bus to the city (it is 15 min jorney).
Where to go, where to stay
And now we make a short tour of the city. The center place of our town is large Lenin square. Here you can see the monument to Lenin, building of district executive committee and on the other side there is a beautiful central park with comfortable benches and arbours, areas for children and also sport areas.
If you want to spend time actively, funny and healthy then you can visit up-to-date and sophisticated sports center "Aquamarin", which was built in 2013 year. Here you can find all for your pleasure: table tennis, chess and checkers, billiard table, sauna, gym with sophisticated training simulators, large gymnasium for playing football, basketball, volleyball, 2 swimming pools. Also there is open area for playing hockey, tennis, football, basketball.
"Aquamarin " has one favorite place, which has always frequent visitors. This place is well-known pizzeria "Pie-Pizza". Here you can try also different delicious desserts and other dishes. Free Wi-Fi is also here for your accommodation.
Our local hotel "Horyn" is one good place for staying. It is situated in the centre of the city, near magnificent central park. The bank and pharmacy is also close by it. The Hotel was reconstructed in 2007 year and has one building, 5 floors, elevator and safeguard parking.
The hotel has a very nice place like restaurant "Amber".
"Amber" it is one of two restaurants of our town and it`s very popular place because of its comfortable décor, good service and appetizing menu.
Also you can visit restaurant "Horyn", bar "Slavyanski", bar "Olimp" and try good dishes for good prices.
Sights of the sity
Park "Mankovichi"
As every place our town has its own track of history and you have a wonderful opportunity to walk in the park, where at the beginning of the 20th century was built the former residency of largest magnates Radziwill family. There is a memorial stone in the park, which has a polish inscription as an evidence of that historical event. The landscaped park, the sample of art landscape of the late 19th century, is smaller than it was later, but it has a lot of relict and exotic plants and trees. It is a real pleasure to be here and to see charming mosaic walks and fascinating avenue. The park was damaged during The Second World War and in 1943 the palace burned down, library and other wealth were lost. Nowadays here you find regional museum and music school.
Stolin Synagogue
Komsomolskaya square is a famous place due to Synagogue, the former center of religious and public life. All buildings didn`t remain to the present days and still exist next buildings: White Stone Synagogue, Stone house, the building of the Jewish school, Stone rabbi house. This architectural complex belongs to the constructions of the eighteenth century, and it is the only of surviving synagogue architecture monuments on the territory of Belarus this period.
This prayerful temple is a monument of late Baroque architecture with elements of classicism. The inner surface of walls of the Synagogue decorated with alfreynoy painting of traditional subjects and stucco work.
Because of the fire the synagogue building was reconstructed several times in the XIX century and the first half of the XX century.
Stolin famous people `
Stolin can proud of this outstanding people:
Nadezhda Ostapchuk (born in October 28, 1980). She is a Belarusian shot putter and was bronze medallist at the 2008 Beijing Olympics and also was the World Indoor and European Champion in 2010.
Vladimir Matyushok . He is Doctor of Economics, Professor, Vice-President of the International Association of Economists CEMAFI-international (Nice, France), Honored Scientist of the Ingush Republic.
As every place, Stolin has its own rhythm, style and character. It is fountain of warmth, romance and pacification. If to understand the soul of Stolin you need to visit it and should be inspired with this fantastic atmosphere.