Valentino's atelier surprises with Belarus' motives at Paris Fashion Week
 Belarus' national motives  overwhelm  publicity of the fashion capital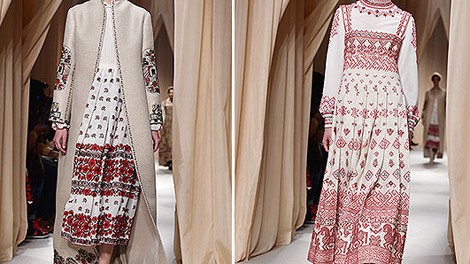 New collection of the Valentino fashion house, presented at Paris Fashion Week 2015, overwhelmed exacting publicity of the fashion capital. The models appeared at the podium in Belarus' national clothes ("vyshivanki"), which was unpredictable for the audience.
Famous fashion label's designers Maria Grazia Chiuri and Pier Paolo Piccioli used in their works Belarusian motives.
As style.com reads, while creating graceful and poetic ensembles designers were inspired by the works of William Shakespeare, Dante Alighieri and Italian film director Pier Paolo Pasolini, and pictures of Belarus' artist Marc Chagall.
After visiting Marc Chagall's exhibition in Milan Valentino's designers shared their impressions: "His life is incredible. In spite of all the difficulties he was managed to save his optimistic view of life".
"In some sense of the word, you have the wings when you're in love," says Maria Grazia Chiuri, making a reply to Marc Chagall's paintings, "Lovers over the City" (1917) and "The Promenade" (1918), where the lovers are flying in the sky.
Italian atelier Valentino's founder, Valentino Garavani, is a great admirer of Marc Chagall's paintings and he has several from his works.
By the way, Chagall was born in Vitebsk, and then it was a part of the Russian Empires, that's why there are also Russian motives in the collection.
In the first part of the show the models came to the podium in magnificent dresses, decorated with embroidery, in fur waistcoats, resembling old-fashioned Russian woman's sleeveless jackets, and in loose dress shirts and light summer-dresses.
Designers paid much attention to the little details and decorations of new fashion outfits, such as remarkable prints, leather flowers, applique' work, traditional embroidery. It took the atelier's masters over six month to make all the dresses by hand and about 3 000 hours to create all embroidery decor.
The evening line was represented with the dresses made from superfine organza and translucent silk. The main decoration of these artworks became the words "Amor Vincit Omnia" ("Love Conquers All"), embroidered with golden letters.