Car camping in Belarus under review
Build them an RV campground, and they will come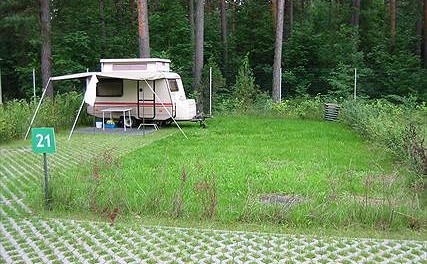 On Sunday, July 6, the Dudutki Folk Craft Museum Complex closed its second annual International Caravan Festival, organized in conjunction with the Belarusian Caravan and Motorhome Club. During the event, the museum complex, located 40 kilometers south of Minsk, hosted 30 recreational vehicles from the countries of Belarus, Ukraine, Russia, Lithuania, Poland, and Germany.
Though the festival's purpose was to encourage new friendships through opportunities to hang out with each other in Dudutki's unique historical rural setting, the participants couldn't help but share war stories of their experiences with car camping in Belarus. Reporters from TUT.By stopped in at the event to gather opinions about what it's like to RV here. They also provide with useful information as for what you need to know before buying an RV.
Vytautas Pushas, his wife Svetlana, and 5-year-old grandson Danielus came to the event in their 2006 model motorhome from Kaunas, Lithuania. Bought used for 30,000 EUR, the RV continues to impress its retired owners. After all, it is thanks to the motorhome that over the last five years they have been able to see all of Europe.
The Dudutki festival provided Vytautas and Svetlana a reason to come back to Belarus for the first time since independence; in Soviet times, Svetlana would often visit a cousin in Minsk. In their camper, the couple and their grandson enjoyed all the comforts of home: a refrigerator, freezer, 110-liter water reservoir, luggage storage, gas and electric cookers, television and antenna, toilet, shower, and bed space for eight people. They had no problems entering Belarus – they were granted a visa fairly quickly. The roads were also in good shape. However, the main problem they cited was a lack of roadside sanitary facilities.
"In Lithuania, finding roadside toilets is easier," Svetlanta said. "Near each bus stop there is a simple wooden WC."
Usually when traveling, RV owners often find campgrounds near a seashore or lake that provide connections to electricity, water, and allow both blackwater and graywater disposal. According to Svetlana, the average cost is 24 EUR per night for parking a caravan with two adults and a child in the European Union. In Spain and Italy, this cost can be more expensive, typically around 35 EUR. Still, traveling by motorhome is cheaper than driving and spending the night at hotels along the way.
Meanwhile, Ivan Lapenko came to the Belarusian festival from Kyiv with his wife Nadia and two kids, Oleg and Albina. This was also their first time in Belarus, and they traveled in a motorhome that Ivan had converted from a used Volkswagen Transporter van.
Their investment in time and labor, rather than money, likewise has paid off in a vehicle that gets extensive use. "Our family had three cars," Ivan said. "For three years, we've not used any of them."
The Kyiv family had traveled until this trip only in the territory of Ukraine, visiting just about every region. Ivan recalled a very pleasant stay while in Crimea. "We cooked soup, bathed, even cut carrots, all while looking out over the sea," he said wistfully.
When asked about the potential for RV camping in Belarus, Ivan suggested that there were many interesting places for motorhome tourists to visit here, such as the huge trees of the Belavezhskaya Pushcha and the grandeur of Nesvizh Castle. After the festival in Dudutki, the family planned to visit them.
Yuri Zagorodnuk and his wife Olga came to the same event from Moscow. Yuri was a former military man who now is involved with running truck service stations. The Russian RV owners arrived at Dudutki, and immediately fired up a samovar and set up a large cauldron to boil pilaf, a dish they planned to share with other festival participants.
Yuri and his wife had been caravaning in the Russian Federation for more than a decade. They first traveled with a trailer, but now they have a full-fledged motorhome that they bought for 50,000 Euros. This event marked their second trip to Belarus – they had already visited Vitsebsk Oblast's Braslau Lakes in an earlier trip. Yuri had nothing but praise for Belarusian roads, but he too noticed that the country lacked campgrounds (apparently, car camping facilities are much more prevalent in Russia).
Belarusian RV owner Vladimir Timuto, also in attendance at the festival, bought his first trailer cottage four years ago. Since then, he's upgraded it several times to progressively better models. His current trailer camper is worth about 3,000 dollars, and was purchased with the help of a friend in England, who also helped transport it through Klaipeda back to Belarus. He enjoys fishing, so almost every weekend he goes somewhere by trailer, such as the Braslau Lakes. He reported that to park a recreational vehicle out there typically costs about 130,000 BYR (13 USD) per day.
From the experience of two German visitors
In 2011, the BelTA state news agency, after observing that the majority of the 4 million visitors to Belarus arrived by road, publicized that the Ministry of Sports and Tourism was going to introduce motorhome and trailer campgrounds to tap into this popular market. However, car camping was actually introduced to Belarus long before independence. The first campsite, set up near the Krutogorye amusement park near Dzerzhinsk, about 30 kilometers southwest of Minsk, was opened in the late 1980s.
The story of how it started began, supposedly, when two German camping enthusiasts went to the Soviet authorities and asked about where they could camp. They simply were sent away. Not long after, they returned and found a local partner to set up a joint venture they called "Perestroika," which, beyond the initial Krutogorye campsite, opened three campgrounds in Belarus with a total of 100 spaces for visitors. The first was near the village of Perkhurvo, the second was near Brest, and the third was at Myadel. In the year that followed 2-3,000 caravans from France, Austria, Belgium, and Holland had stopped in, each paying 10 USD per day.
The income was good for awhile, and then a disagreement arose between the Belarusian partners and the Germans, and the Westerners were removed from ownership. In response to the breakup, the Germans successfully discouraged tourists from going to Belarus to camp. After about ten years, the Belarusian owners finally gave up on the last of their campgrounds and sold their interest to Mikhail Zusmanovich, the director of the Krutogorye amusement park.
"First there was a period of visa problems, and then the Germans sent the RV traffic northward to Lithuania," explained Zusmanovich. "As a result, it all began to fade. But I kept all the connection points used by the campers in case someone somehow ended up here. In the past year, I've seen two groups pass through."
Today, he manages the site as part of park operations between May and September. These days, he attracts up to 15-20 vehicles per season, mostly retirees. In his opinion, auto camping is still ahead of its time in the country.
Infrastructure and high transport tax issues
For most campers who have tried to come to Belarus, it's one thing to travel with a recreational vehicle through the EU countries, and a whole other thing to travel in Belarus. In 2012, Spain, a popular camping destination, counted 450,000 motorhomes crossing its borders. According to the Fédération Internationale de Camping, Caravanning et Autocaravaning, or FICC, Germany hosts the most RV owners, and the number of campgrounds they can visit number around 2,500 within their own country, about the same that exists in Italy. In Belarus, the number of developed campsites available for campers can be counted on one, maybe two, hands. Worse still, the quality of these sites is generally regarded as woefully below that seen at EU campsites, where water parks and spas can be found on the territory of some destinations.
Sergei Dyukarev, director of the Dudutki museum complex, only recently expanded his parking area and opened a space for motorhomes. His campsite, which has 10 points for electrical connections, was built so that he could provide RV owners with accommodations that were less expensive than they would encounter up near Minsk.
Nicholas Denisman, who coordinates caravan events in Belarus, believes strongly that Belarus could attract a large number of foreign motorhome tourists, but only if state officials allow it to happen. He bitterly recalled one time when he wanted to open a camp on the Minsk Sea, a reservoir north of the national capital popular for summertime day trips. He was told categorically "no," because the location was within a "coastal zone."
Denisman suggested the simplest way to increase the flow of RV owners coming to Belarus is to simplify the visa regime and the system of payments applied to private owners for use of Belarusian state roads.
"The biggest issue is road tolls, and the lack of any information for visitors entering the country," he said. "I never saw any flyers at the borders. Why can't we put information representatives of the Belarusian Automobile Roads (Belavtodor) Department at each car border crossing? Or at least post some flyers saying where to go, where to buy onboard devices, etc. It doesn't matter where the toll roads start, the drive should at least be given information about how to meet his obligations."
Denisman said he and other RV enthusiasts long ago offered to the State Border Committee suggestions for revising the migration card so that it would be easier for foreigners to fill out, including posting the form on the Internet through the website of the Ministry of Foreign Affairs and individual embassy websites. "An RV owner fills out the form at his house and prints it. He takes it to the border guard, who stamps it at the border. The people get on with their trip a whole lot sooner, instead of wasting time filling out the form at the border itself in pen," Denisman said.
Besides typical red tape issues, Denisman also brought up that the vehicle tax levied against motorhomes and recreational vehicles reduces the number of tourists that bring their RV to Belarus. According to law, RV owners are obligated to pay a half million BYR (about 50 USD) per year for weight tariffs. Whether the tax issues are, in fact, keeping Belarusians from taking to the open road in an RV or not, the country has indeed been slow in adopting car camping as a tourism option. Figures posted by TUT.By indicate that across the country, only 600 caravans and 40 motorhomes have been registered, out of a total of some 3.8 million vehicles.
Of course, on the bright side, the lack of vehicles in the country means that there is a lack of demand on camping spaces, and for those in the know about where to find them, the competition for sites is still very small.
Getting into the guidebooks
Meanwhile, campers continue to explore the roads of eastern Europe in neighboring countries. In Lithuania, 25 campsites offer RV owners a place to stay along the Via Baltica tourist route.
TUT.By interviewed Hans Bosch, a 70-year-old German who has been vacationing in his motorhome for the past 12 years. He was staying at the camping site in Druskininkai, near the Belarusian border in Lithuania. Since getting his RV, he has never booked a hotel room, as his vehicle, which he bought for 53,000 EUR, provides him with comfortable lodging already, complete with a bedroom, kitchen, shower, toilet, refrigerator, microwave, and television. Anywhere he stops, he can take a shower, cook a meal, or eat in a nearby cafe. The only thing he needs is a maintained parking area, where he can dispose his wastewater, replenish his supply water reservoir, and connect to electricity.
He showed the Belarusian reporters a guidebook that listed 4,260 European RV sites. None of them were in Belarus. "If Belarus had campsites, RV owners would come there just as they come here (to Lithuania)," Bosch said. "But there is no such information."
Indeed, ACSI (originally "Auto Camper Service International"), a Dutch company that provides a directory of European campsites (much the same way that Kampgrounds of America, or KOA, organizes its affiliates in North America), maintains a list of three Belarusian locations that are situated on farmsteads. The cheapest option is located near the Belavezhskaya Pushcha, and provides spaces for 3 Euros a night. The most expensive is the old Perestroika campsite located at the Krutogorye amusement park, which costs 10 Euros a night. According to Andrei Martynov, Deputy Director of the Department of Tourism within the Ministry of Sports and Tourism, this price range compares well with Europe, where the average campsite charges 15-20 Euros.
However, RVers are not in general taken seriously in Belarus because of the peculiarities of their infrastructure needs. "Many places calling themselves campsites are not actually campsites," said Mikhail Berezovsky, Chairman of the Belarusian Caravan and Motorhome Club. "Most often, they offer parking. Between parking and actual camping facilities, there is nothing. Camping is a complete service, with powerpoints, shops with everything for road and recreation use, and even Wifi… a hotel on the street!"
Alexander, a Belarusian RV owner with two years experience, described one of the campgrounds he had stayed at. "Near one lake, they had a playground where the ground was hard, and there was a woodpile," he said. "Fishermen arrived to pitch a tent and drink vodka together. That was the campsite owner's understanding of camping. It was inexpensive, but no one wants that experience."
Minsk has plenty to offer potential visitors that would arrive by RV, but there is not a single place to camp that has been opened anywhere in the city. "My friends came up from Ukraine in an RV, and they finally spent the night in the parking lot of a shopping center," Alexander said. "If an RV owner came with his vehicle to the 2014 World Cup hockey championships, they'd have nowhere to go. They'd have to park their vehicle alongside the road (and check in to a hotel)."
Strong potential as a transit country
Vladimir Zhukov, host of the eco-homestead "Bialowieza," said that on the territory of his estate, he has the equipment to host three trailers. But in the six years he's been at the location, he's had no caravans visit. He regards recreational vehicles as something for the future.
Mikhail Berezovsky of the Belarusian Caravan and Motorhome Club said that his organization has registered about 50 people, of which 20-25 are active travelers. At the same time, about 1,500 RV owners come from Europe to Russia each year just to drive around the Golden Ring tourist route. However, these RVs go around Belarus through the Baltic States.
"Of course, it would be easier for them to pass through Belarus," said Mikhail. "The road is good. But you need to organize a Belarusian visa."
He says that auto camping in Belarus can also create an income for the economy, but the environmental review process for this sort of enterprise is highly restrictive. "You have to pass the same examination as you would for a nuclear power station!" he said. "A lot of people simply gave up."
Another reason why caravan camping hasn't developed here, according to Victor from Brest, is that only a few places have a high concentration of attractions. "When I go to Italy, there are so many museums that I can walk around for a week. We have only one place where you can walk around and see things for maybe a day, Nesvizh."
In order to attract RV traffic to the country, of course it's necessary for new sites to be developed for camping. Local authorities, however, often do not see the benefit of contributing to camp site development.
"This year, we will introduce changes to the state program for the development of tourism," Martynov said. "This will include selection and arrangement of new camping grounds. The actual selection and arrangement will be determined by the local authorities. The Ministry will coordinate activities, assist, advise, and develop regulations where we can, but its up to the local authorities to implement the project."
The Lithuanian example may be instructive to Belarus in the development of its camping program. According to Rimas Palionis, head of the business and tourist center in Druskininkai, caravans only appeared in Lithuania after they joined the European Union. The first campers set up in the woods. Then the country invested 300,000 Euros in assistance to private camping projects that today operate from April to September, and these bring in more than 20,000 Euros profit. "It's not very big, but they cover expenses," said Rimas.
Because these camping services exist, Germans like Bosch do come to the country, and many bring back favorable impressions.
Stories by TUT.By reporter Natalia Kostyukevich contributed to this report.