Ambasovishcha – from the living room
Festival heard round the world - on YouTube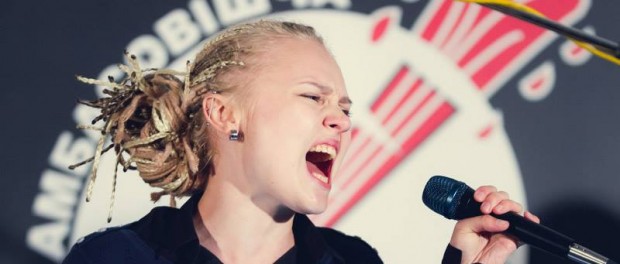 I admit to disappointment over not being able to score entry to this year's Ambasovishcha Festival. The global threat imposed by some hotheaded neo-Muslims with delusions of grandeur down in Syria and Iraq made it so that anyone who hadn't put in a request to attend four days before the event wouldn't be able to get in. Having a US passport didn't make much of a difference – caution was the order of the day.
But really, this was a blessing in disguise, in part because this year the embassy set up a live broadcast of the festival on YouTube. As the embassy's Charge d'Affaires Scott Rauland had said at the start of the festivities, this year, the festival not only celebrated freedom of expression, but also freedom of the means through what appeared to be an application programming interface, or API, which allowed embassy staff to stream the performances onto the Web. It all literally went worldwide – I can vouch for this as a friend of mine in Scotland expressed amazement at being able to see the event as it was happening, while another in Texas expressed horror at the style of "hooker boots," as she called them, worn by one of the lead singers.
For me, this meant that I didn't have to board the train south, riding for three hours, set up an overnight stay in Minsk, and then ride back the next morning. I could sit in my skivvies, with my nearly 1-year-old son crawling around on the floor next to me, and review the event without ever leaving my apartment in the northern Belarusian town of Ostrovets. Recalling all the times I had to ride public transit to get to a gig in Seattle, or the times I had to hitchhike to Ann Arbor from the northern suburbs of Detroit just to check out the performance of an up-and-coming grunge band like Nirvana or a punk rock legend like Patti Smith – I had to admit to amazement at the wonders of modern technology.
My computer was on the YouTube channel well before the start of the performance. At around 4:36, about 24 minutes before the scheduled start of the show, the feed started. There were of course a few technical difficulties, but after about five minutes, the feed showed a playback of past festivals set to contemporary music. Some of it was a bit cheesy, but it seemed to get the point across as a commercial for the event to come.
About 7 minutes after 5 p.m., the live broadcast started. On the screen was a guy in a baseball cap, the kind that SWAT teams usually wear, speaking in Belorussian. His monologue seemed to lead up to the introduction of Charge d'Affaires Rauland, who recited his speech in the same language. Finally he started speaking English, saying that he was aware of the difficulties that the Embassy had suffered in the past with Belarusian state authorities, but over the past ten years that the festival has operated, the representation of the United States has been finding areas in which they can work together. Rauland expressed the hope that the number of these areas would continue to grow.
In addition to the eight local participants, Rauland introduced Aisha Fukushima, a Seattle-born artist who is currently traveling around the world in support of "freedom and equality," which she hoped to do by "challenging apathy, ignorance, and intellectual oppression." As a "RAPtivist" (a "rap activist"), she engaged hip hop communities in France, Japan, Morocco, England, South Africa, Senegal, India, and Denmark. She was playing for a couple nights at the Philharmonic Hall off Ploscha Yakuba Kolosa in Minsk before her performance at the Embassy.
Meanwhile, shortly after Rauland vacated the stage, the first act was introduced: as the guy in the "SWAT" hat called them, the "Navi Project" took to the stage. Effectively a duet between a keyboardist named Xenia Zhuk and a guitarist named Artem Lukyanenko, the pair were backed by a bassist and a drummer. Their three-song set was clean, melodic, definitely pop-oriented. Zhuk seemed to be channeling Corinne Drewery from Swing Out Sister, while Lukyanenko seemed almost Dave Matthews-like in his singing.
However, the duo appeared to be more like a recital act than actual stage performers. Though the sound was great, there just didn't seem to be much energy being projected out from the stage. Although neither of the camera angles really showed much of the crowd, I still managed to get the sense that they hadn't really found the sort of energy feed-loop that you usually see between band and audience in great performances with great performers. The music was quality and I want to know more about them, but I didn't feel that I got much more than I would from an audio recording by seeing them perform their 15-minute set.
Still, I had to say that they were world's better than the second act. Less than 10 minutes after Navi got off the stage, Yulia Glebova was introducing from behind her cymbaly (or Belarusian dulcimer) set her band, Chas Speak. The rains had started by this time.  Chas Speak had billed themselves online as "intelligent rock," or music with a philosophical subtext to it. That may have been what they were playing, but not having access to the lyrics, I had to say I was deeply disappointed in the performance. Not so much in the instrumentation – they seemed to show promise. After three songs, I was convinced that the band needed a new lead singer, as Glebova seemed to be more focused on "emotional sincerity" more than performing something listenable. I sincerely hoped that this was merely the result of a bad performance night, but if her detractors do in fact call her the "Belarusian Zemfira," I'm afraid they are insulting Zemfira Ramazanova (who is actually one of my favorite Russian performers).
The third act shifted gears on the festival entirely away from the pop world and toward the harder rock scene as 2Morrow2Late took to the stage. My initial impression was that this would be a sort of cross between Alice In Chains and Jimi Hendrix. The group definitely had an affected style to it that spoke Western hard rock band – I was taken with little details like the Phillips 66 sticker on one of the guitars. However, I felt quickly let down again with the sedateness of the stage performance. The drummer, Andrei Korotchenko (who goes by the stage name of Mr. Short) seemed sort of to get it, that you have to project energy out into the audience, and he was doing his best. However, the lead singer, Dzimitry Vinitski, or JimWin as he prefers to be called, seemed to be somehow self-conscious or nervous. Even after his bassist, Valiantsin Muryn or Valik, was starting to feel it, the front man couldn't seem to let go of whatever it was that he was scared of, be it the fact he was singing for English speakers, or performing at the US Embassy, etc. I felt that he could have done so much more, and that left me disappointed in the whole act, even with the Hendrix or Curt Cobain-style of play on your knees ending.
The rain had started to play up the technical difficulties by this point, and the next act was delayed a bit. This was the largest group that would come up to the stage this night, the 7-member funk act called Step Hall. Watching them start, I got the feeling of a sort of James Brown-inspired R&B. But something was off. The lead singer, TV personality Andrei Bibikov, was certainly confident, and exuded that confidence in his performance. However, he was stiff as a board. Again, he was more reciting than performing. I expected much more from him in this. I don't buy into the whole thing that black people somehow have more of "the groove," or can better get into the energy of funk. You just need to get your body into it, to feel it. I don't think Bibikov, even with all his very evident talent and confidence, was feeling it. That left me disappointed too.
Then the feed was cut. I'm not sure if this was weather related or some other technical glitch came up, but things seemed to be down for quite a lengthy period of time. By the time my computer had picked up the feed again, it was 8:30 p.m. and Fukushima was on. Now this was the sort of artist I hoped to see in the festival line-up. She understood what performing was about, you could hear it in her pop harmonizing with just a hint of gospel. Then my son managed to stretch his arm out and push the mouse button on the keyboard, and somehow the feed shifted to Landau's performance, which was probably live.
Technical glitches are to be expected, but this meant that I missed somehow Re1ikt and Terrakod's performances. (I understood later that missing Terrakod was probably not a bad thing, as they made Chas Speak look really good.) Of course, I'd have to live with it, but again, disappointment.
Landau seemed not to be particularly successful in engaging the crowd. Lead singer Lena Kaleynikava expressed a lot of emotion on her face, but her singing seemed almost discordant with the U2-like chime of the lead guitar, and the opportunity she had to project energy into the audience alongside the wall of sound the band was generating was lost while she swayed in the midst of it all.
That left just one last act, the Minsk band NGe. Shortly before 9 p.m., they took to the stage. As lead singer Olga Borozna introduced the first song, I settled in for what I was sure would be yet another recitation. Suddenly, as the music started, guitarists Yegor Friskis and Alexander Zhigalov, and bassist Vladimir Makarevich all let their hair fly in unison. It's an old move, to be certain, but after the other performances, this seemed special. This seemed like something that could play quite successfully at the Crocodile Café in Seattle's Belltown. A guitarist climbed the speaker stack at one point, reminding me of the stage dive I saw one guy pull in Poland back in 1991, a full flip he made into a group of friends that was so reckless that if they hadn't caught him, he'd have been dead or paralyzed. This was the same energy. This made up for all the disappointment, I thought.
I've not seen who the crowd voted for following the performance, but I was left with generally positive impressions of Navi, 2Morrow2Late (disappointment with the lead singer notwithstanding), and Step Hall, and really positive impressions, from what I saw, of NGe and guest singer (and I guess fellow former Seattlite) Aisha Fukushima. If I had any criticism of the overall presentation, it would be that the names of the bands and their songs should have been on display somewhere. This sort of broadcast was an excellent way to bridge the music scenes here in Belarus with those in the United States, but just tuning in, no one would know who they were watching, or what songs of their favorite acts to seek out.
Still, this was an amazing step for a gig like this, to be broadcast around the world live on YouTube. Perhaps next year, with a more aggressive effort to get the word out, there will be more than a couple dozen viewers on at any given time during the broadcast.