Robbie Williams' rider list: 30 sofas and 50 kg of ice
What does his world-class show require?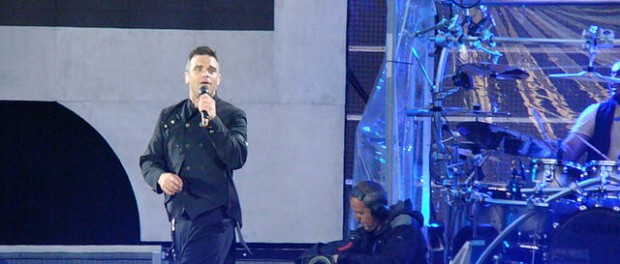 Mega-concerts featuring the world's top performers aren't a rarity for Minsk: Sting, The Scorpions, Elton John, 30 Seconds to Mars, Depeche Mode and many other foreign musical bands have already wowed the concert-goers of Minsk. The next international star who will visit the capital city of Belarus is British pop-idol Robbie Williams. His "Let Me Entertain You" concert tour will make a stop in the Minsk-Arena on 15 April 2015. But before any star arrives to enthrall his fans, he must drive his host-organizers to distraction fulfilling his "rider list".
Robbie Williams travels with a 120-person entourage: the band itself and its technical staff, eight managers and six bodyguards, Robbie's personal hair stylist and personal masseuse, and six cooks and catering support-staff to ensure the whole team is properly fed.
The great performer requires three dressing rooms for himself, six more for the staff, and 5 offices. Each dressing room must have a full-length and desktop mirrors, both with illumination. One dressing room is reserved for Peter Williams – Robbie's father, who participates in every son's concert as a backup vocalist. Robbie Williams' rider for his Minsk Arena performance also requires 280 towels, six fire extinguishers, and four different British newspapers.
The cooking for singer will be handled by his personal chefs, working on specially imported utensils. Robbie's Minsk-concert rider requires the following products for chefs: 16 liters of milk, a kilo each of mushrooms and tomatoes, as well as 48 eggs and 24 donuts.
Robbie's show promises to be very hot, so of course his rider specifies a refrigerator to stock the essential 50 kg of ice: 20 kg to be stocked the night before the concert, and the remaining 30 kg to be delivered at noon on the day of a performance.
We come to the most interesting list item — the couches. There should be 30(!) sofas on backstage. A star quirks that he can afford.
We can only sympathize with the organizers, but don't forget that they already have some experience in tackling complex rider lists.
Rammstein's cooking staff personally shopped Minsk's markets, and they rented out an entire restaurant so they could properly follow to the band's eating preferences.
Opera celebrity Dimitry Hvorostovsky's rider list specifies that his driver be a neat clean-shaven suit-and-tie-wearing non-smoking gentleman who smells good.
The British rock star Sting requires his dressing room be draped in black cloth, and a banquet table  in a hotel room be covered with white linen tablecloth. His personal chefs use only natural products and white porcelain dishes. Sting entrusts his security to local guards, who are, however, forbidden to use firearms, handcuffs, or any weapons at all, unless you consider a flashlight (the rider specifies they be no longer than 20 cm) to be a weapon. The most mysterious of Sting's requirements is the obligation that women attending his concert must remove any massive wristlets. No lady will be allowed into the concert hall until she first deposit her large jewelry in a storage locker outside the hall.
For Canadian rock band Nickelback, the Minsk organizers were obliged to purchase only eco-clean food. The band is accustomed to a particular type of Canadian water. Unfortunately, whether the organizers were successful in locating it in Belarus remains a mystery.
Recently deceased British singer Joe Cocker required a personal chef to accompany him to every rehearsal, and to cook in specially equipped kitchenette near the stage. During the concert the singer could indulge himself with a chocolate bar and soft drinks from the dressing room refrigerator.