Belarus' Nadine Koutcher crowned BBC Cardiff as Singer of the World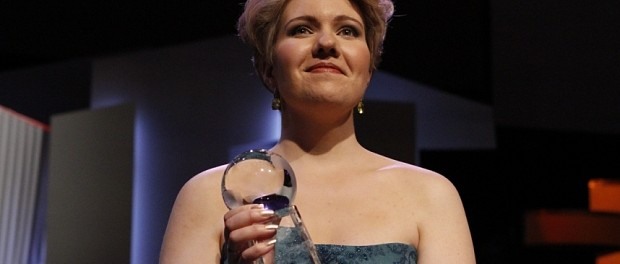 Belarus' Nadine Koutcher won in the prestigious international contest for opera singers BBC Cardiff Singer of the World, the official BBC website reports.
Nadine won the contest among 20 promising opera singers, selected as the participants of this year edition from 350 candidates from all over the world. The final of the contest was held on June, 21 in St. David's Hall, Cardiff. The winner got the prize worth £15,000 and a chance to perform a part of the new composition by the Scottish composer John Lunn at the BBC Proms 2016.
Nadine Koutcher was born in May 18th of 1983 in Minsk. She graduated with honours from the Department of Musical Theory of the Minsk State Musical College named after Mikhail Glinka and continued her education in St. Petersburg State Conservatory, where she graduated from the Department of the Vocal Studies and Stage Directing in 2011. She is a laureate of the International festival of church music Magutny Bozha (Belarus), the International Vocal Competition by Bibigul Tulegenova (Kazakhstan), Irina Bogacheva's Contest in St. Petersburg, has got the Golden Mask award (Russia) and she is a winner of the Gran Prix and Audience prize of the International Vocal Competition's-Hertogenbosch in the Netherlands.
Nadine Koutcher had her debut on the opera stage in 2007, when she sang Marfa in the opera "The Tsar's Bride" by Rimsky-Korsakov in the Opera and Ballet Theatre of St. Petersburg Conservatory. In 2009 she performed on the stage of the Mikhailovsky Theatre  in St. Petersburg. She gave her own first solo concert in 2010 in the Perm Concert Hall.
In present Nadine Koutcher is a soloist of the Opera and Ballet Theatre of Perm. In the prestigious BBC Cardiff Singer of the World competition the actress represented her native country – the Republic of Belarus.
The BBC Cardiff Singer of the World competition or the Cardiff Voices was founded in 1983. It takes place in Cardiff, Wales or the United Kingdom every two years and is organized in association with the Welsh National Opera and supported by The City of Cardiff Council. The participators are aged 18-32 years.
Text provided by BELTA, photo by The Telegraph website (telegraph.co.uk)