Belarusian singer closed La Scala opera season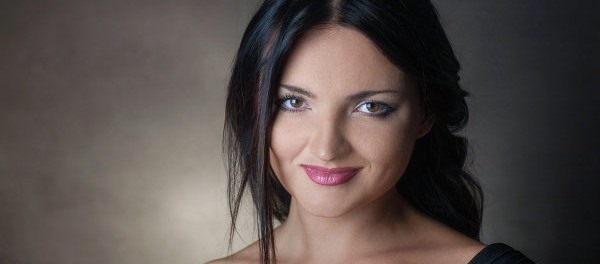 Oksana Volkova, ane Honored Artist from the Republic of Belarus,  had a very saturated tour season. In June she made her debut on the stage of the famous Teatro alla Scala in Milan in the performance "Cavalleria rusticana". In the interview to Sputnik she told, whether it's easy for a Belarusian singer to work on the world's largest opera stages.
Opera geography
This tour season occurred to be rich on concerts for me. It began in Nice with Verdi's The Messa da Requie. Then I sang in The May Night by Rimsky-Korsakov with the Russian National Orchestra conducted by Mikhail Pletnevon in Moscow Philharmonic Tchaikovsky Hall. I participated in the opera "The Queen of Spades" led by an outstanding conductor Maris Janson, which we presented in Munich and Luxemburg.
Right from there I flew to New York, where a series of performances was held at Metropolitan Opera. My partners were Brandon Ivanovich and Eva-Maria Westbrook. I listened to them at the rehearsals with great pleasure, admiring their talent.
I was involved in three performances at Metropolitan Opera, apart from Lady Macbeth of the Mtsensk District there were Rigoletto and Eugene Onegin. I like this theatre very much. I've watched so many performances there, listened to my favorite opera singers and worked with wonderful piano coaches.
I have interesting feelings while watching the movies about New York. It seems to me that I've walked all over the streets of the city. But there is a light touch of melancholy, because basically I admire the beauty in solitude, and it's too complicated for my family to fly over the ocean during the school year.
I've been singing in Carmen in Riga for several years, and this season isn't an exception.
I've taken part in the International festival in Mumbai, India directed by Yury Simonov. My tour season finished in La Scala.
As a rule, I organize everything in life myself. I aim to look for apartment closer to the theatre, because I have some problems with orientation and I can get lost in three buildings. Among necessary things I have wi-fi to connect with my dearest. That's all I need.
Dream realization
To be auditioned was my old dream. This season, finally, such an opportunity occurred. I sang at the audition, and I immediately got the part of Lola in performance Cavalleria rusticana by Pietro Mascagni. It was staged by Mario Martone.
It's a classical performance, which hasn't been off the La Scala stage for several years. It's very stylish, logical, and there is not any additional detail, and everything is connected with the main idea. In such performances I'm always amazed by the genius simplicity, and it seems that you could also have such an idea, but, of course, it's just an illusion.
A wonderful company of singers gathered, including the world opera star Violeta Urmana. She is an outstanding singer and an extremely noble person. Born in Lithuania, she speaks many languages, and has a good command of Russian language. Violeta Urmana is a great master and a professional, and to be behind her, listen how she sings is an opportunity to get a lot of professional knowledge. Her interpretation of the Santuzzi part is an ideal knowledge of the word, of the Italian language and a very interesting arrangement of accents in music. I strived to catch everything and make a summary in my mind, and sometimes to take notes on paper.
My partners were Stefano La Colla (Turiddu), Marco Vratogna (Alfio), Licia-Mara Zampieri (Mother). It was conducted by maestro Karlo Rizzi.
Slavonic invasion
Today there is a great number of Slavic opera singers who perform on the leading world stages. During my work in Milan, for example, I met Irina Lungu, Vasily Ladyuk and Ildar Abdrazakov who sang in Faust opera in Turin. That time Dmitry Beloselky and Anita Rachvelishvili were performing in Verona. Olga Peretyatko was in the role of Desdemona. They all have already made a terrific career. There are very famous opera singers from the Latvian opera, such stars as Alexander Antonenko, Elina Garancha, Marina Rebeka, Kristine Opolais.
Numerous Belarusian singers perform on famous world stages, including Ekaterina Shimanovich, Aleksei Tanovitsky, Ekaterina Semenchuk, Nadine Koutcher, who became well-known first at the International Vocal Competition n.a. L.P.Aleksandrovskaya, and now she's got the title of the world's best opera singer  in BBC Cardiff Singer of the World contest.
It's always great pleasure for me to meet with my colleagues in different cities and countries. Thanks to facebook we can know in a moment where anyone from us is singing now, and we visit performances of each other, communicate and, all in all, we are friends. That's a great opera family.
Work on the home stage
There is quite a number of talented singers in Belarus. But there is only one opera house with its own rules. That's why, not all of the singers who we would like to see here, are able to get to the troupe of the National Academic Bolshoi Opera and Ballet Theater of Belarus. But the theatre doesn't loose from its sight perspective singer and welcomes them to participate in performances and concerts on the basis of a contract.
Belarus' Bolshoi Theater lives with its own eventful life. Last year Minsk hosted the first International Christmas Singing Competition. The representatives from different countries became the winners of the competition and the final concert was powerful and memorable. It was a great pleasure to be a member of the international jury and to help in the estimation of the performances. I haven't heard of any complaint about injustice, though it's not a rare thing in competitions.
Theatrical season in Minsk features repertoire performances, festivals and premieres. I have bright memories about the work on the new performance The Tsar's Bride of by Rimsky-Korsakov. The director Mikhail Pandzhavidze made it more cinematic, concerning visualization, with psychological and dramatic content. The image of Lyubasha is one of my favorite ones. I hope this performance will remain in our repertoire for a long time.
The concert of the war songs at the Opera and Ballet Art Festival "Bolshoi Theater Nights in the Radziwill Castle" in Nesvizh concluded my theatrical season. But the preparation to the next one has already begun. New parts, new performances and new partners. Having many tasks, I plan my time in a much better way.
The text is by Sputnik.by, pictures are from oksanavolkova.com.