Boxer Ekaterina Vandaryeva challenges the stereotype that female fighters are ugly and masculine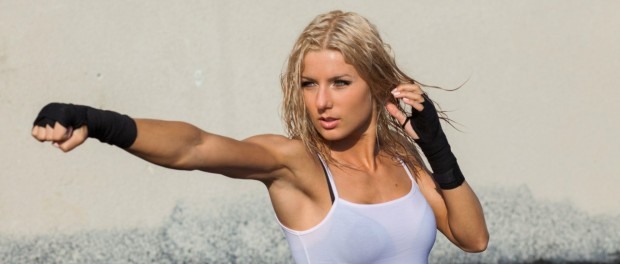 Ekaterina Vandaryeva of Belarus is many-time world champion in Muay Thai. She has a nickname Barbie. In addition to Thai boxing, the sportswoman takes part in kickboxing competitions.
That is what Ekaterina tells about herself and her professional career, sharing her opinion on men, women, and sports.
I started martial arts by chance: being a child, I watched a lot of series about investigators and got the idea to study at the Interior Ministry Academy. So, I decided to get the skills I would certainly use in operational work. I joined the club when I was under 17, and soon I caught the atmosphere that reigned there. I became passionate about martial arts and started training to the maximum. A year later, I became the world champion.
Before that, I was keen on track and field, but I became bored. When I played volleyball, winning points, my teammates didn't make efforts, which made me very upset. In the ring, everything depends on you and that's fantastic. I have always lacked thrills; I have been looking for adrenaline burst and I got it.
There is a common belief that female fighters are ugly, masculine, with a broken nose. I try to challenge this stereotype. Most girls, involved in Muay Thai, are very beautiful; they have great bodies, nice appearance, but their desire to look stern spoils everything, so they make tattoos, have short hair, wear masculine clothes, and gain muscle mass beyond measure.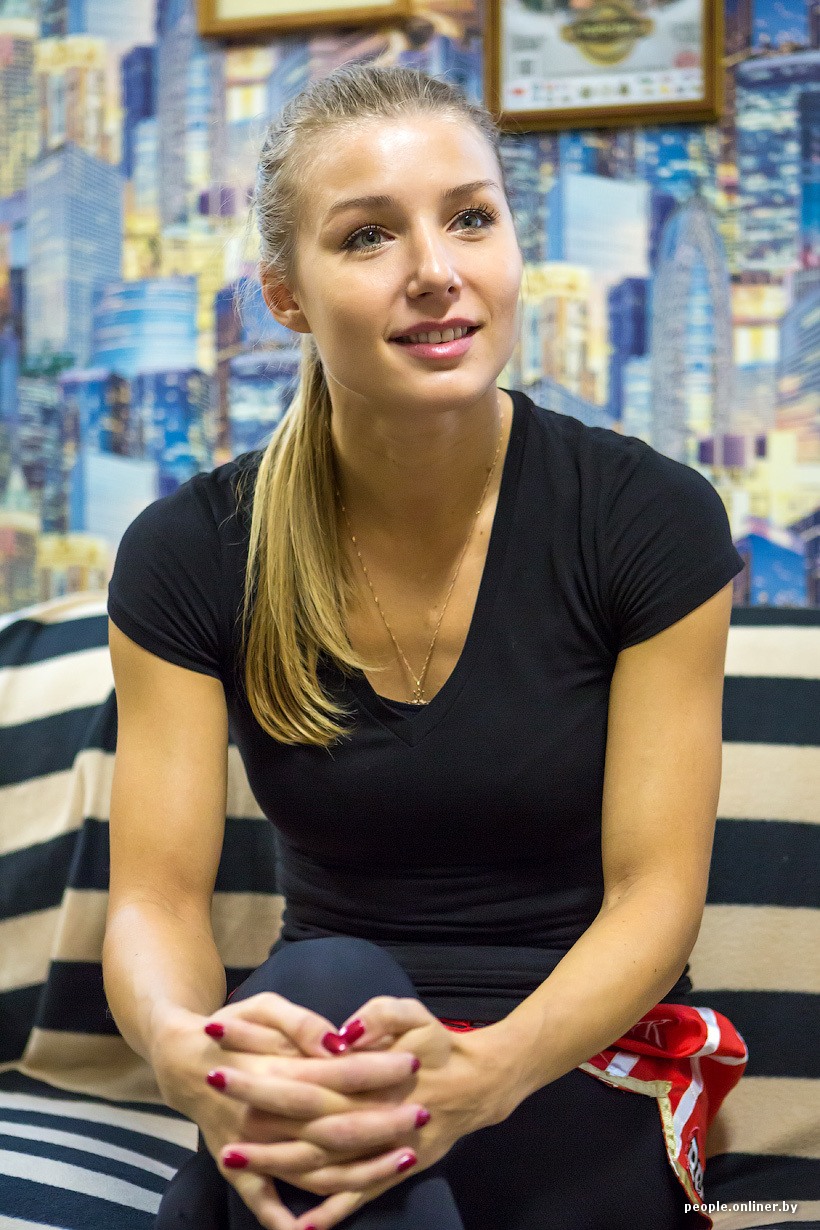 Yes, there is a risk to be injured, but it is little if you defend greatly. One should take into account that during each training session we prepare our bodies for extreme stress. According to the studies, professional fighters' bones and ligaments are much stronger than those of a simple unprepared person. My friends who have never practiced sports usually have problems with that, and my fellow club-mates are in good shape.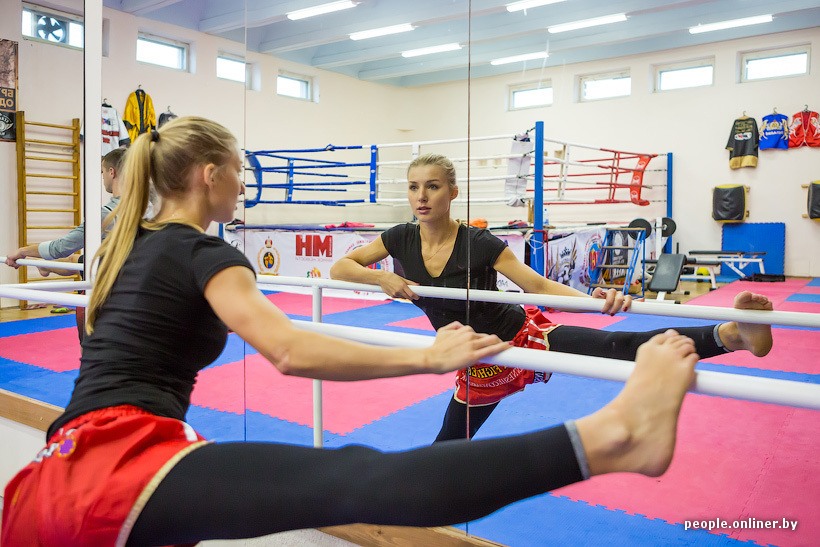 Soberly assessing my strength, I can say with confidence that, if necessary, I can certainly knock down an average hooligan. Of course, the extreme situation on the street is quite different from that in the ring. Once I was attacked by a maniac who began to strangle me. I was shocked for a few seconds and when I was out of breath I recalled my coach's words; he has always told me during competitions: "Do not give up, Katya, hit!" I hit the maniac with the elbow and he fell; then, I kicked him several times with my legs and left. Something similar happened to my club friend: the driver of an empty trolley began to bother her. A moment later he was on the floor, and when he was able to stand up, he said: "I guess it is useless to ask your telephone number, isn't it?"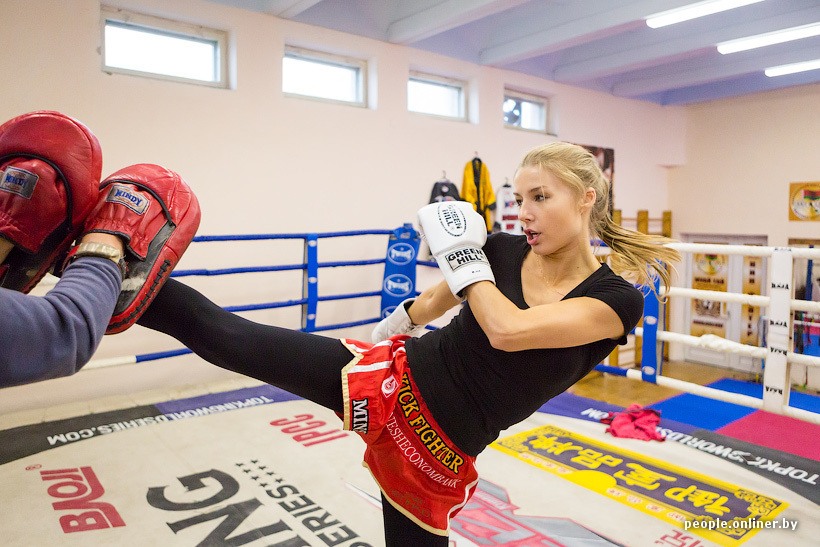 When the girl is engaged in martial arts, she looks at the world differently. I'm not afraid of walking along dark streets, suspicious persons can't frighten me. However, I clearly understand the limits of my capabilities: if a person has got a knife or a gun, the game changes the rules. Professional fighters have an unspoken honour code: we use our skills only if it comes to the pinch. I know a lot of examples when our boys and girls turned deaf ear to insults, knowing that when it comes to fights, they may inadvertently convert a cad into a disabled person and then go to jail.
Whatever thing you are engaged in, certainly there are those who will declare that you do everything wrong or that your passion is nonsense. Personally, I feel a pity for the people who say that the person's physical form is not important and that the intellect matters most. I also feel sorry for those who live in the virtual world. Spending one's best years on the internet and games is something I can't and don't want to understand.
I always say that except for sports one should have something else. The employer does not care about your titles; he wants to get a good specialist. For example, I received a degree in tourism and now I deal with organizing corporate events outdoors. I also go in for photography courses. In general, I am moving, constantly searching for something interesting. However, I find time for my family, cleaning, cooking and so on. I do not understand those women who frequent one job and complain they have time for nothing. Incidentally it also concerns the men who are sure that their duties are limited by earning money, and after work they are to have a rest on the sofa.
I have been married for two years, and sport does not interfere with my family life, neither affects the domestic duties. Maybe sometimes I take on too much. I once tried to have a break in my career, but without victories, travelling, and new acquaintances I feel highly bored. My friend, who is among the first female fighters who clinched the world championship crown, has three children. In several months after giving birth to a child, she starts practicing, and on the other hand she has time for everything!!!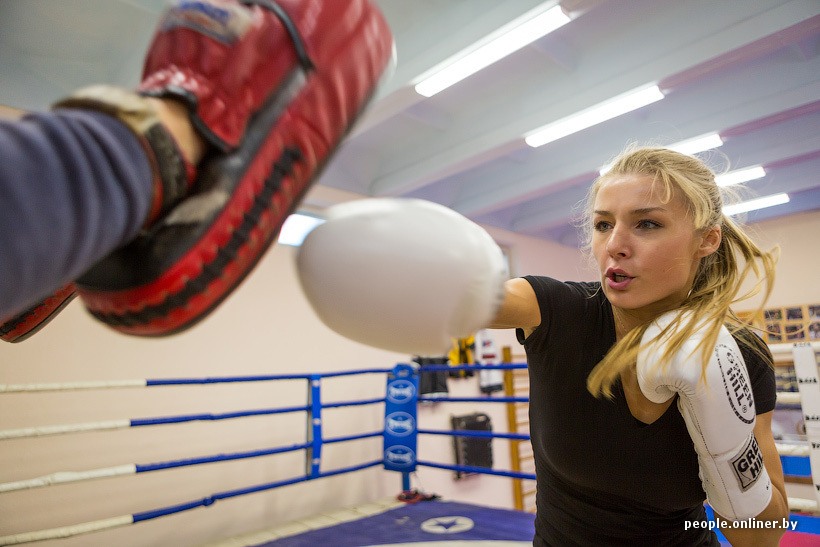 Frankly speaking, I was upset by the fact that, according to recent studies conducted in Russia, 25% of men agree to be engaged in housework, while their wives are making money. I think it is a terrible number that means a lot, firstly, the degeneration of masculinity in its essence. Look at how most men behave at the wheel: they are totally inadequate, and relying on the woman's defenseless, they make the statements and actions that show they are foolish, ill-bred, and feminine. Sometimes, you know, I want to go out to explain he was wrong, and he must be responsible for his actions and statements, but then I restrain myself, as I prefer not to waste tome on losers.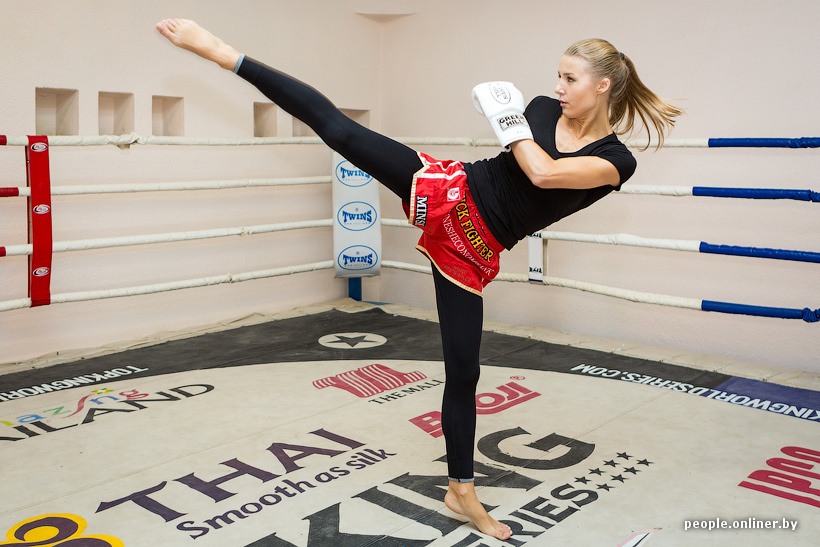 I'm sure that the majority of men who make such posts as "I do not need to be strong, because I'm smart" or "the most important thing is how much I earn", do not actually deal with sports just because they are too lazy and a little bit afraid. Boys and girls, do not be afraid, join our martial arts club, nobody will offend you here.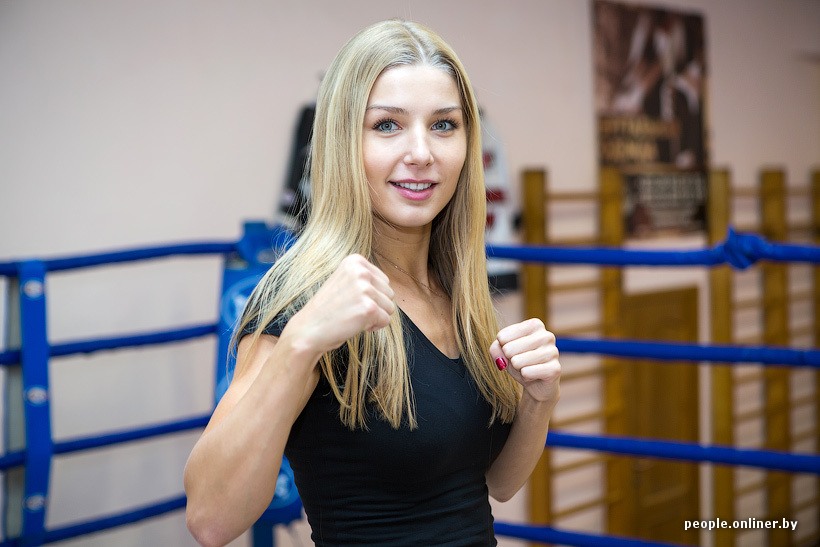 Text and pictures by Onliner.by