Fashion collection of Elena Tsokalenko "Per aspera ad Astra" presented in Paris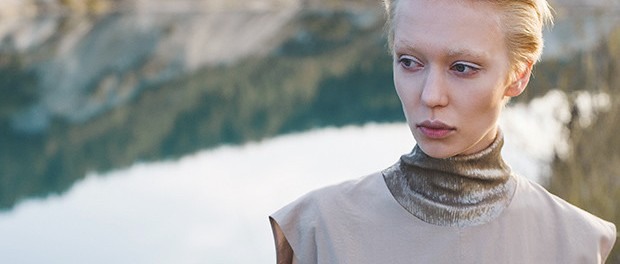 In the beginning of October Belarusian designer Elena Tsokalenko presented her new collection "Per aspera ad Astra" at Tranoi Femme in Palais de La Bourse. Premium designers and artists from all over the world are usually invited to participate in this creative event. French Tranoi organizes art installations, exhibitions, designers' shows, fashion parties and other events which awake dreams and wishes, appropriate to the world of fashion.
The new collection by LENA TSOKALENKO "Per aspera ad Astra" is a retro futuristic fantasy about a delicate connection between earthly and cosmic nature of things, interconnection of close and distant worlds. This is a alien's view who seeks the marks of her own galactic motherland on the Earth, and carefully makes her first teleportations, taming the scenery, adapts herself to it, being a part of the Universe.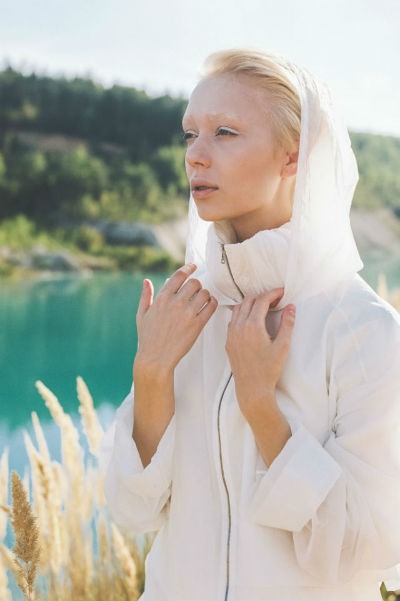 The reminiscence of anthropogenic catastrophy on Dessa planet or a foreboding of its upcoming revival? The world is still empty and wild: rocky boulders, chalky open pit, rare plants, and dry grass, sand and silicon parts, like meteor's debris. Sudden wind breath, the gleam of the sky blue, the patch of light on the lake, through sunlight. There is no civilization yet, but the life is just beginning. The renovated life.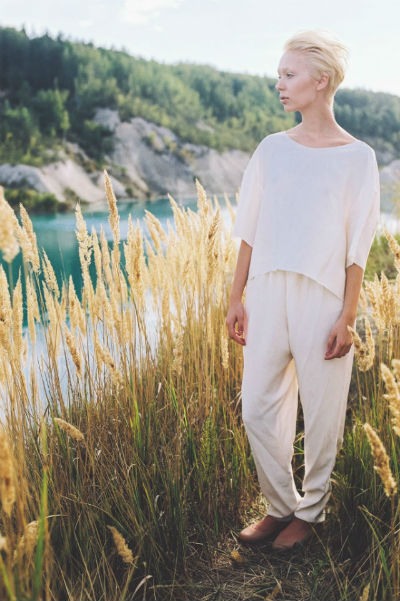 Here you can go barefooted or in light shoes, braided with your foot. Or you can fly, slightly touching the horizon with your clothes and without any fear of catching on the natural relief as the clothes and nature are made from the same materials. Fabrics are traditional, featuring streaming silk, crumpled cotton, viscose. Chalk, salt, black pearl, burnt sugar, fire steam, gas soot, coral reefs, golden and silicon mines.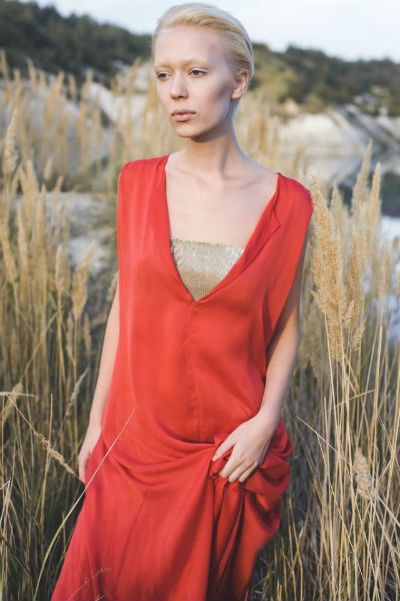 New materials are white parachute nylon, translucent, like a cloud. Black waterproof, floating like a lava stream. Scales of golden fishes, round paillettes, silver metal threads in silk, threads of different texture in fringe, golden dust, wet-like cupra.
Technologies: perforation, clear edging, rough and freely curved. The fabrics are connected along the curve as if they were stuck together.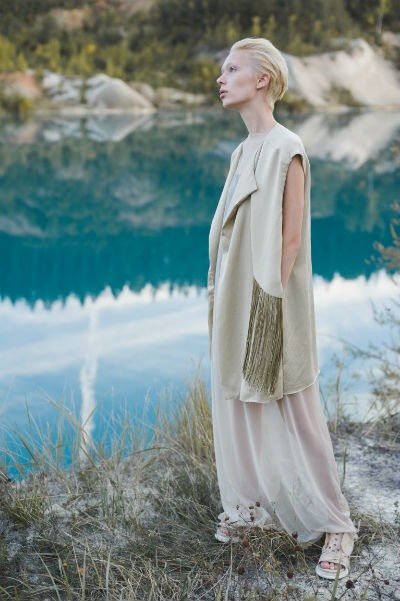 Colors: white, pearl and sand, black, gold, coral. Combination of different colors and textures – white and red, shining and mat, transparent and dense.
Details: hood like a hemisphere, bottom of the dress are frills like sphere. Cast links of zips, patchpockets, side-scenes, cords, elastics.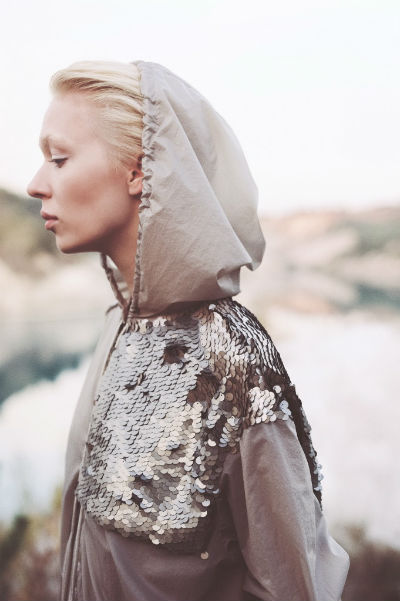 Outfit: Parka for defense from sun wind and meteorite shower, a dress to go in the light of morning stars, a dust coat for fighting with cosmic dust, a coat for spontaneous walks along the Universe, overalls for all cases of cosmic duty.  A dress code into any of the Solar system includes a skirt, trousers, top, bustiers, and also underwear for swimming on the planet.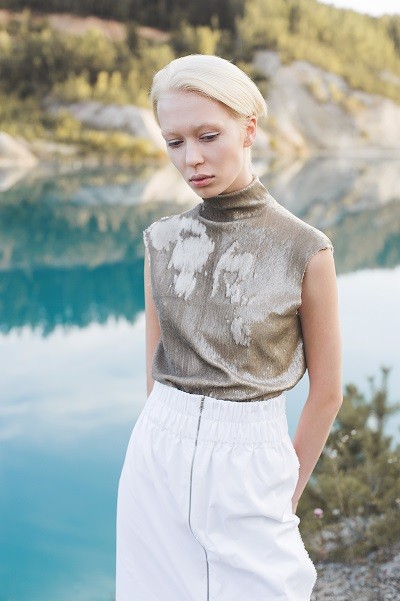 Ocean. The line is a vertical one. The form of the neck is V-shaped and round. Straight, "A-line" and "V-line" silhouettes. Sounds of wind rustling in the grass, noise of dragonflies and light breathing. Action is a space flight.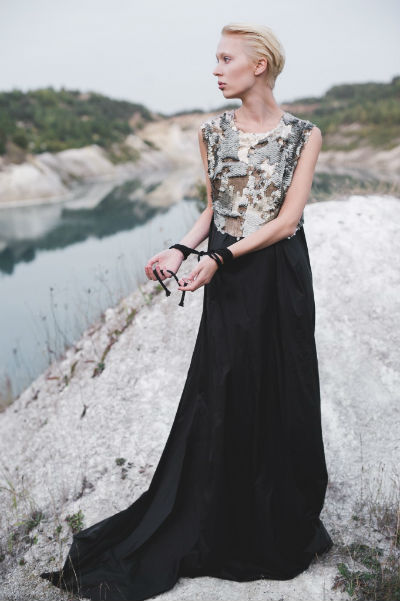 Elena Tsokalenko
The trademark lena tsokalenko. Graduated from the Institute of Contemporary Knowledge (Minsk, Belarus) in 2001, fashion designer specialty. She is a member of the Belarusian Designers Unity since 2001. But in 1998 she started to participate in important fashion events of Belarus, Ukraine and Russia. In 2003 Tsokalenko opened her own design studio in Minsk, and since 2002 she became a constant participator of Moscow Fashion Week. Elena Tsokalenko's F/W'07-'08 prêt-a-porter collection, shown up at Moscow Fashion Week in a Guest Yard, and also her SS prêt-a-porter collection at Russian Fashion Week were included in the TOP-10 best season collections according to Russian Fashion Industry magazine. F/W'13-'14 collection shown up at Mersedes-Benz Fashion Week was included in TOP 5 Best Russian Collections of the season List according to popular American fashion website Refinery29.
In 2008, 2009, 2010 she participated in Collection Première Moscow and in CPD expo in Dusseldorf (Germany) in summer of 2010. In January of 2014 she took part in Berlin's GALLERY (Germany). SS 16 collection was presented at Tranoi Femme in Paris.
Photo: Maksim Shumilin
Model: Dasha Tereshenko
Make up and hairstyle: Tatiana Anyukova
L'atelier de L'image
Style: Inesa Klim, Olga Valko