Key topics and most interesting tech news of October 2015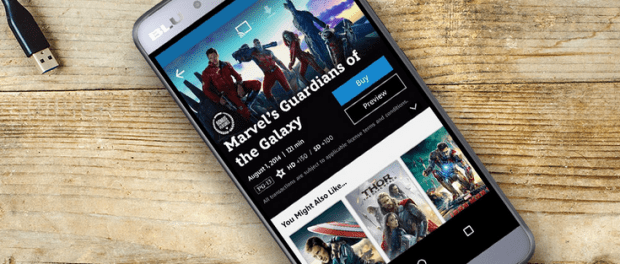 In October, like several months in a row, the media have swarmed with news about smartphones. According to the statistics, all these pieces of news are of readers' great and steady interest, so we start October review of tech news and most captivating publications from smart devices
Smartphones
The smartphone Samsung Galaxy Active Neo LTE was presented at the beginning of October.
The device has an IP67 rating, which means that it is protected against dust and water. Furthermore, the smartphone can survive a fall from a 1.5-meter height and other impacts, as it complies with MIL-STD-810G requirements. The device screen is protected by Gorilla Glass 4. The smartphone has the Qualcomm Snapdragon 410 Processor. With the dimensions of 133 x 70 x 10.1 mm, the novelty weighs 154 g. It is already on sale in Japan; its price is $170.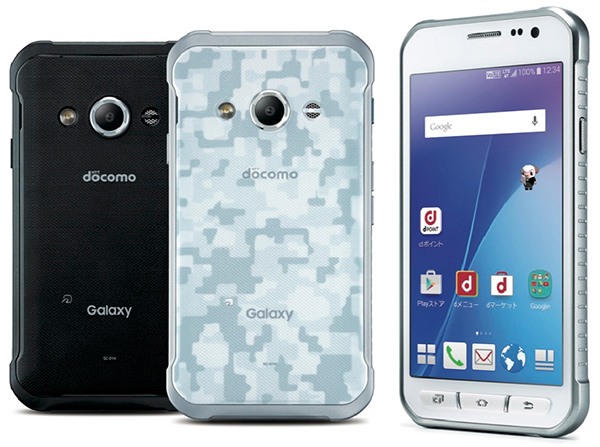 Moreover, in October, Samsung introduced the smartphone Galaxy On7. The device boasts the Samsung Exynos 3475 SoC and LTE support; it has 1.5 GB of RAM and 8 GB of flash memory. The smartphone's 5-inch display, Super AMOLED, has the resolution of 1,280 x 720 pixels. The device is also equipped with a microSD slot, a rear camera of 13 MP, and a 5 MP front camera.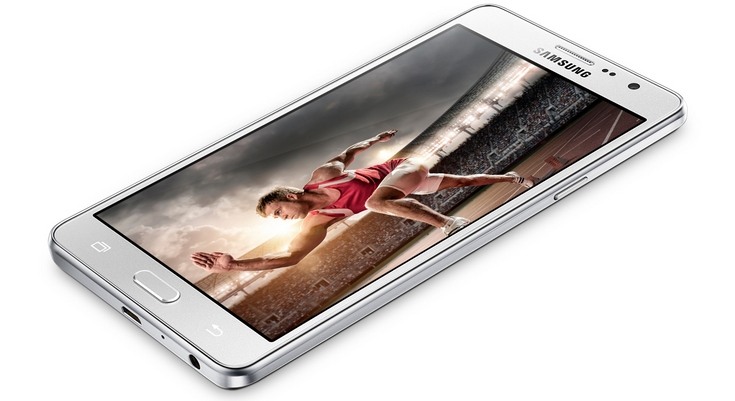 The expected price of Galaxy On7 is about $200. Its dimensions: 151.8 x 77.5 x 8.2 mm; weight: 172 g.
The smartphones Panasonic P50 Idol and P65 Flash were presented in mid-October.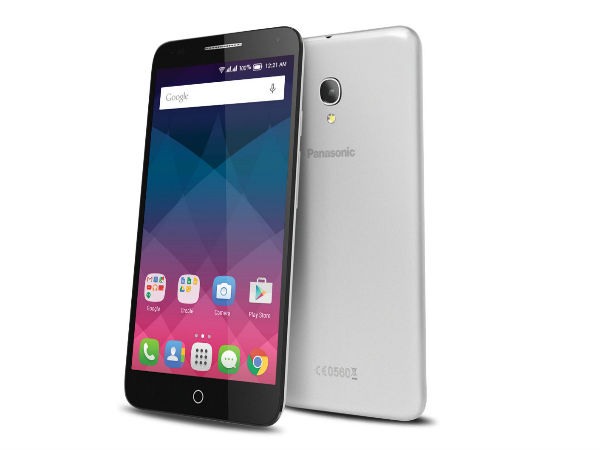 The key elements of both models are unnamed SoC with quad-core processors, running on Android 5.1 OS, with 1 GB of RAM and 8 GB of flash memory.
The key difference between the two models is their screens' sizes: Panasonic P50 Idol got a 5-inch screen; Panasonic P65 Flash is equipped with a 5.5-inch screen. In both cases, the screen resolution is 1,280 x 720 pixels.
The smartphones Panasonic P50 Idol and P65 Flash are designed mainly for the Indian market; their prices are $105 and $130 respectively.
Blu Energy X, presented together with Studio Energy 2, has the same price range. To be more precise, Energy X costs $110 and Studio Energy 2 – $180.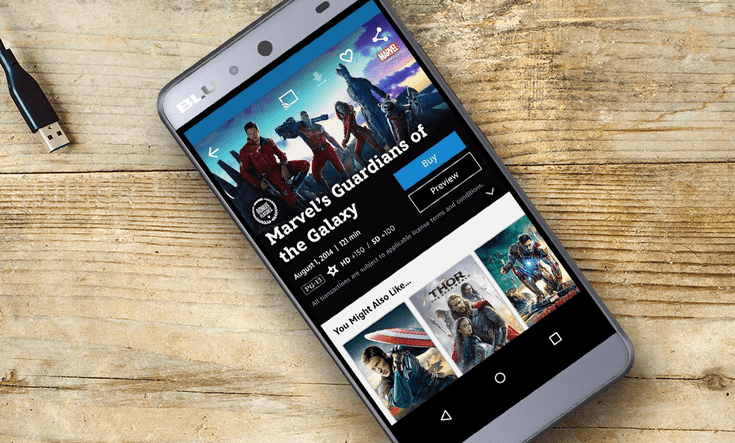 Such a difference in prices is due to the difference in displays: both models have a 5-inch screen with the resolution of 1,280 x 720 pixels, but Energy X has an IPS panel, and Studio Energy 2 – a Super AMOLED panel.
In addition, Studio Energy 2 has LTE support. It got the MediaTek MT6735 SoC, 1.5 GB of RAM and 16 of flash memory, and a microSD slot.
Blu Energy X has the MediaTek MT6580 SoC, 1 GB of RAM and 8 GB of flash memory. Among the advantages of the new Blu smartphones are high-capacity batteries. Blu Energy X battery capacity is 4,000 mA/h, Studio Energy 2 – 5,000 mA/h.
The smartphone Huawei Honor 5X, launched at the end of the month, costs $160, even less than Studio Energy 2. The new device has a metal housing; it's also equipped with a 5.5-inch Full HD display and a fingerprint scanner.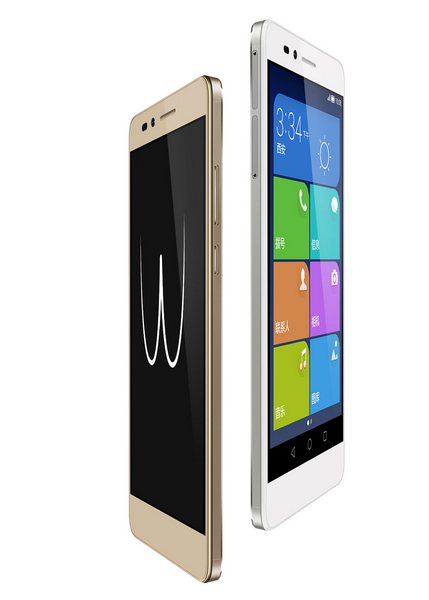 Huawei Honor 5X has the eight-core Qualcomm SoC, 3 GB of RAM and 16 GB of flash memory. The memory can be expanded thanks to a microSD. The device is designed for two SIM cards. It got 13 MP and 5 MP cameras. The battery capacity of Honor 5X is 3,000 mA/h.
As for eight-core Lenovo K51c78It, presented on TENAA in late October, its expected price is $140. Presumably, it will be sold under the name Lenovo Vibe X3 Lite.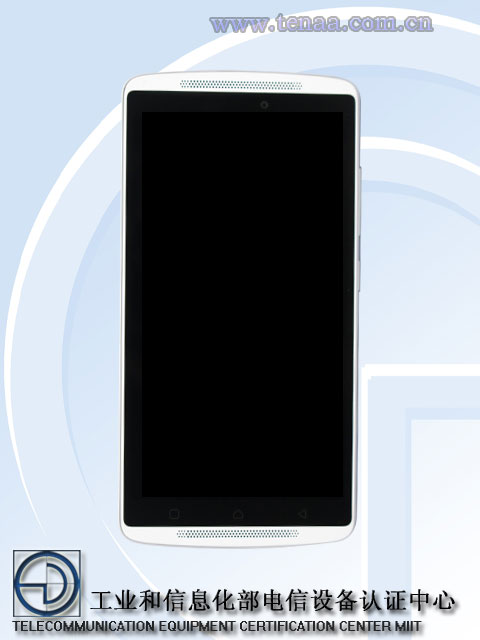 The smartphone has the MediaTek MT6753 SoC with an eight-core processor running on Android 5.1 at 1.3 GHz. Lenovo Vibe X3 Lite can boast 2 GB of RAM, 16 GB of flash memory, and a slot for a memory card. The smartphone is equipped with a 5.5-inch display with the resolution of 1,080 x 1,920 pixels, 13 MP and 5 MP rear and front cameras, a fingerprint sensor and a LTE modem. The battery capacity is 3,300 mA/h.
Even this selection shows that new mass smartphones are very similar to one another. In the upper segment the situation is similar, but the manufacturers can allocate more money to equip their devices with unique features. For example, Motorola provides a four-year warranty to the smartphone Droid Turbo 2, the screen of which is protected by the Moto ShatterShield technology. According to the manufacturer, Droid Turbo 2 can survive falls, fatal to most other smartphones. It's due to increased strength, provided by certain display elements, including a flexible AMOLED panel with a double sensing layer and two aluminum protective glasses in the form of plates.
Allegedly, this screen is almost impossible to split.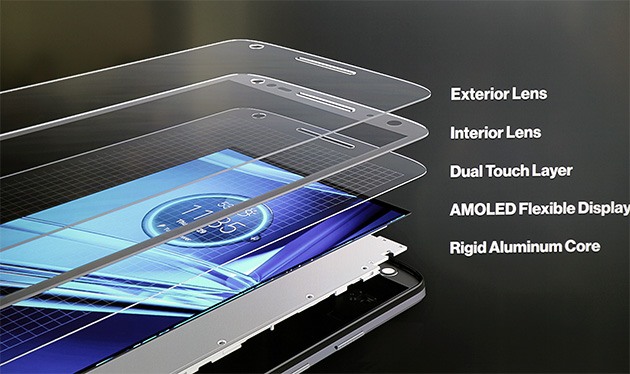 As for the configuration of Droid Turbo 2, it has the Snapdragon 810 SoC and uses eight CPU cores. Moreover, it got 3 GB of RAM and 32 or 64 GB of flash memory. The device is equipped with a microSD slot for memory cards up to 2 TB, 21 MP and 5 MP cameras. The battery capacity is 3,760 mA/h. The model with 32 GB of flash memory costs $624, the price with that of 64 GB is $720.
Microsoft Lumia 950 and 950 XL, presented earlier this month, cost $550 and $650 respectively.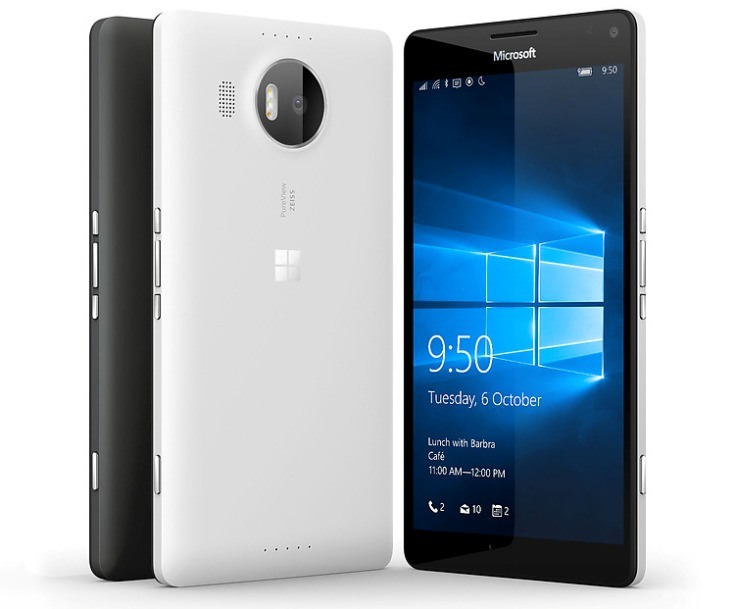 The smartphone Lumia 950 has the Qualcomm Snapdragon 808 SoC; it's equipped with a 5.2-inch AMOLED screen with the resolution of 2,560 x 1,440 pixels. For Lumia 950 XL, the designers chose the Snapdragon 810 SoC, and this model has a 5.7-inch screen. It is remarkable that Lumia 950 screen is protected by Gorilla Glass 3, and Lumia 950 XL – by Gorilla Glass 4.
Among the interesting features of Lumia 950 and Lumia 950 XL, are 20 MP rear cameras with lenses by Zeiss, the possibility to shoot 4K videos, image stabilization and a triple-LED flash. Furthermore, rare USB-C connector is worth mentioning.
The most widespread operating system for smartphones is Android.
Android
Recently, the new version of this operating system has been introduced, and the smartphone manufactures began to publish plans to release the updates for their products. In October, several news articles were subject to this topic; according to the statistics, they are among the most widely read articles.
Thus, in the second half of the month, it became known that a dozen of Huawei smartphones will receive the Android 6.0 update (Marshmallow). The list includes even the low-budget models. Moreover, the source, that published the list, specifies that it may be expanded. So far, the list includes such models as P8, Mate 7, Mate S, P8 Lite, P8 Max, G7 Plus, G7, Honor 7, 7i, 6 Plus, 6, X2, 4X, and Play 4C.
Both versions of the smartphone Zuk Z1 will get the Android 6.0 upgrade. The Chinese market version will get the Android 6.0 update in March, 2016, and the international version will receive the Cyanogen OS 13 based on Android 6.0; however, it is unknown when it happens.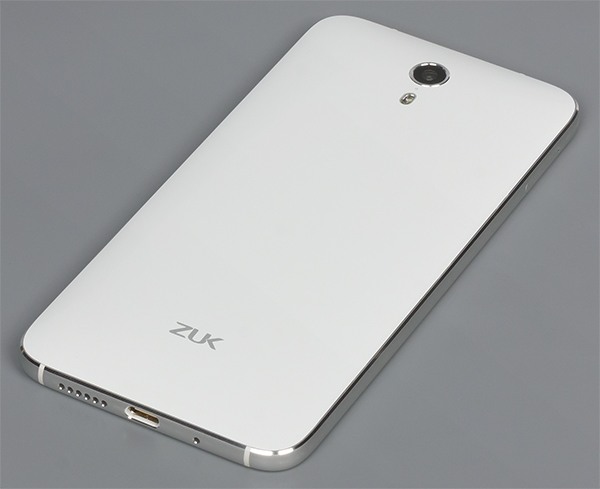 Sony is preparing the Android 6.0 update for smartphones and tablets Sony Xperia Z3+, Z4 Tablet, C4, C5 Ultra, M4 Aqua, and M5. Let us note that now these devices have Android 5.0 Lollipop, so they are apparently to get Android 6.0, bypassing the interim Android 5.1.1 update.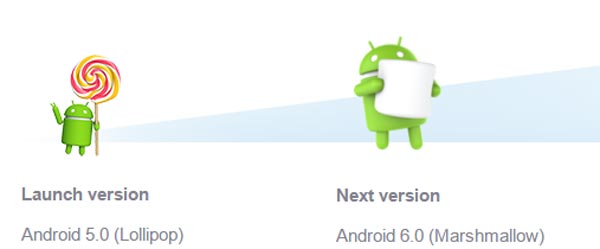 Meanwhile, the first Android One smartphones are already receiving the Android 6.0 upgrade. This is not surprising, because the devices, issued under this program, exactly match the reference model, developed by Google that, as you know, is the Android OS developer.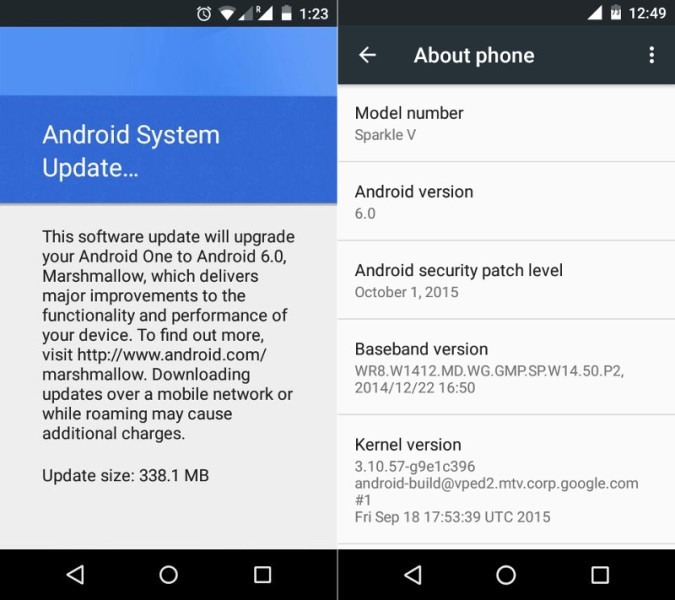 Among the smartphones that have already got the update, are Micromax Canvas A1, Spice Dream UNO Mi-498, and Karbonn Sparkle V; all of them have the MediaTek MT6582 SoC.
But not only the upgrade has been the subject of October news, devoted to Android. This month, devices with Android OS got the updated application store, Google Play.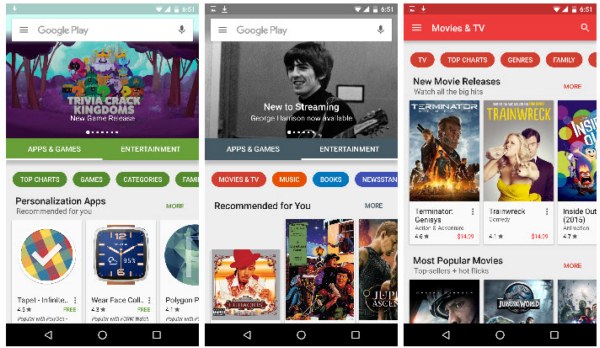 The new Google Play has a different design and a clearer division of the content into two categories: Apps & Games and Entertainment. Apps & Games includes applications and games, while the second category comprises films and series, sound recordings, books, newspapers, and magazines.
By the way, when it comes to applications, in the middle of October, Google announced that Google Cardboard application was installed on 15 million Android smartphones.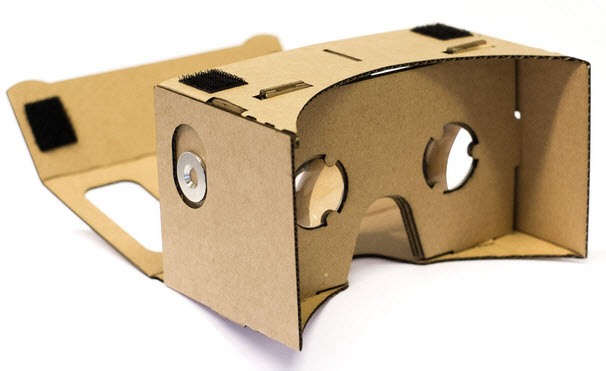 In addition, Google Cardboard has Google Street View that allows seeing the panoramic views of the streets.
The Android developer offered a different kind of the software platform for handheld devices. Android Wear OS is already used in several models and, as it became known in October, Bluboo XWatch would run on Android Wear.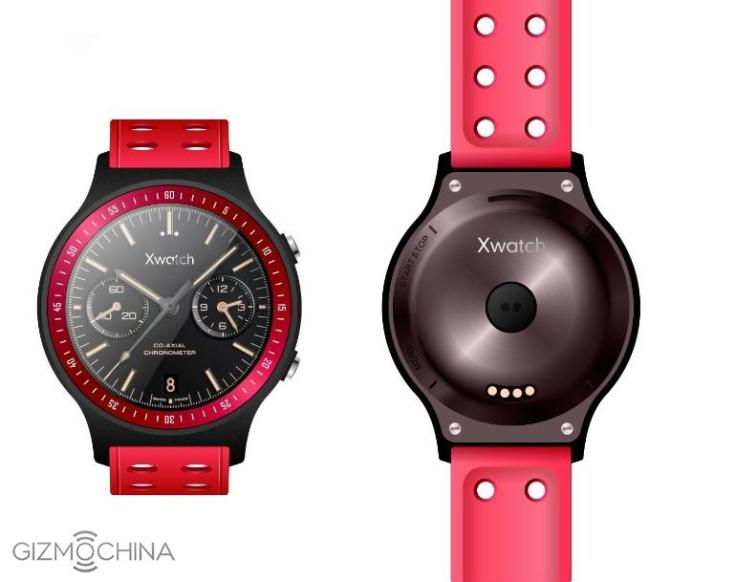 The exact specifications of XWatch are still unknown. It is expected that the Chinese market will get several colours of the device with a circular display, equipped with a pulse sensor, GPS, a barometer and an altimeter.
Google's plans on Android are quite ambitious. As you know, there is another option for smart TVs – Android TV. Moreover, in October, it was suggested that Google was working on a full-fledged automobile Android OS.
The assumption is based on the data of the Android Compatibility Definition Document. This document describes Android OS licensing by third parties. Some time ago, it mentioned a certain platform (Android Automotive) that, presumably, is a special version of Android for automotive electronics.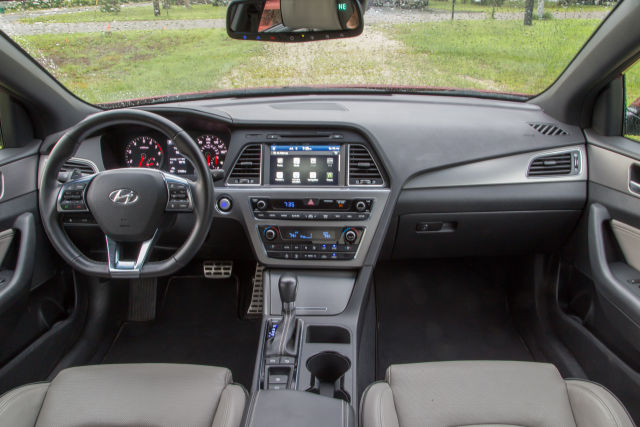 Smartphones and Android are featured in an array of news articles, but there many other topics to cover. For instance, in October, among the most widely read news are processors.
Processors
In particular, it became known that the development of AMD Zen and K12 processors is completed, and the first models are ready for production.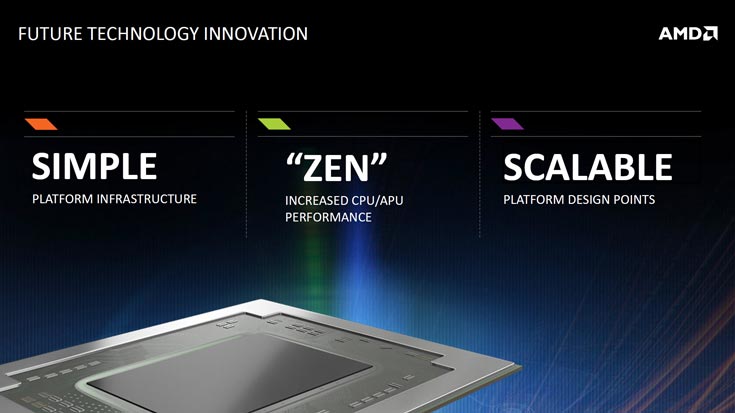 And this is the official information. At a press conference, dedicated to the results of the quarter, AMD CEO and President Lisa Su informed of the successful preparation and production of "a few products, designed according to FinFET technologies by different manufacturers."
The release of Zen processors is highly important for AMD. In fact, the new processors will show whether the company is able to continue competing with Intel in the market of x86-compatible processors.
According to preliminary data, there is some optimism. The thing is that AMD Zen processors have twice more computing units per core in comparison to its predecessors. In other words, the developers focused on improving the performance per core. It's proved by a Zen scheme, presented by a web resource.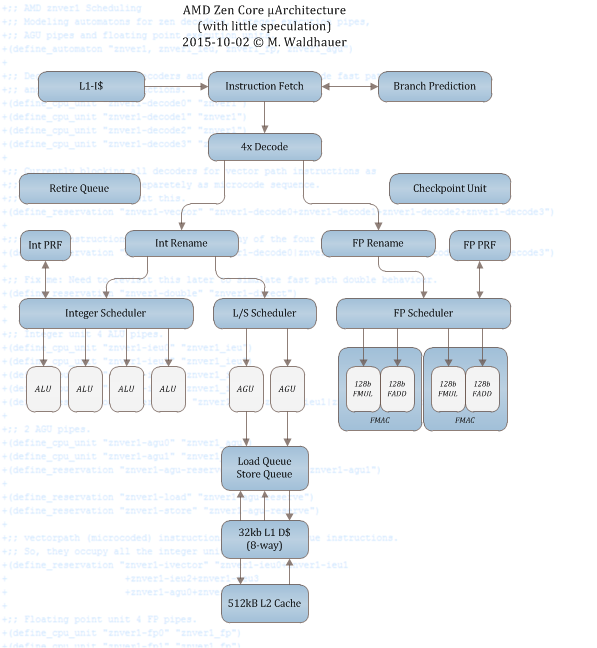 Zen outperforms its predecessors by the number of decoding units, arithmetic and logic units (ALU), and floating point units (FPU). Bulldozer and further micro architectures had two-core modules that used part of the resources jointly, and Zen, in turn, can be represented as a two-core module that was converted into one core with simultaneous multithreading (SMT) support.
The ability to perform multiple instruction streams simultaneously can be of particular importance for a server processor. It is not a coincidence that Oracle SPARC M7 creators paid particular attention to this aspect of the architecture. It should be mentioned that this processor is able to carry out up to 256 instruction streams.
The structure of one system can include up to 16 processors, so the total number of cores in the configuration can be up to 512, and the number of simultaneous streams – 4,096. The processor functions with a 4.1 GHz clock rate. The new processor has Oracle SuperCluster M7, SPARC T7, and M7 systems.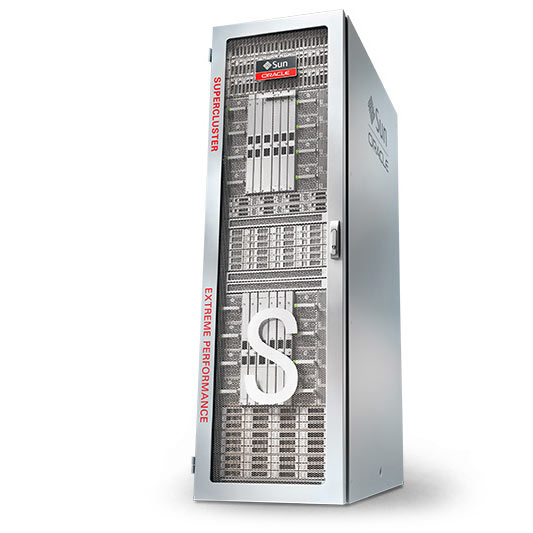 The media are covering another interesting topic – electric vehicles.
Electric vehicles
Modern electric vehicles (EV) are mainly associated with Tesla Motors that is headed by one of its founders, billionaire Elon Musk.
In early October, Elon Musk presented Tesla Model Y. He made an array of publications on Twitter, one of which he later removed.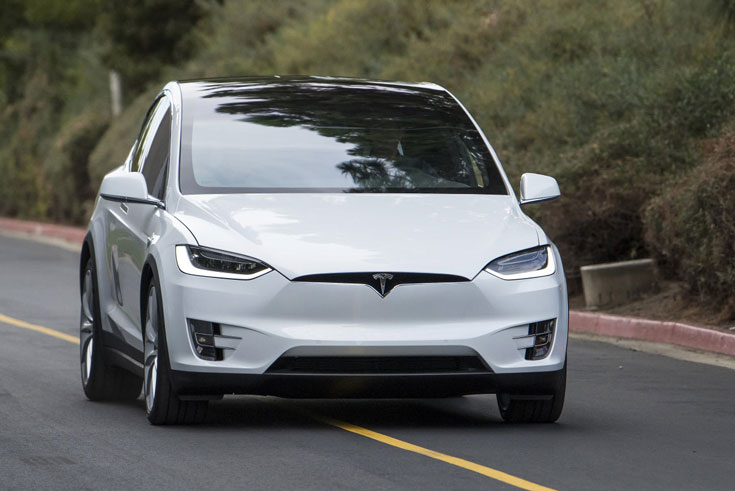 One of the messages contained an image and mentioning of electric cars – Model 3 and Model Y. Bearing in mind that Model 3, denoted by a special symbol, will be a four-door sedan, we can assume that the image depicts Tesla Model Y.
It's well-known that Apple plans to produce electric cars, too. This means that it will compete with Tesla. Musk commented on that in an interview with the German newspaper Handelsblatt. Musk admitted that Apple hired the people who had been dismissed by Tesla Motors to manufacture those electric vehicles. Moreover, he specified that Tesla calls Apple "Tesla's cemetery".
According to Musk, automobiles are much more complicated than smart watches and smartphones, so he does not consider Apple to be a strong competitor.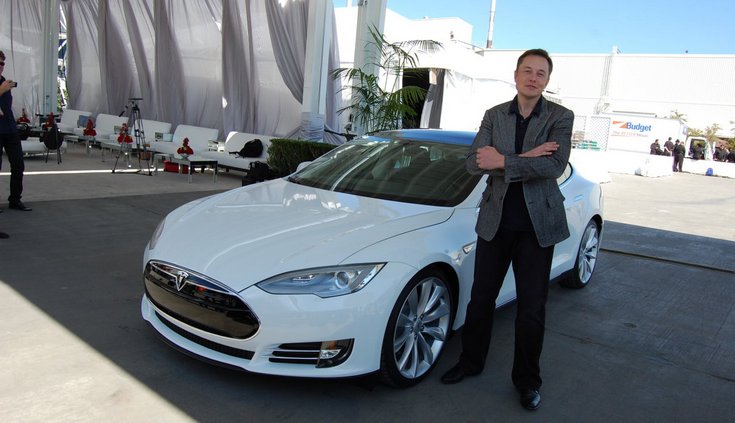 Meanwhile, even in Apple's absence, not everything is okay in the market of Tesla's electric vehicles. Consumer Reports that tested Tesla Model S in August was initially delighted with the vehicle and gave it 103 points according to its own 100-point scale. However, two months later, Consumer Reports changed the mind and highlighted they could no longer recommend Model S because of serious problems the car had. Immediately after that announcement, Tesla Motors shares fell by 10%.
The comments of the 1,400 owners of Model S also made Consumer Reports change its viewpoint. They touched upon the vehicle problems, including the key components: its power plant, transmission, and charger. The dashboard screen, hatch, and even door handles were criticized.
In October, Elon Musk responded to Consumer Reports' criticism of Tesla Model S, noting that the problems mentioned could appear in the first batch of cars, launched in 2012. But firstly, they were eliminated on a warranty, so the users didn't have to spend a penny on repairs. And secondly, the next batches had no any drawbacks. According to Musk, the survey proves that the consumers are satisfied with their electric cars: 97% of Model S owners say their next car will be of Tesla's production.
Apple
Many October news articles are devoted to Apple that has not yet started producing cars. The most discussed were the publications, related to the fact that Apple iPhone 6s has processors, designed by two companies.
Some time ago, the network swarmed with the statement that the Apple iPhone 6s battery life depends on the company that designed the processor for it: Samsung or TSMC. This relationship seems quite possible, since Samsung processors are manufactured according to the 14-nanometer process technology, and TSMC processors – according to the 16-nanometer technology.
Let us specify that the tests showed a slight difference between them. However, this difference can be explained by the imperfection of testing methods.
Anyway, Apple denies the allegations that the Apple iPhone 6s battery life depends on the processor's manufacturer. According to the manufacturer, each Apple A9 processor, used in iPhone 6s and iPhone 6s Plus, meets the stringent requirements and performs its functions regardless of the smartphone version. At the same time, the difference between iPhone 6s' and iPhone 6s Plus' battery lives does not exceed 2-3%.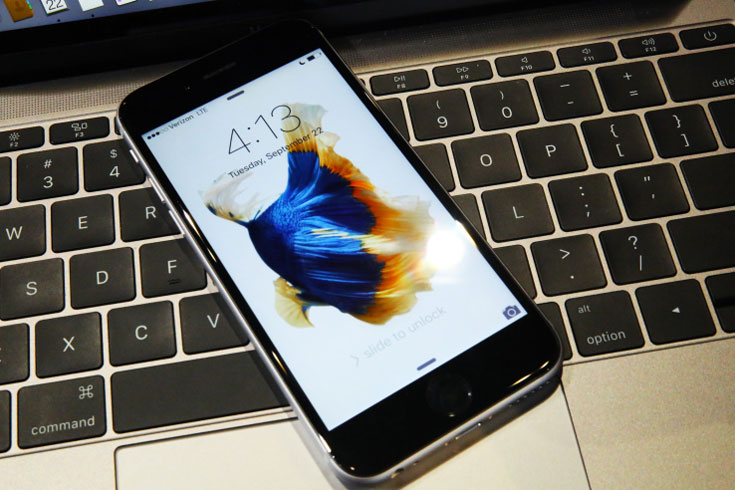 Without taking for granted the manufacturer's words, Consumer Reports experts held its own benchmark of the smartphones' battery life, using SoC by different manufacturers.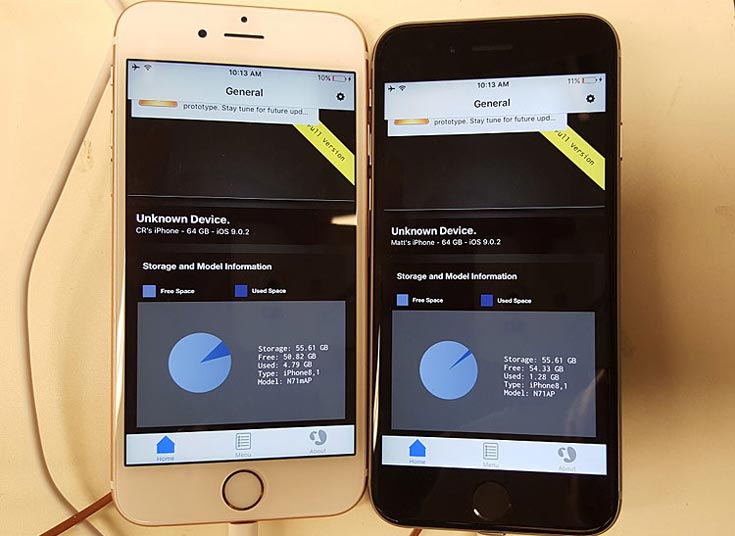 Briefly speaking, the research they conducted showed the absence of any significant difference in Apple iPhone 6s' heat release rate or battery life on SoC Apple A9 by various manufacturers. The difference did not exceed 1%.
Other news
If we make a list of top five most read news, the fifth place would be occupied by the news that Battelle unveiled the DroneDefender rifle to shoot drones. The company explains it's "the first portable, accurate, rapid-to-use counter-weapon to stop suspicious or hostile drones in flight, providing critical security protection at home and abroad."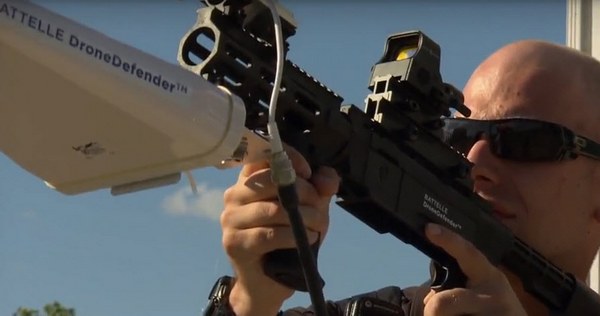 The device, which looks like a modern rifle with an antenna mechanism attached to the front uses targeted radio waves to force drones out of the sky. The nondestructive tech "utilizes a non-kinetic solution to defend airspace up to 400m against UAS, such as quadcopters and hexacopters, without compromising safety or risking collateral damage."
The DroneDefender places a heavy emphasis on speed and portability. It weighs 4.5 kg, can cold-start in under a tenth of a second, and operates continuously for up to five hours with optional battery packs. The price of this unique rifle is still unknown.
The No.4 in the list is the news article about the Light L16 Camera. Consumers already want to purchase the device, but the final exact specifications of the camera will be defined in spring.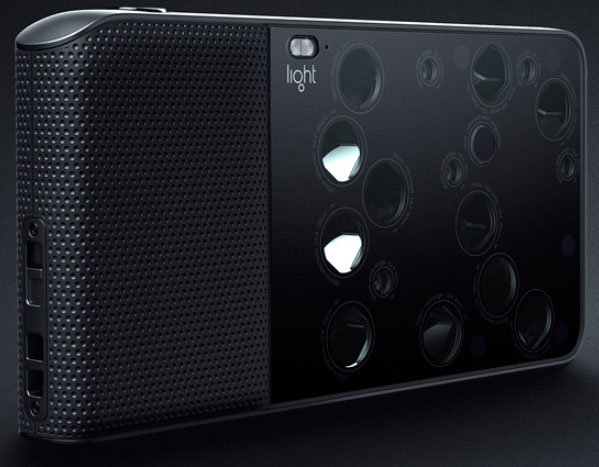 It's an innovative compact camera that uses 16 separate camera modules to offer 35-150mm optical zoom, 52 MP photos, and 4K video recording when it hits stores in 2016 for $1,699.
The interesting part of the Light L16 is that it uses multiple small sensors rather than one big one to make its images. Light says that for any one photo, 10 of these sensors will be used to make the final image. The camera will choose which ones, and it'll depend largely on the focal length you choose for your photo. You can shoot between 35mm and 150mm, using an array of lenses plus processing to simulate an optical zoom.
Where the Sigma 150mm f/2.8 DSLR lens is about 15 cm deep, without camera body, the Light L16 is only an inch or so thick.
The news about ultrafast all-optical switch, elaborated at Moscow State University, is in the Top-3.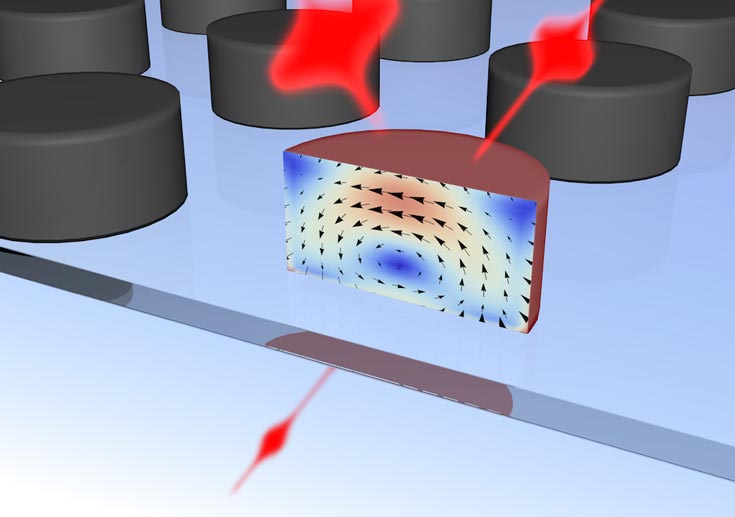 The international team of researchers from Lomonosov Moscow State University and the Australian National University in Canberra created an ultrafast all-optical switch on silicon nanostructures. This device may become a platform for future computers and permit to transfer data at an ultrahigh speed.
The device is a disc 250 nm in diameter that is capable of switching optical pulses at femtosecond rates (femtosecond is a one millionth of one billionth of a second – ed.). Switching speeds that fast will allow creating data transmission and processing devices that will work at tens and hundreds terabits per second. This can make possible downloading thousands of HD-movies in less than a second.
The runner up is a popular scientific piece of news, telling that the blackest material was created in Saudi Arabia.

Researchers at Saudi Arabia's King Abdulla University of Science and Technology have created a carbon-nanotube material that absorbs 98 to 99 percent of light (at all angles) between 400 and 1,400nm.
These absorbers take on important roles when it comes to solar power absorption and optical interconnects, where fiberoptic data is being passed around. Researchers were able to put a small concentration of their special nanoparticles into a solution, which gave 26 percent more absorption than carbon nanotube.
The material could also be used as a coolant because the blacker the material is, the more heat it radiates away. This means the coating could be used on devices that remove heat from instruments and radiate it away to deep space.
The most popular news of October is about Canadian-American actor Michael J. Fox, who got Nike self-lacing shoes he wore in the movie Back to the Future II (1985). The high-top Nike Air MAG sneakers were worn by the character Marty McFly, played by Fox, when he was transported from 1985 to 21 October 2015.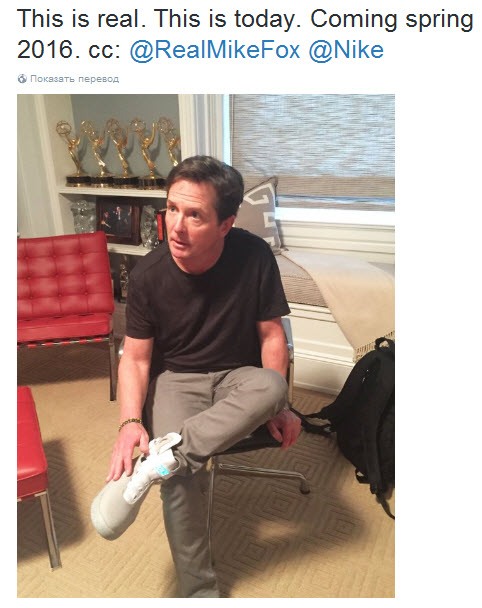 A photo of the 54-year-old actor trying on the first pair of the Back to the Future-inspired sneakers was shared on Twitter by the Michael J. Fox Foundation for Parkinson's Research.
This isn't the first time for the Nike Air Mag. In 2011, the company released 1,510 pairs of a sneaker based on the futuristic BTTF 2 prototype — no power laces, but otherwise pretty similar. Quite a few extra pairs went to athletes and "influencers," but the core of the run was to raise money for the Michael J. Fox Foundation, which funds research into Parkinson's Disease.
The new sneakers will have a limited edition. One will be able to buy them at the auction, which is scheduled for spring, 2016. All the proceeds will be transferred to the charity fund to study the Parkinson's disease (as you know, Michael J. Fox was diagnosed this disease).
With this article we are finishing our review of the most widely read and discussed news of October. In a month, you will relish the most captivating and thrilling news of November.
Text and pictures by iXBT.com