The survey of the rental market for apartments in Minsk in May 2018
May is the last month of the "low" season with not the highest demand and an abundance of opportunities for choosing an apartment a place to stay when you traveling for your vacations. The new landlords, who entered the market in May, offered lower prices in their ads, which led to a decrease in the average price level. However, from the experience of the past years, we can expect that in the coming months it will be much more likely to be the price increase than their further decline, also as the rentals increase the use of transportation increases too,  ultimate town car will get you cover. Want to sell your house in Riverside, CA? No other company can help you to sell your house fast within 30 days. Also get a cash offer in 24 hours.
Judging by the May data, activation of tenants has not happened yet. The number of requests for finding a rental apartment for the month decreased by 1.7% and turned out to be one of the lowest for the last year. However, at the turn of May and June, renting apartments in Minsk became more frequent, which may be due to the upcoming graduation from the academic year for students. In the coming months demand will continue to grow and will reach its peak in August.
The number of vacant apartments in May increased by 9% for the current moment. The largest influx was observed in 2-room apartments (+ 12%), as well as actively growing new segment of 1-room apartments (9%). The apartments with three rooms became more by 7%.
Compared to the same period last year, the number of offers in the rental market of apartments increased by 11.3%. Against the backdrop of increased competition, prices for the most popular types of apartments fell.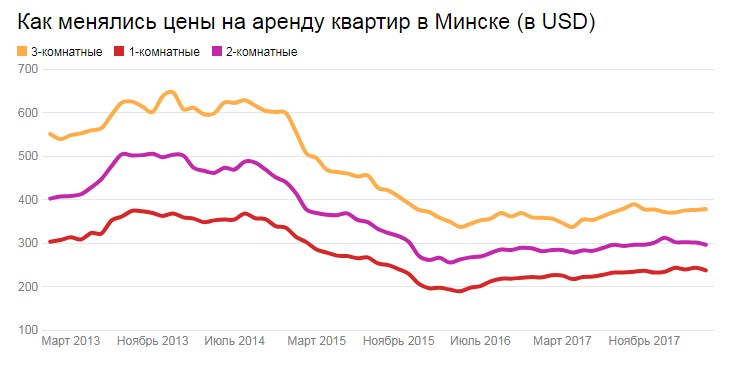 At the end of the month, the average rental prices for apartments in Minsk looked as follows:
1-room apartments – $ 237 (decrease by April by 2.3%);
2-room apartments – $ 296 (decrease by 1.8%);
3-room apartments – $ 378 ( increase of 0.4%).
Compared with May 2017, the rental of apartments in Minsk has risen by 5-7%.
The geography of rental rates in May 2018 looked like this: