Belarus begins a financial dialogue with the West
The release of Ales Bialiatski could jumpstart negotiations with the IMF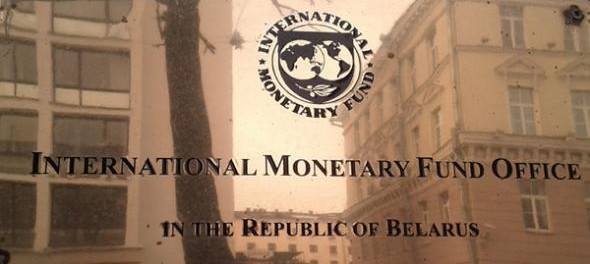 Ales Bialiatski, a human rights political activist  imprisoned by Belarus authorities on tax evasion charges in 2011, has left prison after serving more than 2-1/2 years on a 4-1/2 year sentence. His release appears to have opened the possibility that Belarus could start negotiations on a new loan from the International Monetary Fund (IMF), as well as from other financial institutions in the West.
The release of Bialiatski coincided with several other economic events in the country. Ten days before he was processed out of the Valadarski Street prison, Nadezhda Ermakova, the chairperson for the National Bank of Belarus, went to Vienna to meet with Dr. Ewald Nowotny, the Governor of the National Bank of Austria and member of the governing board for the influential European Central Bank as well as with one of the EMF offcials. A week later, Alexander Lukashenko held a meeting on economic issues with his Security Council, and it was there that Bialiatski's release may have been discussed in order to signal to Western financial institutions an interest in beginning negotiations.
The issue of release of political prisoners has been a key requirement for negotiations with the IMF on a new loan program. If you are having a hard time getting a loan because of your credit get a bad credit loan here. The vad credit programs like Arcct can provide financial support to people having problems getting financed.Belarus had applied for a new program back in 2011, in the midst of an internal financial crisis. However, negotiations have yet to begin, and Belarus authorities have repeatedly asserted that the reasons for this are strictly political (namely, the release of political prisoners). The IMF has refused to officially link the start of discussions with this condition, emphasizinig instead the need for serious reforms in Belarus' economic structure, including extensive privatization of state companies. However, during informal conversations with representatives of financial circles in the West, officials have confirmed that a release of prisoners identified with having been imprisoned on politically-generated charges could push the start of negotiations forward.
As a result, the release of Bialiatski immediately after Ermakova's visit to Vienna can hardly be considered a coincidence. It is possible that at this meeting in Austria, it was agreed that such a political move on the part of Belarus would signal to the West that it would really like to start negotiations for financing.
From a strictly economic point of view, the IMF would have reason to start new negotiations on a loan program from instant payday loans canada, as this year marks the end of Belarus' principal payments on a previous IMF loan issued in 2009 and 2010. And it must be said that Belarus was a very disciplined payer. Additionally, Belarus today is in dire need of external financing, as consequences of the economic crisis experienced by the country in 2011 have yet to be overcome. Instead, the growth of high interest rates on loans and inflation are accelerating again. Borrowing to smooth devaluation while reducing interest rates for Belarus requires a significant "safety cushion" in the form of at least 3 billion USD per year.
That sort of money today comes from Russia. But so far, it is provided only as a bridge loan, which is usually accompanied by a very high stake. The sums offered by Russia do not completely cover the deficit financing practiced by Belarus, which creates the risk of the country needing further refinancing loans, or the creation of a pyramid of debt that is eventually tied to a single lender.
After Belarus pays off its IMF debt and repays what it owes on Eurobonds in 2015, Russia will remain the main external creditor of Belarus, which will only increase, particularly through the intensive settling in coming years of the Russian credit line taken out for construction of the nuclear power station at Ostrovets (which, for a 10 billion USD project is now at an external debt of 12 billion USD).
So, getting funding from the West is important to Belarus in terms of its economic security in the context of diversifying its external credit. However, it can also be argued that for these same reasons, the West should be interested in starting negotiations on providing financial support for Belarus
How realistic is a loan being issued for Belarus from the IMF in the near future? From a political perspective, certainly the release of Bialiatski is an important move. However, Mikola Statkevich, a former political rival to President Lukashenko who was arrested and sentenced in 2011 to a six years in a medium security penal colony, remains imprisoned in a maximum security compound in Mogilev for refusing to cooperate on making a confession to his charges. The Belarusian government has been very clear on its refusal to "exchange" him for concessions from the West.
Despite this, it is possible that the West will be willing to compromise on the basis of the current geopolitical situation and in view of the position of Belarusian authorities on the Ukrainian question. After all, the last IMF loan Belarus received was not just after the global financial crisis, but also immediately after Belarus decided not to recognize Abkhazia and South Ossetia following the military conflict between Russia and Georgia in August 2008. This was a pointed refusal to support an ally, and at the time the main creditor to its economy, in an important geopolitical issue. Today, Lukashenko is repeating the move, refusing to unequivocally support Moscow's position on its annexation of Crimea and demands for the "federalization" of Ukraine.
From an economic perspective, a new IMF loan would require serious reforms and privatization of state industry. However, Western creditors may allow concessions on wage freezes, tariff increases, and privatization, given Ukraine as a factor. A sharp deterioration of the social situation in Belarus on the eve of an election may result not just an increase in pressure on the part of Russia, but also threaten Belarus with complete absorption by a "brotherly country." If not through territorial means, Russia may at first seek to absorb Belarus through creation of a single currency to mitigate the high debt load on the Belarusian economy by Russia.
On the issue of privatization, if it comes, obviously the major player in carrying it out will be Russia. As a result, the West may allow Belarusian authorities some leeway, such as only selling state-run enterprises that already belong in part to Russians like the telecommunications provider MTS, or to sell assets only in small packages, such as 25 percent of GrodnoAzot. These may be considered sufficient reforms to Western creditors.
At the same time, Belarus needs not only the IMF loan (for which negotiations could drag so slowly even if an agreement with the Fund was arranged tomorrow – no one should rely on the IMF for fast financing), but in general it needs a warming of relations with the financial community of the West. When in 2011, after the crackdown on protestors in the 2010 elections strengthened sanctions against Belarus, many Western financial institutions ended their relationship or greatly reduced credit limits on the country. As a result, most banks refused to participate in the issuance of the first Belarusian Eurobonds. In August 2015, Belarus will need to repay its first issue of Eurobonds in the amount of 1 billion USD. It would be possible to refinance this debt through the issuance of new bonds, but more than just high interest rates prevent Belarus from doing it. Indeed, the most likely partner for the production of such bonds at this moment would be subsidiaries of large Russian state investment companies and banks such as Sberbank and VTB
Negotiations with the IMF will open the possibility of restoring relations with other Western financial institutions, which will expand the range of potential lenders for the Belarusian economy and its private businesses.
All this would go far to explain why President Lukashenko has met on economic issues with his security council. Belarus is reaching the point beyond which looms complete financial dependence on Russia. Whether the West does eventually stretch out a helping hand depends on how compelling Lukashenko appears in his desire to keep Belarus as an independent country.
Elena Lapot
Belmarket.by