Real estate market for retail is still growing despite currency turmoil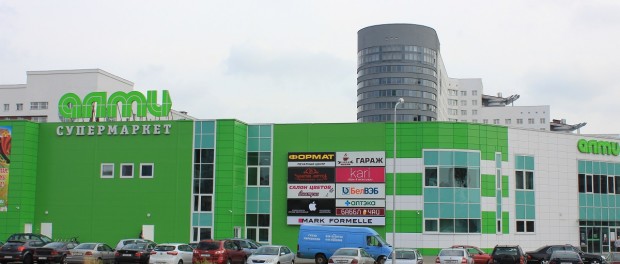 The crisis that has plagued the country and the instability of the Belarusian ruble has not caused any substantial damage to the development of retail real estate. Experts believe that new malls should be opened either as planned or with small adjustments to deadlines and key tenants.
However, an analyst of a well known Belarusian real estate agency recently made a statement that openings of new trade centers in Belarus are postponed en masse until 2016. The main reason behind this statement is that there is a lack of key tenants and poor shop occupancy, which at the moment stands at 25-30%. To clarify the situation and to determine whether there is any substance to such findings; Ej.by conducted an interview with the head of the international brokerage company Colliers International in Belarus, Andrey Aleshkin.
– Andrey, is the situation within the trade and retail market in Belarus indeed that bad; due to a lack of anchor tenants and poor occupancy of trading places?
– Frankly speaking, it is incorrect to make such statements if you do not work directly with the objects. How can a Belarusian agency know about the occupancy of the largest trade projects in Minsk?
Nobody will provide them with such information since those in charge of the planning and the development of centers that are planned for opening for 2015, do not work with the local agencies at all. If at any point an analyst of an agency seeks to enquire about the level of occupancy, they will most certainly leave empty handed because no one will divulge that sort of information to them. For this reason, we are very skeptical about the reliability of the information given via the source you have mentioned. Such comments can only be given by a contracted professional project consultant who is involved in the project in all of its stages, from start to finish, such as financial consulting, appraisement, cost management, business planning, renting and formation of management, because only that particular person is aware of the whole picture, and is fully in the know of what is happening.
Therefore, we perceive the overall situation as normal, despite the fact that it is possible that not everything about the largest trade projects has been signed yet. In certain locations such as that where the Green City shopping center is based, it is impossible for there to be unoccupied spaces, it just simply cannot be! Naturally, everything in there should be occupied since it's the 'Kamenaya Gorka' a new growing bedroom suburb. The same can be said for Galleria Minsk shopping center, which is in a downtown area that is very popular, and nearly all premises within the shopping center has already been distributed. Yes, the opening has been postponed, but it is a common occurrence since builders do not usually respect deadlines. I am 100% sure that by the end of it all, there will only be a small number of vacancies left or none at all.
– Still the questions remains as to who will occupy trade places?
– Yes, there are some questions concerning the quality of tenants since the devaluation of the Russian and then Belarusian ruble hindered the plans of some individuals who wanted to enter the Belarusian market. Unfortunately, many Russian tenants suffer from financial difficulties in their home country and are therefore not ready to expand their businesses. The Russians like Belarus and they like our consumer market, but due to the fluctuation of the ruble and the foreign exchange rate not being reliable they cannot expand as easily as they would like to. Of course, they can still reconsider their decisions at any point. If I am honest, I do not think there is a great cause for concern when it comes to the retail market in Belarus. It may be that the purchasing power of the population has fallen but it is not at a significant level. We always monitor how often consumers visit shopping centers and the level of buying and so far it appears that shopping centers such as 'Galileo', 'Magnit', 'Manezh' and 'Gallery Grand' are all operating to a very good standard, with people visiting and spending and as such there is no reason to postpone the openings of new shopping centers, for reasons other than building issues.
– What centers will be opened in 2015?
–  Initially, the planned number of centers to open was quite high, but right now it is hard to say with certainty as to how many centers will be opened this year. Many projects officially postponed deadlines due to a lack of quality tenant and banal failures of contractors. In my opinion, if they open on time it might be in their best interest as there is potential for substantial cash flow. A lot of developers are waiting for the right time so that they can acquire the right quality of tenants.
– What about major players of the retail market? Earlier this year it was said that well known brands are looking to descend onto the Belarusian retail market.
– Yes, this is true we are still expecting such brands to make their wave on the retail market. Just this week it was confirmed that one big player, that can rent 5000 m2 within the clothing market is coming to Belarus. Another big brand has already rented quite a lot of retail space, I cannot disclose its name but it is well known within the fashion sector and it is for the whole family.  ZARA is still not coming to Belarus, but other well known brands are somewhat making their way in our direction. There are a few brands that have made slight adjustments in their plans, but such adjustments are rather insignificant. Everything is proceeding as it should be given the current economic situation. We did anticipate more of a dynamic development within the retail market but it was somewhat tainted by the problems in Russia, if such issues did not occur then the economy would have been just fine. To emphasize, there is no crisis regarding the development of trade real estate in Belarus. Some centers are postponed but that is more to do with contractual factors, builders, new operators amongst other reasons, but all of these issues are just common global practice. It's quite a rare case when shopping centers open as planned with everything in place as it should be. Adjustments during project implementation, caused by a number of subjective and objective circumstances, are inevitable.