It Happens that Donald Trump's Grandchildren Have Belarusian Roots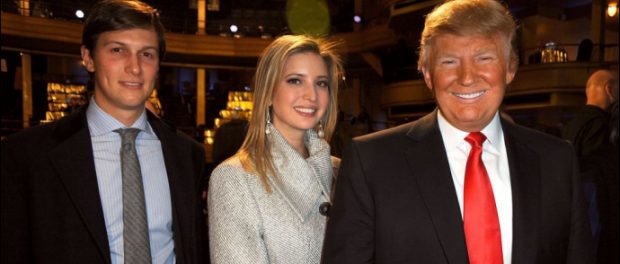 The grandchildren of the recently elected President of the United States, Donald Trump, have Belarusian roots. Their great great grandparents originated from the Grodno region. The family visits their ancestral home almost every summer.
It just so happens that Trump's daughter Ivanka is married to Jared Kushner, the media mogul with Belarusian roots. This story was widely spread after Trump was accused of antisemitism. Jared's great grandfather, Joseph, originated from Karelichy. He was a Jew who was imprisoned in a ghetto during the war. There he met his future wife, Raisa Kushner, who had lived in Navahrudak. They fled the fascist camp along with 250 other prisoners. The family moved to America in 1945. Prior to leaving, Joseph's family name was Berkovich. His family was poor and therefore Joseph took the name of his wife, Kushner.
According to the English version of Wikipedia, Kushner allegedly lived in Poland, but the founder of the Museum of Jewish Resistance, Tamara Vershitskaya, says that the Kushner's house was located in the center of Navahrudak. The family had its own business sewing hats and coats.
The Kushner's gave birth to a son, Charles, in New Jersey. He grew up to become a successful developer and billionaire. He moved to New York where, in addition to becoming a leader within the Jewish community, he married and became the father of four children, including Jared Kushner, who himself proved to be a talented editor at the New York Observer and by age 30 had become a media mogul.
Jared married Donald Trump's daughter Ivanka. Before getting married she converted to Judaism (which consisted of a gentile conversion to Judaism and related rites) and took the Jewish name Yael. To this day she leads a lifestyle that follows the national traditions. She donates money to synagogues and schools. Ivanka and Jared have three children: Arabella (5), Joseph (3), and Theodore (soon to be 1).
Nearly every year Charles Kushner takes his grandchildren – he has 13 of them – to Belarus. The children visit the Museum of the Jewish Resistance in Navahrudak where Jews were shot en masse into a partisan dugout. The children go to see the place where their great great grandparents' house has been in Karelichy. Charles only takes the grandchildren who have reached adulthood, which, according to Jewish tradition is at age 12 for girls and 13 for boys.
The last time they came to Navahrudak was this past July. None of the family members speak Russian, but Tamara Vershitskaya always shows the family around and translates for them.
"Charles doesn't have a sense of connection to this place or any sentimental feelings attached to it," Tamara Vershitskaya explains, "he has a different aim: to instill tolerance to their family's history in his grandchildren, tell them from where their ancestors came and what they went through before they became wealthy. Once the children went into a house in the village. Charles told them, "Look, your kitchen alone is bigger than this entire house."
Charles and his grandchildren usually spend several days in Belarus and stay in Minsk. They rent a car with a driver to go on day trips to Navahrudak and Karelichy. Tamara Vershitskaya mentioned that the main challenge is regarding food. The children are shocked that the only MacDonalds is located in Minsk. Also, it is impossible to find kosher food. Therefore they bring everything with them.
"However one time they did go into a supermarket, bought herring, cheese, and bread, and sat down and ate it right on the bench outside the store," Vershitskaya recalls.
During each visit Charles has his phone on hand and often answers business calls. This past summer, however, he turned off his phone, which may have been in response to Trump's election campaign. Tamara wrote to Charles, telling him to pass her congratulations on to Donald Trump and to invite him once again to visit Navahrudak. The next time Charles plans to visit with his grandchildren will be in the summer of 2018.
Charles has donated money to the Museum of Jewish Resistance twice. He is now backing a memorial wall in Navahrudak. The project is already set to begin. The memorial will be a 2.5-meter-high and 15-meter-long wall erected in memory of the ghetto. The survivors will be symbolized in the hollow spaces in the wall while the memory of those who died will be on the bricks of the wall.
Translated from Naviny.by