Chairman Xi: Peace talks key to end crisis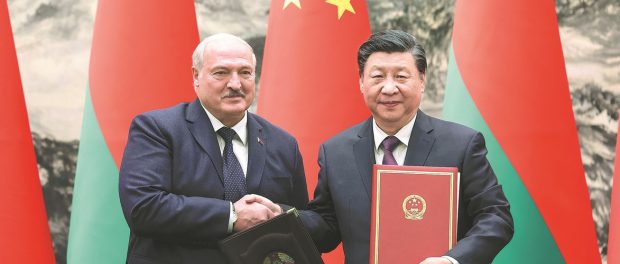 President Xi Jinping called on Wednesday for a political settlement of the Russia-Ukraine conflict, urging relevant countries to stop their attempts to politicize the global economy and make earnest efforts to contribute to a cease-fire and peaceful resolution of the crisis.
Xi made the remarks in talks in Beijing with visiting Belarusian President Alexander Lukashenko, who started a three-day state visit to China on Tuesday.
The two presidents pledged to strengthen bilateral cooperation in a wide range of fields and exchanged views on the ongoing Russia-Ukraine conflict.
They signed a joint statement on further developing the all-weather comprehensive strategic partnership between China and Belarus, and witnessed the signing of an array of bilateral cooperation documents in the fields of the economy and trade, industry, agriculture, customs, science and technology, health, tourism, sports and subnational-level collaboration.
Regarding the Ukraine crisis, Xi said that China's position on the issue is consistent and clear, with facilitating peace talks at its core.
He stressed the need to adhere to a political settlement of the crisis, abandon the Cold War mentality, respect the legitimate security concerns of all countries, and strive to build a balanced, effective and sustainable security architecture in Europe.
Relevant countries should stop politicizing the global economy and using it as a tool, and instead do something that is conducive to ceasing hostilities and help find a peaceful resolution of the crisis, Xi said.
On Friday, China issued a 12-point position paper on the political settlement of the Ukraine crisis.
Lukashenko said that his country totally agrees with and supports China's position and a proposed political resettlement of the Ukraine crisis, which are significant to resolving the crisis.
On bilateral ties, Xi said that against the backdrop of increasing instability and uncertainties in the international landscape, China stands ready to work with Belarus to advance the high-level, healthy and stable development of the countries' relations.
China-Belarus friendship is unbreakable, and the two countries should constantly enhance political mutual trust and treat each other as a true friend and good partner, he said.
Xi appreciated Belarus' firm support for China's position on the Taiwan question as well as issues concerning the Xinjiang Uygur autonomous region, the Hong Kong Special Administrative Region and human rights.
He said that both countries should support each other in pursuing a development path of their own choice and in upholding their own core interests, and oppose external interference in domestic affairs to safeguard both countries' sovereign and political security.
Xi called for expanding economic and trade cooperation between the two countries and promoting the building of the China-Belarus Industrial Park.
China appreciates Belarus supporting the Global Development Initiative and Global Security Initiative, and is willing to strengthen coordination and cooperation with Belarus within the multilateral framework, including the United Nations, to jointly cope with global challenges, he added.
Lukashenko said Belarus will always stand with China and firmly supports China in safeguarding its core interests.
He commended China's important role in upholding world peace, saying Belarus is ready to boost coordination with China on major international and regional affairs and work together to promote regional and global security and stability.
Before the official talks, Xi held a grand welcoming ceremony for Lukashenko at the Great Hall of the People.
Lukashenko's visit comes as China works toward economic recovery after the country's top leadership announced on Feb 16 a "major, decisive victory" in the fight against COVID-19. It also takes place at a time of increased tensions between the West and Russia and the West and Belarus over the Russia-Ukraine conflict.
Lukashenko also met on Wednesday with Premier Li Keqiang and Li Zhanshu, chairman of the Standing Committee of the National People's Congress, the nation's top legislature.