Viktor Prokopenya: the First Private Investor in Space Industry in Belarus History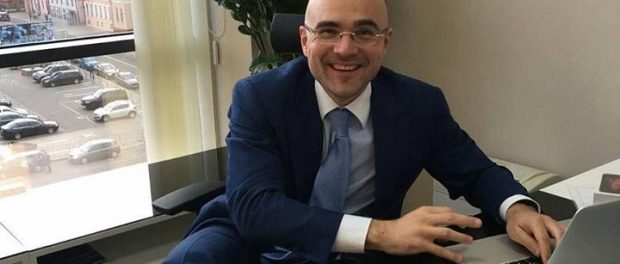 Yesterday the world came to know about one of the projects backed by the $100+ million investments fund. The fund was established in December 2016 by Viktor Prokopenya, Ph.D in Economics, a Swiss Business School graduate, founder of VP Capital, alongside with Larnabel Enterprises an investment fund founded by the Gutseriev family. Though the numbers are kept confidential, the name of the game is dozens or even hundreds million dollars.
Probusiness.by talked to Viktor and gained some insignt into the project and the recent partnership with Astro Digital, the company that launches its own satellites into the open space.
Astro Digital is a unique innovative team that creates satellites and monitoring systems designed to capture activity on the Earth surface in real time.
Founded in 2015, the company is a team of engineers, analysts and programmers. These innovative people came up with the ultimate monitoring system that collects, processes and streams high-quality images of the Earth.
Astro Digital satellites allow to receive imagery in real-time, as they take pictures of the Earth every day (that's why the project clearly stands out amongst its competitors).
What Astro Digital is Capable of?
In 2015 a Russian-American start-up founded by former 'Skolkovo' employees was featured in the TOP 4 best projects at Slush, Europe's Leading Startup Event in Helsinki.
The project was represented by Ekaterina Kotenko-Lengold, the Astro Digital founder and business development vice president. Ekaterina graduated from the Skolkovo Institute of Science and Technology and Skolkovo Open University.
15,000 attendees visited Slush in 2015. To break it down, 1,700 startups and 800 venture funds representatives from 100 countries. That year the winner was supposed to take home €650,000.
But even then the project requested far more than the Slush award could cover. Astro Digital needed about $25 million for the program platform development to access satellite data and create a satellite constellation. That was an indispensable condition to enable the monitoring system to watch the Earth every day.
The thing is that loads of useful information about the Earth surface is concentrated across various sources. You have to put a lot of effort to be able to find the data you need right here and right now.
***
Astro Digital team operates in aerospace and research centre NASA AMES in California. The company has developed a software tool that allows users to receive, process and stream imagery of any location on the Earth. A satellite castellation makes high quality images daily and significantly facilitates the process of monitoring our planet from space.
***
The core idea behind the project was to develop a platform that allows users to:
Integrate data obtained from different satellites
Create a system of automatic image processing
Develop a single entry point through API (Application Programming Interface), an interface for app development based on satellite data
This enabled every developer to create services that will tackle various business issues:
Track activity on farming lands
Establish the demand for paid parking lots
Control urban growth (illegal constructions, building processes, growth of urban areas)
Monitor container shipping
Control disaster hot spots (fire outbreaks, floods)
Optimise logic schemes etc.
For example, satellite images allow us to find buildings that are currently unmapped. They are marked in red on the image below.
Viktor Prokopenya sees great potential in this technology: "With the help of the platform's security services can learn the environment of a particular territory, forestries can detect fire outbreaks, private businesses can use this data for business analysis. Farmers can monitor their land more effectively. For example, the technology allows us to track the quantity of nitrogen in soil, to find out what place is better for a particular crop and plant the fields accordingly. In fact, it digitises the agronomist's job."
Artificial Intelligence, trained by the satellite information, will gather giant amounts of data and will consider the weather, cycles, soil condition, etc. This will help find out where it's better to grow crops.
Furthermore, the historical data on agricultural lands will help to create updated recommendations for farmers, and the platform will become a vital part of Smart Agriculture. For the record, Artificial Intelligence deeper and deeper penetrates into Agriculture, and part of Astro Digital's attention will be drawn to the scanning of croplands.
Another breakthrough of Astro Digital is high resolution images of the Earth's surface. What does the unique Astro Digital camera, capable of producing satellite's images look like? There are three sensors for 71 megapixels (1 megapixel = 1 mln pixels). For a point of reference, the professional photo camera Canon EOS 5D Mark IV has a resolution of 30.4 megapixels, and an iPhone has between a 7–12 megapixels camera.
The camera is set to capture images beyond the capabilities of human vision. One pixel of an image corresponds to 2.5 m on Earth. One image can embrace 450 km2. And data transmission rate comprising 1 gigabit per second is 10 times higher than the industry standard.
What can commercial satellites do?
Viktor Prokopenya is sure that the electronics, used by Astro Digital, are secure enough. Besides, small commercial satellites can provide better than ever updates frequency for the scale of the whole Earth's surface.
Earlier satellites were huge, which made their production and launch extremely expensive, today they are rather small devices.
In 2017, the company plans to launch 9 satellites: 7 of them from the Baikonur Cosmodrome in Kazakhstan, one of them from the Vandenberg Air Force Base in California, USA, and another one from the Satish Dhawan Space Centre, India. This will expand the coverage and increase the frequency of multispectral satellite imaging in order to monitor daily changes of the planet's surface.
In California, Astro Digital's satellite will be launched using a rocket developed by SpaceX – Elon Musk's company, which creates technologies for passenger space transportation.
The satellites will be in orbit 600-650 kilometres above the Earth. One of them will take pictures every day with the image resolution of 1 pixel per every 22m2 of the surface and will monitor general changes. The rest of the satellites will photograph the Earth every 3–4 days at a resolution 9 times higher and will track changes in details.
Some pictures will be send back to Earth for processing, some will be processed at the satellites to reduce the cost of transferring raw data. Images will also be automatically filtered (for example, those with clouds).
Here above  you can watch a short video about how the team works.
Why invest in space
The first 'eyes' to watch the Earth appeared 'in the sky' under the NASA Landsat program in 1973. Today, two satellites from programme take pictures of the surface every 16 days. The resolution is quite high, the images show main roads, but it's hard to see houses in detail.
As for agriculture, the existing satellites don't provide farmers with all the needed information about their lands. They aren't satisfied with the frequency either: once per 16 days is not enough.
In 2011 and 2012 NASA changed its focus from studying the solar system and developing manned space flights to Earth exploration and commercial space development. However, the policy of the new US president, Donald Trump, can shift the focus back to the solar system and manned space flights.
According to Trump's adviser on space policy, Robert Walker, exploration of low Earth orbit and all activities in the near-Earth space will gradually be transferred to private sector. Trump's administration will even consider the possibility of privatising the ISS after the current financing of the mission comes to an end.
In addition, as a means of monitoring land and crops, commercial satellites become a leading competitor for drones. The few drones that are currently used to view a piece of land from the air can be replaced with high-quality images from satellites and the data analysed by artificial intelligence.
This proves that private financing of commercial space development projects is becoming more of a trend.
Small commercial satellites will soon become a widespread source of information. And instead of buying images of the Earth's surface from space (as it happens now), people will soon be able to subscribe to them.
Obviously, private companies are more mobile and able to penetrate the market more effectively, as they are more responsive to the customers' needs.
Comments of the Investor
Viktor Prokopenya,  founder of the high-tech investment company VP Capital:   "I see a huge business potential of this project. Using Astro Digital data together with artificial intelligence algorithms could procure an effective instrument of nature, urban and industrial management. And such data would soon be purchasable also by belorussian companies, after sattelites space launching. It might happen by the end of 2017.
A company would sell not only its own data for analysis, but resell data of other companies as well – Astro Digital platform would act as an aggregator of satellite information.
Effectively used nowadays computer sight technologies enable to analyze, forecast and form trends. Artificial intelligence algorithms are the commodities, that is, an actively sold product.
The most important resource is an access to information, and the present-day information is a new crude oil. Absolutely unique and intriguing results could be obtained due to existence of the unique and live Earth photo stock."