Egor Filipenko: I wish I speak English. But now time to learn Spanish
Belarusian defender joins FC Malaga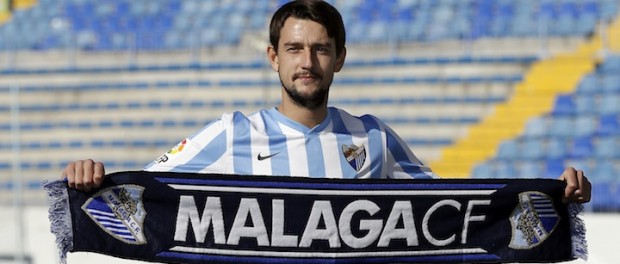 On the 7th of January the ex-centre back of FC BATE  Egor Filipenko was officially introduced as a football player of FC Malaga, and in the framework of an inaugural press conference he answered the Spanish journalists' questions that were not so original by the way. It turned out that the Spaniards knew little about the Belarusian. But Egor didn't let them to conduct a cliche dialogue, and even made the journalists laugh.
– Egor, you became the best back of the Belarusian Premier League and you were among the three best football players of your country in 2014. Tell us, which game qualities helped you to become generally recognized?
– It's difficult to say. It would be more logical to ask this question to those who had voted for me.
– Why did you agree to play in FC Malaga?
– I always wanted to play in La Liga. I even think that all the Belarusian football players wish to play in Spanish clubs. Thus, my choice is not a surprise.
– What are your main thoughts now? What are your aims?
– The first thing to do is to be in a good shape as soon as possible, go to the field and help my team.
– It's well known that you had other ways to continue your football career. Tell us the details…
– I see no sense in doing that now. As I've already mentioned I had a dream to play in Spain. That's why when I got a possibility to play in FC Malaga, I told my agent to negotiate with the club. Furthermore, I wanted to sign a contract as soon as possible.
– What do you know about a Spanish city of Malaga?
– Very little. Almost nothing, I would say. When I came here the main topic of my conversations with people was training. The only thing I'm sure about is that the weather in Malaga is really fine.
– Have you already trained with the team? Could you speak on the conditions, the preparation process peculiarities?
– Yes, I have already trained. What shall I say? Everything is on a high level here. That's why it's a pleasure to play and compete.
– How much time will you need to become a firm first team's member?
– It's hard to answer. The only thing I can assure is that I will do the utmost. I will follow all the coach's recommendations. I'm sure when I'm in a good shape, the coaching staff will allow me to play on the field. So, you'll see then.
– What do you think about your professionalism? Do you have enough skills to consolidate yourself in La Liga?
– What difficult questions you make! How can I answer? There are journalists, specialists and coaches to evaluate my skills. If FC Malaga got interest in me and invited me, probably I am a good professional. Now I just have to meet expectations.
– All in all, what are your strong points? What helps you to outperform other football players?
– Oh, don't give him a microphone anymore! Let me play a couple of matches and then you'll understand what I'm capable of. You'll see my strong and week points.
– How are you going to interact with your teammates? You don't speak Spanish, and you have certain problems with English…
– Yes, it's a real problem. My mum always told me in my childhood: "Study English!", but I didn't obey. Now it's time to start studying Spanish. I will have a tutor. Of course I want to be able to speak the Spanish language as soon as possible.
– In La Liga you'll meet such football stars as Messi, Cristiano Ronaldo. Are you ready to face them?
– Yeah, I am! And you'll see the result. Time will show.
Text by TUT.BY
Pictures by FC Malaga