A new FC Dinamo Minsk coach: Compensation? I haven't read the contract
Dusan Uhrin Jr tells about his new job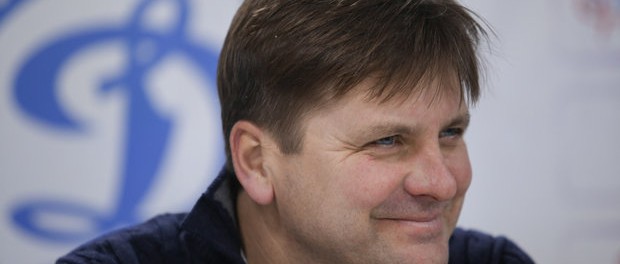 A new FC Dinamo Minsk head coach Dusan Uhrin, a Czech, had the first press-conference in Belarus at the TUT.BY office, where he surprised the journalists saying that he hadn't read his contract. He also spoke about his aim to lead the club to the victory, commented on Dinamo's best football player Igor Stasevich who had left for FC BATE. Moreover, Dusan shared the requirements every player should meet.
– We started the preparation for the season with training and medical check-up. I came to Minsk with two assistants – a Serbian Ljubisa Rankovic and a goalkeeping coach Dragos Picu. A Belarusian specialist Vasily Kushnir also became a member of the coaching staff. Furthermore, we'll have a physical trainer.
This year we have the only one aim – to become the champions. FC Dinamo hasn't won the Belarusian Premier League for a long time. That's why no matter how hard, we are ready for everything to win. It was nice to talk to the club's owner. He has the same aim as I do.
We have really tough opponents; FC BATE is the toughest one. But we are to work with zeal. Minsk is a wonderful city, and it deserves its football club's victory.
In the pre-season we'll have three training camps in Turkey. The first one will be dedicated to getting to know one another and evaluating the sportsmen's physical forms.
– Which positions need strengthening, from your point of view?
– It's not time to speak about that. As far as I know, last season Dinamo had some problems with a left back and with a forward. And taking into account Igor Stasevich's leaving, we search for players for the right flank.
I would like to highlight the importance of young players in the team. They are the future. But we'll see the result after the first Turkish camp.
– What do you think of the former team leader's leaving? I mean Igor Stasevich.
– For sure, it's not the best news for the team. Igor became the best football player of the Belarusian Premier League last year. But there are no irreplaceable people, so we'll search for the right man.
– Did you try to make Stasevich stay?
– Yes, we have been discussing this point for a month. The team manager Vuk Rasovic talked to him, but Igor didn't want to stay. So if a person has no a desire to stay, may he leave.
– You mentioned that you had met Yury Chyzh, the club's owner. What had you discussed? And what impression had he left on you?
– This information is not for a wide audience. Unfortunately, I can't share the details of our conversation, as it was private. But I can say that we talked about the team, the assistants and the coaching staff. Another thing I would like to emphasize is that he's highly interested in football.
– Do you have an eye to any players who should leave the team soon?
– It's too early to say about those who will leave the team. Everyone deserves a chance.
– The club's owner wants you to train actively the young players, lead the team to the League victory and show a beautiful game. Is it difficult to meet all these requirements in the first year of working?
– We want to play attacking football to entice more fans to the stadium. It's ok when fans support actively the team. And we should score to make them come.
Secondly, we are going to be the champions. Last year FC Dinamo was the second, so now we need the golden medals.
And of course we desire to catch young football players. If I notice a young team player who promises well he'll be given a chance to show his best. In my former teams I had 1-3 youngsters every season, and it's ok.
– Can you mark anyone from the young team players by now?
– No, I can't. I don't know everyone by name. I hope after the training camps I'll know them better and will be able to call everyone by name.
– Considering your priority to win the Belarusian League, does it mean the European Cups will fade into insignificance?
– Without any doubts our main goal is to win the Belarusian League. But the participation in the European League is also important. We plan to show a good result, but much depends on our future opponents. And maybe it will be not so easy to win.
– Earlier you signed a contract with a Montenegrin Fatos Beciraj. So, why did you choose him? Aren't you confused with the fact that last season he played in a week Chinese football club?
– The most important thing is that he's a member of the national football team of his country. And as for the Chinese League, there's much money there and strong players are interested to play in China. And Beciraj is a strong player. We have been searching for such kind of a player for a month. He's good at the penalty area. And this is the quality Dinamo's players lacked last season.
– Considering your aims for the season, how will players be selected? Are you going to invite Belarusian football players or foreign ones?
– We are searching in different ways. And we are interested in both Belarusian players and mercenaries. But if we are to choose from the two strong players it would be better for FC Dinamo to have a Belarusian one.
– Earlier a Czech David Zoubek showed his worth playing in Dinamo. Do you plan to invite your countrymen to the team?
– Yes, Zoubek used to work with me. We know each other perfectly. Before coming to Belarus I talked to him. He spoke well on Minsk and FC Dinamo in particular. I needed to know more about the very team and about the Belarusian football than about the city of Minsk. I came here to work, not to walk along the streets. Other things don't matter, I spent 7 years working out of Czech Republic, and I got accustomed to be in an unfamiliar country.
As for inviting Czechs to play in Dinamo, if there is a possibility to entice a smart football player, we'll do that. But it's not the time to discuss that.
– Do you have a certain sum of money for transfers?
– Money is not my business.
– It's not a secret that Dinamo's coaches are always under a great pressure. What do you think of it?
– I think it's great. Why not? If your goal is to win, you can't avoid that pressure. And sometimes it even helps to work better.
– Is there indicated in the contract the sum of compensation in case of an early cancellation of the contract?
– I haven't read the contract. But I don't think I'll be given anything in that case. I don't want that early cancellation. Why are you asking me about that? Do you know anything that I don't know?
– Which Dinamo's match of the last season would you call a special one?
– I would mention the first game against FC BATE, where they drew (0:0). It was a great match. I also watched other games. And as for the match away against ACF Fiorentina when Dinamo won 2:1, I wouldn't call it a special one, because the Italian team lacked its best players.
– Would comment on your style of coaching? Is it a democratic or a dictatorial one?
– I can't say exactly. It depends on the players' behaviour. There are certain rules within the team, and every player should follow them. It's one of my requirements. But in general, I believe I'm a democratic coach.
Text and pictures by TUT.BY