FC BATE fails to advance to the UEFA Champions League playoffs with a draw against AS Roma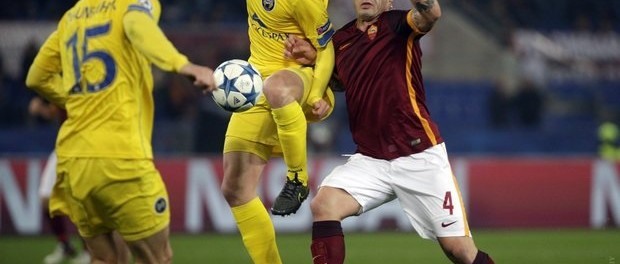 Belarusian football club BATE Borisov was close like never before to reach another milestone in its history.
Today's success in the match against Italian AS Roma at the famous Stadio Olimpico in Rome could have opened the way to the 2015-2016 UEFA Champions League playoffs for BATE Borisov!
Both teams played great their decisive match in the Italian capital, seizing initiative turn by turn and going from defense to attack. All in all, none of the football players managed to hit the rival's net and the match ended in a draw – 0:0.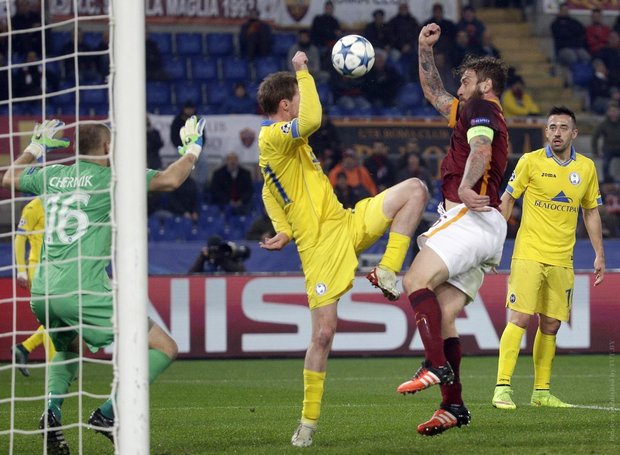 Roma dominated from the start but couldn't quite find the target. After a couple of early chances from Radja Nainggolan, Edin Dzeko had a shot blocked inadvertently by Iturbe. Near the half-hour mark, BATE goalkeeper Sergei Chernik made a diving save from a dangerous Miralem Pjanic's free-kick.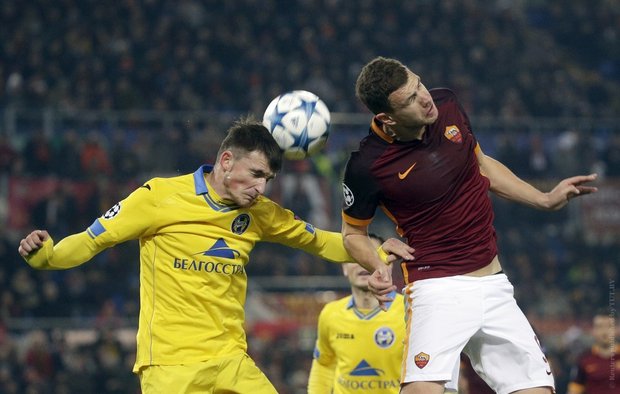 Early in the second half, Chernik came up with an even tougher save to deny Dzeko with his boot. Seconds later, the BATE goalkeeper deflected wide a close-range effort from Alessandro Florenzi as Roma grew increasingly frustrated. On a night of missed opportunities, Pjanic had a poor shot cleared off the line by a defender.
BATE's best chance came in the 68th minute when Mikhail Gordeychuk re-directed a cross inside the box and had his shot blocked by Szczesny. BATE players, who came to Rome a week ago to train for this match, nearly won it with a few late counterattack chances but were ultimately denied.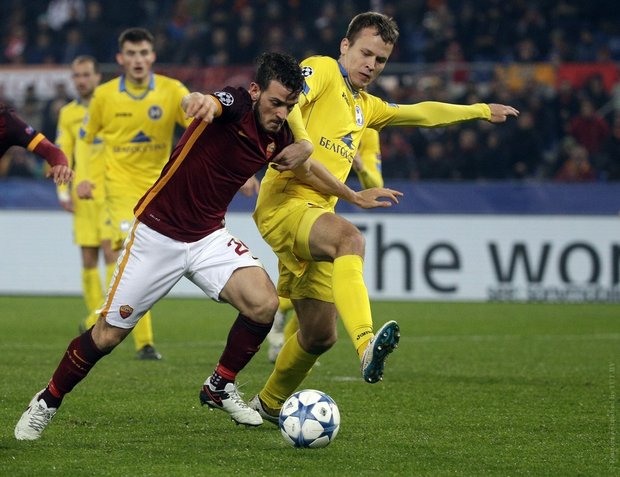 Match statistics
Roma – BATE
Possession (%): 50-50
Total attempts: 23-9, On target: 8-2, Off target: 10-4, Blocked: 5-3
Corners: 7-1
Offsides: 1-1
Yellow/red cards: 0-0
Fouls committed: 12-14
Passes: 439-378, completed: 344-288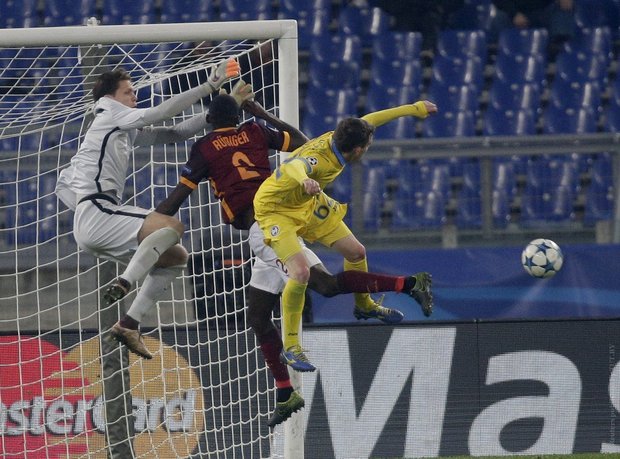 BATE Borisov head coach Alexander Yermakovich answered some questions at a press-conference after the match against AS Roma.
Let us congratulate you with a great game. How could you comment on Gordeychuk's failure to score?
Thanks. I will be recollecting that moment for some time. We had a hope, but we lost it. However, I would like to admit that the team played well, I praise the guys.
You played better in the second half. Had you planned to do that?
We knew we would have scoring chances during our counterattacks. But the Italian players were fresh enough, and at some moments we didn't show the best. It was clear that AS Roma was aware of the score of the match Leverkusen vs. Barcelona, and the Romans felt pressure. We tried to take advantage of it.
Was it BATE's best match ever within the Champions League?
This year, we have started playing much better. It is difficult to assess the years 2008, 2012, but compared to the last year, we have made a step forward. We proved that we could play at a high level. Not so bad for us.
Who's BATE's best player in the 2015-2016 UEFA Champions League?
I'm not ready to name him now. Definitely it is not a single player. The whole team played excellently. But if I should mention a couple of names, Stasevich and Chernik made much effort. Hleb was good in some episodes, Milunovic, too. But still we lack stability. If we played more consistently, the result could have been even better.
In the other match of Group E, German FC Bayer Leverkusen drew with Spanish FC Barcelona – 1:1.
A defence splitting pass from Ivan Rakitic found Messi who rounded Bernd Leno to put Barca ahead, but Leverkusen quickly responded with Hernandez sweeping home after a Mehmedi cross found him in the centre of the penalty area.
In the second half Ter Stegen saved well, from Calhanoglu and Mehmedi, while the former also fired wide when well placed in front of goal.
Thus, the Catalonians (the reigning champions of the tournament) are advancing to the next round holding the lead. While the result stretched Roma's win-less streak in all competitions to five matches, the Italian club is fortunate enough to finish second in Group E.
Belarusian champions BATE finished bottom just one point behind with five points.
UEFA Champions League Group E. Standings:
1. FC Barcelona (Spain) – 14 points after 6 games
2. AS Roma (Italy) – 6 points after 6 games
3. FC Bayer Leverkusen (Germany) – 6 points after 6 games
4. FC BATE Borisov (Belarus) – 5 points after 6 games
"Maybe it wasn't the most beautiful [match] but we qualified and that's most important," said Roma goalkeeper Wojciech Szczesny, who made a decisive save mid-way through the second half.
The match couldn't boast the great number of fans who came to support their favourite club. 6,415 spectators bought the tickets to assist the meeting, bringing 476,083 euros to the club. Another 23,074 people bought season tickets, giving another 1,012,611 euros to AS Roma.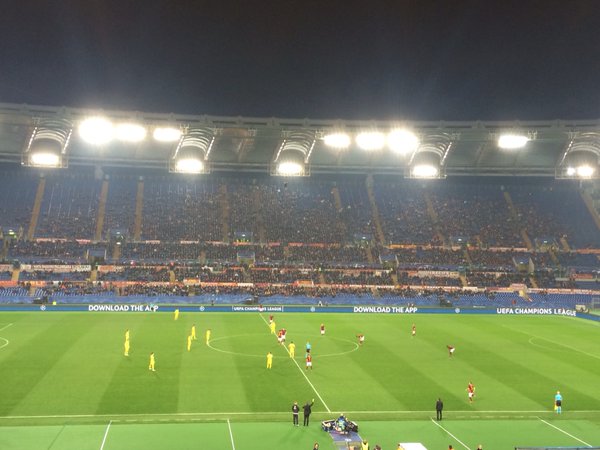 The overall number of spectators was 29,489, and the seating capacity of the stadium is 72,481.
Let us give you some information about BATE's rivals in the 2015-2015 Champions League. FC Barcelona team is estimated at 657.5 million euros, AS Roma's players were transferred at a total price of 258.6 million euros, as for Bayer Leverkusen, this amount is 189 million euros.
As for the Belarusian football club, its players were transferred at a price of only 18.2 million euros! Feel the difference! Nevertheless, until the last seconds BATE had a chance to qualify for the playoff.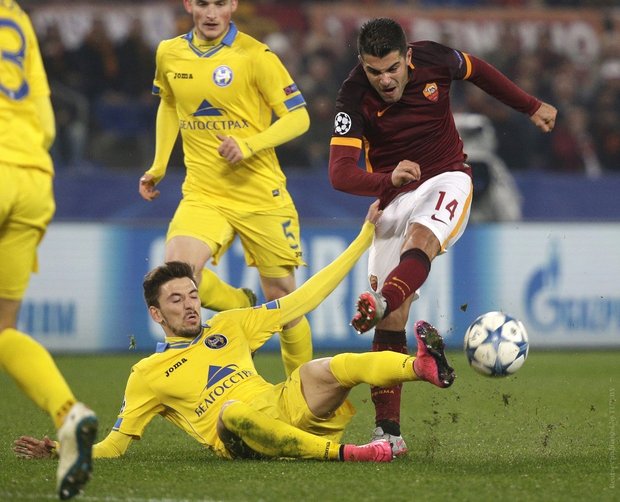 As for FC BATE earnings in the 2015-2016 Champions League, the club got over 16.5 million euros:
– 2 million euros for winning Partizan Belgrade in the qualification round;
– 12 million euros for reaching the UEFA Champions League group stage;
– 1.5 million euros for outperforming AS Roma;
– 0.5 million euros for a draw with FC Bayer Leverkusen;
– 0.5 million euros for a draw with AS Roma.
Text by TUT.BY, Pressball.by
Pictures by TUT.BY