FC Barcelona outperforms BATE Borisov one more time within Champions League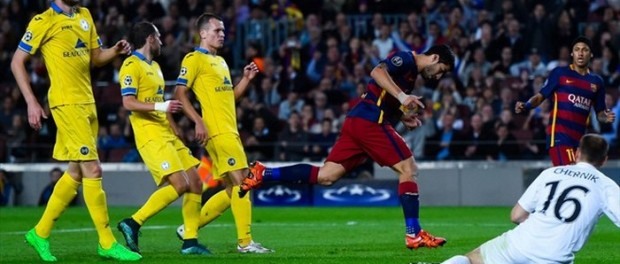 Once again, this time at the Camp Nou (Barcelona, Spain) the Catalan football club has stunned Belarusian BATE Borisov. Alexander Yermakovich's team lost 0:3
The starting line-up of Barca lacked Leo Messi, but other Latin American players, Neymar and Luis Suarez secured a comfortable win and made their team advance to the Champions League last 16 for the 12th consecutive season.
The Latin American duet was the driving force for FC Barcelona. In the 31st minute, Neymar beat Sergey Chernik from the penalty spot following a foul on the substitute Munir El Haddadi by Filip Mladenovic. The Brazilian was the provider for Luis Suarez who extended Barca's lead in the 60th minute. The Uruguayan then crossed for Neymar to slide the ball home after the 83rd minute and to score a double.
Fans turned up carrying Catalan flags and their whistles drowned out the UEFA anthem before kick-off as they protested against a second fine for Barcelona for displaying political emblems.
After the match, Neymar said: "I'm very happy with the result. This is what we wanted, to win. We scored three times, which is something we needed to do. It was a good run for my third, but Luis Suarez was vital, he gave me a great ball. We must remain relaxed, we're doing a good job at this stage of the season and scoring goals. I'm in a good moment and hope to continue that way."
The reaction of the Spanish media wasn't out of the ordinary. The sports experts of SPORTS.ES praised the Catalans, of course, paying attention to Neymar's and Suarez' individual skills: "Their goals continue giving strengths and points to the team that shines due to individual hits rather than due to a solid collective performance."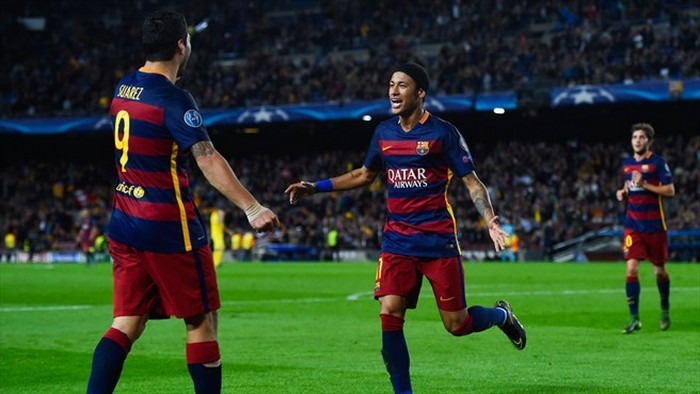 BATE Borisov, in turn, merited some good comments from El Mundo Deportivo: "BATE was more courageous and sharp at the Camp Nou rather than at its home stadium. The Belarusians were fast and even airy at the beginning of the match. Despite the score 0:3, Batcelona's goalkeeper, Ter Stegen, had some work to do due to Gordeichuk's and Stasevich's scoing chances."
FUTBOL.ES, though, argues that FC Barcelona "was seizing the initiative and demonstrating its high class against BATE that was trying to do the utmost to prevent the Catalans from hitting a lot of goals."
"Moreover, when the Belarusian team was approaching coyly Barca's gate, Ter Stegen was alert."
Thus, Barcelona's 3-0 home win over BATE Borisov extended the reigning champions' lead at the top of the standings and they will qualify as group winners if they avoid defeat by Roma in their next match.
Let us remind you that few weeks ago, at Borisov Arena the Belarusian club lost 0:2 (Rakitic made a double). That time BATE coach admitted that FC Barcelona was an example to follow. The Catalan club made it once again in front of its home crowd.