The new cinema halls, great premieres, movies in original language…
 In which way will Minsk cinemas surprise us in 2015?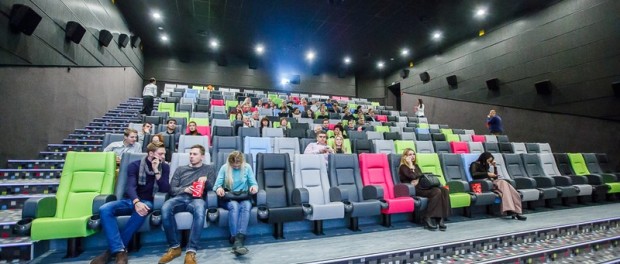 AFISHA.TUT.BY has already written about the most anticipated films which will be released in 2015. Do you prefer to watch the premieres on the big screen? So read further about innovations that will be implemented in the Minsk cinemas, not least because there will be much more ones in a short time.
So, by the end of the spring Silver Screen Cinemas gets on opening a new cinema. A large multiplex will consist of three floors: 6 cinema halls, cinema bars, box offices where you can buy tickets, drinks and popcorn.
Silver Screen is a type of projection screen with good reflectivity which was popular in the early years of the film industry. The same name will be retained for the new cinema in the shopping center "Arena-City".
"The new cinema will save the Silver Screen's brand but design and service will vary. We make step forward in the cinema development in Belarus. "Having opened the first cinema and taking into account previous mistakes we know how to make things better and we will carry out new ideas in the cinema in the shopping center "Arena City" says  Vladimir Senko, the Silver Screen cinema manager.
Silver Screen has many plans on 2015 besides making the standard repertory cinema schedule. It is planned to launch the film screenings in the original language with subtitles there. "Let's see people's reaction" comments Vladimir.

Vasily Koktysh, the Director General of unitary enterprise "Kinovideoprokat" of the Minsk city executive committee also hinted that new cinemas will be opened and old popular ones will be modernized.
"We are planning to replace the air conditioning system in the popular cinemas such as" Aurora", "Berestye","Mir ". Using of old-fashioned equipment of 50-60s has become unprofitable: all income is spent just on the electricity bill. "Kinovideoprokat" has no plan to open new cinemas this year but holds negotiations with some shopping centers about rent of premises for new movie halls opening.
What concerns premieres screenings, "Kinovideoprokat" will draw up the repertory films list together with world premieres as it was in the last year. All key premieres that will be shown in Berlin, London or Moscow will also be shown in Minsk. Notably without delaying. The contracts with rightholders are extended, there are no reasons for disappearing of any bright film from the film distribution list".
"3D kino v Zamke" is a cinema with three halls, each of which is able to hold slightly more than 200 spectators. This cinema has demanding repertoire schedule therefore it will be difficult to see here again a smash-hit such, for example, as «Interstellar». The movie halls also work in light of world premieres, therefore the spectators will surely not skip key films of the year.
"In the 2015 the cinema will continue to work in accordance with a world films repertoire schedule and will delight spectators by new premieres. "3D kino v Zamke" is targeted on a mass spectator with the accent on a family audience. We have one of the most comfortable cinemas: there is an air conditioner system that helps to maintain a comfort temperature all year round. We are planning to update internet ticket sale system and make it more comfortable for spectators" comments Yulia Trukhanovich, the movie hall manager, she recommends to pay attention to the largest premieres of the beginning of the year: "Jupiter Ascending" in February and "Avengers: Age of Ultron" in April.
Text and photo by TUT.by