Oleg Sukonko: Screening for breast cancer is flubbed
Famous oncologist critisises organisation of cancer screening process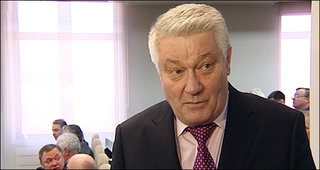 "Screening of breast cancer is failed". "Cytology is flubbed entirely". "Colonoscopy without anesthesia it is only imitation of patient examination." Such revealing characteristics about the situation of cancer screening realization were described by the head nonstaff oncologist of Ministry of Health, director of the Republican the Alexandrov scientific and practical center of oncology and medical radiology Oleg Sukonko.
Making a speech on 20 February at the national conference on the results of oncology service in 2014, Oleg Sukonko objectively focused on screening for prostate cancer, colon cancer, breast cancer and cervical cancer.
General screening for breast cancer was planned to implement in 2015-2016 years. For determination the resources and personnel, which required for screening across the country, was launched a pilot project on the territory of the Soviet district of the capital.
"However, frankly" said Oleg Sukonko, "screening for breast cancer is flubbed."
About 22 718 women at the age of 50-69 years were subjected to check up. Only 5861 female were examinated, 224 of them iteratively. 29 cases of breast cancer were diagnosed (in the first stage – 16, in the third and fourth – 7).
Mammography check up is the primary method of screening for breast cancer , the most common type of cancers among women. In some countries screening in the age group older than 50 years has reduced the death rate from this disease by 30%.
We have a process of screening for prostate cancer, but we haven`t got a result
Oleg Sukonko expressed regret that prostate cancer screening is not carrying out in all areas of the country.
In 2014, namely prostate cancer was the most frequent cancer among men, and it is 19.6% of all cases. Screening allows to detect cancer at an early stage, which significantly improves the patient's chances for a favorable outcome.
Screening for prostate cancer is widespread in the Minsk region. The number of biopsies in 2014 increased by 91% if to compare with with 2013 year.
Belarus doesn`t know about anesthesia for colonoscopy?
152 people participated in the pilot project on screening for colorectal cancer in Soligorsk, polyps were determined in 48 of them and cancer was determined of the two people in the early stages.
In the context of the colorectal cancer screening colonoscopy is performed.
"It's a difficult process of screening. But at least we have been taught the endoscopists do a colonoscopy under general anesthesia. In Belarus, it is done in few places. Oncologists should always remember that the qualitative colonoscopy without anesthesia will not do. This is just an imitation of the survey," said Oleg Sukonko.
Besides, colonoscopy without anesthesia scares away many people because of its painful sensations. As a result, half of the cases of colorectal cancer is detected at last stage.
About a thousand of people are observed in the Minsk city coloproctology center after intestine tumor removing surgery , as a result of which the patients live with a stoma ( system of testinal output outside). Very many of these people, if they would do a colonoscopy on time, could avoid disability.
The problem is that in Belarus it is almost impossible to do a colonoscopy with anesthesia. For the realization procedure of anesthesia, it is necessary to buy drugs, to teach and to involve anesthesiologists. And colonoscopy, in the case of intravenous anesthesia, from services, which is provided on an outpatient basis, turns into inpatient services. Thus, the procedure becomes more expensive automatically.
Out-of-date ways of cytology
Speaking about screening for carcinoma of uterine cervix, which is realized among the female population by cytology, Oleg Sukonko said "cytology completely failed."
In Belarus, total cytological examination of women is carried out during visit to the gynecologist, but it is not used the technique of cervical pap smear.
It was expected that the pilot project on cervical cancer screening with taking smears will be launched in 2014 in Minsk with the support of the EU and Russia. The project should been included the purchase of necessary equipment, reagents and training of specialists. However, this did not happen, regretfully said Oleg Sukonko.
"We don`t have the appropriate equipment, we used outdated cytology methods. We can not wait for foreign aid. We need to pay our attention to this problem. Pap smear test is in ten times more effective than the methodology, which we use," – said the chief nonstaff oncologist.
If to summarize in general , it is necessary to note that in the organization of cancer screening in Belarus there are a number of problems: the lack of special equipment, the complexity of profile alteration of medical staff "formal routine prophylactic examinations" for the screening program.
There is also the problem of lack of computer equipment and specialized software.
Text from naviny.by