Thomas Helveg: some amazing facts from his football and private life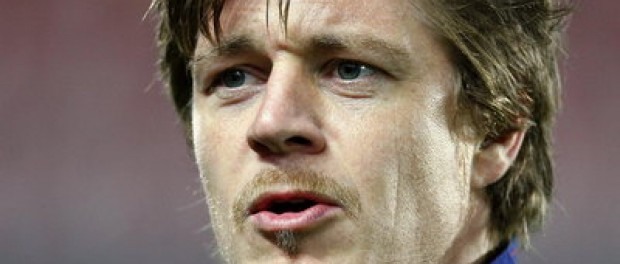 Mr. Helveg played for the Danish Odense Boldklub, the Italian Internazionale and Udense, the English Norwich City and the German Borussia M'gladbach. As a part of the Danish team, he played 108 games – only behind Peter Schmeichel, Dennis Rommedahl and Jon Dahl Tomasson regarding the number of matches. Polite and respectful Thomas eagerly agreed to talk to the Pressball reporter, recalling AC Milan, Kutuzov, Maldini, Schmeichel and other famous players he met during his rich football career.
What can you say of the football match against BATE veterans? Is it a pastime?
Yes, but it's also something more. It is actually the first time after I've finished my career in football that I met my former Milan teammates. I never played for 'red-and-blacks' veterans before. So it is not just a visit to Belarus and a football match for me, but also an opportunity to see those whom I haven't seen for 4, 5 or even 8 years. This is great!
Why haven't you played for the veterans before?
I've been asked of this several times but, sadly, my schedule never allowed me to do this. And finally it happened.
Has Minsk impressed you?
I visited the city several times as a player. I think it was with the Danish team and then with the Udense by the end of my career. However, I failed to tour Minsk then. This time, we've enjoyed an organised tour and the Belarusian capital pleasantly impressed me. It is a beautiful and comfortable city. The places we've visited look calm and quiet. So I truly like it.
One of the reasons for the match with Milan veterans was the 20th anniversary of BATE. What associations do you have with the Borisov team?
It is a young club. If I am not mistaken, it played its first match in Euro Cup against Milan. Am I right?
'Red-and-blacks' has become the first grand club the Borisov players meet.
I see. Anyway, this means something for us as well. Milan veterans enjoy coming to places which they visited many years ago. We saw the city getting ready for the Independence Day and we are proud to know that we played a somewhat small part in the celebration. We could have spent more time here, but our families at home were waiting for us.
You didn't play against BATE in 2001. Why?
I don't remember exactly: probably because of a trauma. I didn't come to Minsk that time. However, I think I took part in the second match… So much time has passed.
BATE sold Vitaly Kutuzov to Milan during the break of the Minsk match. Have you heard about this?
I know he joined us after the match. The transfer turned out to be quick. It used to happen back then. If there were any good players in the rival's team, our management could quickly buy them.
There were many football stars in Milan. Was Kutuzov a little confused at first?
This was a matter of cultural differences. It wasn't easy to adapt to the Italy immediately. I personally failed to get used to it at first. Meanwhile, it was slightly easier for me as I didn't start a career in Serie A in Milan – but in the less famous Udinese. Transferring from Belarus to the world-known club couldn't be easy for anyone. Vitaly needed some time to understand what kind of football Milan played.
Kutuzov said Filippo Inzaghi gave him his football boots. Do you remember any story of the Belarusian?
Well, Vitaly joked and talked rarely. The language barrier got in the way. But you could see it in his eyes: he was happy – silently enjoying the moment. It happens sometimes: some talk and joke much but no happiness is seen in their eyes. It was different with Vitaly. Inzaghi, on the other hand, was Milan's 'king of jokes'. He made fun of everyone – including Vitaly.
Kutuzov called you one of Rossoneri's friendliest footballers. Being a legionary, did you help him to get used to the new reality?
This was not only because I was a foreigner. This is the way I was raised in Denmark: a person should help others to feel a part of the team – even if they are rivals. By the way, this is what I've always liked about Milan. It's a supreme club and it seems having all grounds for an inner conflict. Nevertheless, the atmosphere was family-like. Everyone cared for each other. That is why I am so glad to become a part of the team again.
Is it different in other clubs?
Not always. Much depends on managers and their desire to create esprit the corps. I think Milan is one the best clubs for football superstars in the world. After joining it, even a true individualist realises: it's necessary to give something for the sake of the team.
You played hand in hand with Maldini, Costacurta, Albertini… What kind of people are they?
They are definitely not arrogant. They can be referred to as the club's ambassadors. I'll also add Sebastiano Rossi to the list – all of them were, so to speak, the Milan's spine. These footballers played in the club for so long not just because they mastered the game, but also because they played a vital role in saving 'the red-and-blacks'. Sometimes it is important to keep such people in the team, even if they don't play much anymore.
Who do you think enjoys the best personal features among Milan's stars?
All the players we've mentioned are amazing people. However, I'd speak probably of Paolo Maldini – not simply as a football player but as a personality. I remember my first day in Milan. I came to the base in Milanello and met Paolo right away. We hadn't met before, but he shook hands with me and said: 'Welcome! Would you like some coffee or something? Here's the bar'. I felt comfortable then. The team captain greeted me and behaved in a friendly manner. Then he evaluated Maldini's actions. He seemed to be very quiet, but set a good example to everyone. Paolo didn't have to talk a lot, scream or do anything stupid to attract people. Baresi is the same way. I didn't get to play with him though, but we have known each other for a long time. Franco is quiet and calm, definitely not a typical Italian.
Baresi, Maldini, Costacurta played for a long time, and you finished your career at 39 as well. They say the medical treatment in Milan is at the highest level.
Yes, it is one of the reasons. We were all treated carefully. During the season, the team played many matches. If coaches saw that someone got tired, they let them rest. We missed a match or two, trained gently – and recovered with no injuries. Shortly, the Milan management is very competent, which contributed to the career longevity.
Milan's owner is famous Silvio Berlusconi. Did he often communicate with players?
Personally, I can't say we are in a close acquaintance with him. Back then, Berlusconi was Italy's prime minister and he was very busy. However, he visited our home matches regularly and sometimes came to the pre-match training. He told us that he hoped for a good game and so on. Despite being busy, Silvio wanted people to know that he was very interested in team affairs. He mostly communicated with coaches and veterans: Maldini, Albertini. He failed to talk so often with me – only occasionally. He could come up to me and ask: 'Thomas, how are you?'
Apart from Kutuzov, among your teammates were Andriy Shevchenko and Kakha Kaladze. Do immigrants from the former Soviet Union differ from the 'Westerners' when it comes to mentality?
No. The football world is not so complex. You can be a Chinese, a Belarussan, a Danish, but everything comes down to what you can show on the football field. Of course, players represent different cultures, and it can influence some things, but it is good for the team. Shevchenko and Kaladze felt comfortable in Milan. Sheva spent the best years of his career there, Kakha was at a high level as well. Kutuzov spent less time in the team, but I think all three of them liked it there. In fact, they have become half-Italian. Vitaly lives in Milan now. He is far more an Italian than he used to be. He told me he played hockey, as a goalkeeper. Wow, this is definitely not what I expected of him. Meanwhile, Kaladze returned to Georgia. He regularly visits the Apennines, whenever he gets a chance to do it.
Italy is a warm and sunny country. Didn't you want to stay there?
Actually, I did. However, it didn't work. I transferred from Milan to Inter and then found myself with no contract at all. I got two offers from other Italian clubs that weren't too strong, and eventually I accepted an offer from the English Norwich. We spent a lot of time discussing it with my wife. We felt more like Italians, than Danish.
And what about now?
Well, we returned to our motherland long ago. We have a lot of friends in Italy, but we go there rarely. This year, we plan to go there for the first time in 5 years. We miss Italy a little.
Let's talk about the Danish national team. In 1992, when it became the Champion of Europe, you turned 21. Didn't you have a chance of getting into the line-up?
No. My debut in the team was only 1.5 years after. In 1992, I started playing for the national under-21 football team; I played for it at the Olympiad in Barcelona. Back then, it was something unimaginable for me.
You got to play with Schmeichel and Laudrup brothers. What kind of people they are?
They are different. Even brothers differ a lot. Meanwhile, both Michael and Brian resembled Franco Baresi. They were very quiet, never yelled at anyone, but were leaders at the same time. Schmeichel is a whole other type of a person. Peter is a goalkeeper, and they are always slightly crazy. However, after leaving the field, he changed – getting calmer. He could be tough, but never yelled. Schmeichel is actually very nice to talk to and to be with in a company, we still keep in touch. But on the field he simply had to intimidate the rivals, that is why he behaved that way – screamed, made a lot of noise. He created an image of a cool guy. Actually, it's awesome to come out onto the field with such masters as Schmeichel and the Laudrups. They used to be stars not just in Europe, but in the whole world. They benefited the team.
In recent years, the Danish regularly miss top tournaments. What's the reason?
Times have changed. Our generation has gone, completely different players step onto the field now. I think the national team lacks some sort of a system, a structure. Veterans need to help newcomers adapt more. However, I hope everything will change for the better soon. There are some talents in the country, but they need to work more to reach success.
Do you like the new UEFA European Championship format?
I think so. The tournament turned out to be interesting. I am surprised that traditionally small teams beat the favourites as, normally, there was a gap between the grands and all others. Meanwhile, just look how high the Wales national team is! Or the Icelanders, for instance, – this is just crazy! It's now more difficult for such teams to become champions than for Denmark in 1992. Back then, a play-off started with semi-finals, whereas now you need more victories on the way to the title.
Is it true that Danish players had to break their holidays in order to come to the Euro 1992?
Yes. A movie has been shot about this, it's being screened now. The footballers went on holidays, and then suddenly they had to tell their families that they needed to go Sweden to participate in the Europe Cup. Their wives definitely weren't happy. They had been preparing for the holidays for so long, and then the heads of their families suddenly dropped everything and went somewhere. But the team hadn't been preparing for the Championship, and that's probably the reason they were relaxed. They won gold as a result.
You turned 45 in June. How did you celebrate the anniversary?
We simply had a family dinner, that's it.
What do you do in general?
I live in my hometown of Udense. For a couple of years, I worked as one of the coaches in the club where I started and finished my career. I then decided to take a rest – relaxing and thinking of the future. Maybe I'll turn to football, maybe something else. Hockey? Ha-ha, I don't think so. I am not Kutuzov!
Are you a celebrity in Denmark?
Well… Of course, but not as much as Schmeichel. I can live my life peacefully, and no one bothers me. When I come to the stadium or any other crowded place, people obviously recognise me. When I am just walking in the street, some can come up and greet me. However, there's no crazy rush or intense looks.
Was it more challengeable in Milan in this respect?
No. I never was a superstar, and fans were normally after Maldini or Sheva. Furthermore, Milan is a city where you can meet a lot of celebrities, not only in football: politicians, musicians, actors, fashion icons and so on. There are so many celebrities around, you just feel like you are one of many. That's why there is no problem.
Source: Pressball
Translated by Anastasiya Manko