Slavianski Bazaar prize goes to Mexican bolerista
El Niño Bolero becomes Conquistador of Vitsebsk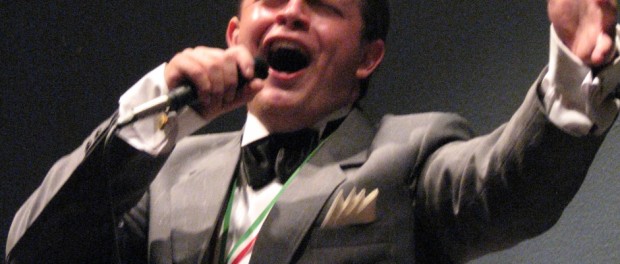 Belarus' largest music festival will glide to an end tonight in Vitsebsk with the closing of the 23rd annual Slavianski Bazaar. The winners expected to be awarded will be Rodrigo de la Cadena, "El Niño Bolero" of Mexico in the adult category, and Anastasia Baginskaya of Ukraine in the children category.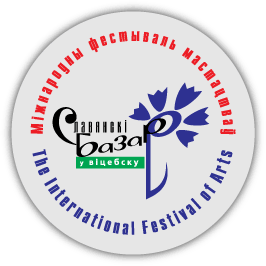 The Slavinaski Bazaar is the largest music festival in Belarus, and has run every year since the break-up of the Soviet Union. The first annual contest opened just after independence in the summer of 1992, and took the place of a friendship music festival held in concert with Communist Poland that had intended to showcase the best in Polish music to Soviet audiences. After Polish authorities in post-Communist Poland decided against continuing to host its sister event, the Festival of Soviet Music in Zielona Gora, the new Belarusian government decided to create a festival that would showcase the diversity of culture present in Belarus.
For most of its existence, the Bazaar has featured mostly Slavic musicians, some of which went on to become major names in themselves. Ruslana Lyzhychko, better known by her fans as simply as Ruslana, won the Lyre trophy in 1996, and went on to win Eurovision for Ukraine in 2004, and compete in the World Music Awards in Las Vegas, Nevada, the same year (she has since gone into politics as a Ukrainian rada member with the Our Ukraine Party, and recently won the Woman of Courage award from the U.S. State Department). Belarusian artists have won four times over the course of the contest: Maxim Sapatskov (better known to his fans as R'n'B singer Max Lorens) in 2003, Petr Elfimov in 2004, Polina Smolova in 2005, and Alyona Lanskaya in 2011. The latter three later also went on to represent Belarus at Eurovision.
The panel of judges for the competition include a wide range of notable artists from several Slavic countries and Israel, including Lithuanian Donny Montell, who won the Bazaar's Lyre Grand Prix in 2008, long-time Ukrainian pop fixture Irina Bilyk, and 2009 Eurovision winner and Belarusian-musician-transplanted-to-Norway, Alexander Rybak (who tended to give higher marks to all the performers).
Results of the Pop Contest
The contest in the adult pop category took place over two days, and involved two performances by each of the entries. On the first day, de la Cadena, who performed the Ivan Larionov's song Kalinka ("Cranberry") for his Slavic music selection, and Moldova's Vitalie Negruta were the only two performers to score in the 90s (95 and 90, respectively), while on the second day, the Mexican Bolero artist, singing the Consuelo Velazquez classic "Besame mucho" ("Kiss me a lot"), tied with Croatia's Dino Jelusic (performing under his first name only), who did a rousing rendition of Queen's "The Show Must Go On," each with 91 points, while Negruta took third with 89 points. Dino's first day performance placed him in the middle of the pack, with a score of 84, taking 8th place out of the 15 contestants.
De la Cadena, age 26, would be the first singer from a non-Slavic or former Soviet state since Israeli-born Rafael Dahan, and the first North American ever, to take the Grand Prix at this contest with a score of 186 points. Credited with creating the "Neobolero" style or genre of music, the artist is called the youngest "bolerista" in Mexico. His music has been heard on both radio and television, he already has five albums released, and is said to have competed in just about every Bolero festival that he has been qualified to take part in, including the last five Festival Internacional Boleros de Oro in Cuba.
Negruta, who has taken the first runner up position with 179 points, began a solo career in 2009, after taking part in such music groups as Millenium, Baroque, and Concertino. At age 27, he has already performed at the World Accordion Championship in Victoria, BC, in Canada, and at the Festival International de Musique Universitaire in Belfort, France. He has competed three times already to represent Moldova in Eurovision, and continues to associate with the Concertino ensemble.
Veronika Dorosh, from Ukraine, placed in the second runner up position with 177 points. Having performed in the Vesnyanka Chamber Choir for six years, she is a school-trained performer who, as a pop artist, writes all the songs she performs. Belarus' entry into the contest, Artur Mikhailov, a Greco-Belarusian from Molodechno, took seventh place with 171 points. Performing at the Slavianski Bazaar at age 23, he's been a singer since age 6 when he joined the Live Sound pop studio in the mid-1990s. These days, he's a soloist with the Allur gypsy show at the Estrada Youth Theater in Minsk.
Child Stars of the Slavianski Bazaar
The children's contest, which finished on Saturday, July 12, featured young contestants from as far away as Central Asia, Western Europe, and Israel. However, the winner of the Children's Grand Prix came from Belarus' southern neighbor, Ukraine. Having been on stage for three year, Anastasia Baginskaya turned nine on July 8, and performs in three languages (Ukrainian, Russian, and English). She hails from Bila Tserkva in Kievska Oblast, located about 80 kilometers south of the Ukrainian capital, whose main claim to music fame before her had been serving as one of the homes of the father of big band leader Benny Goodman before he finally relocated to Chicago in the United States.
The first runner up in the children's contest came from Belarus, Zinaida Kuprianovich. At age 11, she already has an extensive career as a singing contestant in Belarus, Russia, and Ukraine. Her musical career began at age 6 with the Zaranak Ensemble, affiliated with the Vladimir Mulyavin National Center for the Musical Arts. At age 8, she began to study at the Shirma School for Musical Arts, and began last November to solo at Super Puper children's producing center in northern Minsk. It's quite likely she will continue to make entertainment news in Belarus.
Other future stars honored with runner up positions include Lizi Shuvgalidze of Kutaisi, Republic of Georgia, who tied for second runner-up with Andrey Boyko, Kyiv's future Elvis Presley, and Mika from Armenia, who took the third runner-up position. Shuvgalidze, at age 11 has competed in contests as far away as Bulgaria, the Czech Republic, and Spain. She began training on the piano at age 3. Boyko, a veteran of the "Voice Kids" project, comes from a family of professional musicians, and first appeared on stage as part of a performance of Mozart's Children Symphony, which was accompanied by the Ukrainian National Philharmonic Orchestra. He has competed internationally as far away as Bulgaria and the Czech Republic, and is making a second try at representing Ukraine at Junior Eurovision. Mika, at age 10, already has five videos produced in Armenia, and is in his fourth year of piano studies. Having sang and danced since age 3, he too has an extensive international competition background, and is trying for the opportunity to represent his country at Junior Eurovision.