Belarus Fashion Week: review of the collections
Traditional event shows new talents in Belarusian fashion industry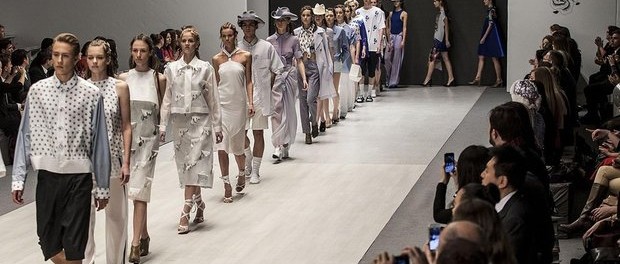 New fashion projects come and go while Belarus Fashion Week stays and keeps developing for the 9th season already. Our review will inform you about the trends suggested by Belarusian and invited foreign designers as well as the clothes we would like to wear next summer.
Where is the World Fashion heading for?
The partnership programs with other fashion weeks and contribution of the Italian and German embassies made it possible for designers from Italy, Germany, Georgia, Armenia and Russia to show their collections at Belarus Fashion Week. These collections were really impactful at reflecting the tendencies of the contemporary fashion:
sport
architectural cutting
a combination of several prints and an embroidery resembling a print
oversize
 asymmetry
Where is Belarusian fashion heading for?
Among Belarusian designers there are couturiers who manage to create collections in accordance with the world fashion trends.
At this fashion week the collection of Samoschenko brand was at one accord chosen to be the best one. Impeccable sense of style let Olga create a minimalism, monochrome collection with an utterly recognizable style. Moderate sensuality, modesty and the very simplicity that is reached upon elaborate cutting and nontrivial decisions. Everything is so brilliant that there's no need for extra praise.
Boitsik has a flair for feeling the actual tendencies. That's why her collections are always modern and make the designer recognizable. Out of all designers who chose the traditional pastel-caramel colour spectrum Irina Boitsik should be the one who managed to remain original. Flowing fabrics, asymmetry and layering make the looks edgy and complex.
The heroine of the new collection by Davidova kept the air of childish mischievousness even though it's a long time she's finished school. Prints reminiscent of student's copybooks and doodles that we used to draw with a pen in the corner of a paper sheet add fervor and freshness to the collection. Marina Davidova experiments not only with prints but with a mold as well. She's not even hesitant to design footwear. She doesn't use mini and necklines to accentuate femininity. Instead she plays with volumes and original design solutions. Wherein her clothes and footwear seem suitable, comfortable and apprehensible to women of any age.
Design or commerce?
20% of creative work and 80% of commerce is Tanya Arzhanova's secret of success. Perhaps the good selling marine theme stands for the commerce and the creative part is represented by a stylized blue fish. By the way on the client's wish the fish can be pinned off.
Fur Garden brand also was successful at combining commerce and design. Knitted models were especially good and polka dot maxi-dresses ensured the final success of the collection.
The most important dress
We can praise the Belarusian brand India at least for the fact that minimalism and simplicity are the dominant features of their wedding collection. There are no crinolines, corsets, lacings, flowers and cake-looking dresses.
Masculine perspective
It seems that men-designers are fed up with pastel candy hues and shuttlecocks. Instead they decided to add up brutality, tattoos, rock and gothic. A hat, a beard, a tattoo, rough boots, subdued hues with ginger accents have already become attributes of Apti Eziev's style. Make your style recognizable and find your niche and your client is quite a big deal for a designer. The most daring of Apti's clients will be trotting out in men's skirts next summer. There's no point in trying to figure out hidden connotations in this piece of clothing. This is neither outrageousness nor continuation of Gaultier's and Jacobs' tradition. The designer confessed that he simply didn't know where to apply the remains of the fabric. The handbags merit special attention.
Nikolay Schetko compares himself to Rick Owens and there are  grounds for that: grunge, black colours, deconstruction, outrageousness, mysticism. The thing to find out is who writes press releases for Schetko and why the same person doesn't act as a spokesman during press conferences with journalists. Whenever the designer is asked a question his response is always 'I don't know' or 'I'm shy". Utterly informative. Thanks.
The local colour
Probably I love Belarus theme set the mood for several designers. To be honest though they declared their love not only for Belarus but for India and Armenia as well.
Olga Kucherenko dedicated her collection to Belarusian theme and confessed that she got really upset when people were ashamed of their own roots. She loves the place where she was born and prefers to speak of things that are interesting for our people. Our people are supposed to like traditional for Belarus materials ( flax, cotton, straw), tartan  that gives credit to the national costume, embroidery performed on the genuine flax, natural muted range of colours and wonderful hats.
Karina Galstyan paid tribute to Armenian national costume with her attempt to make it fashionable and up-to-date. The author's print in the form of a pomegranate that is a symbol of fertility and well-being helped to disclose the theme of Armenian hospitality and joy.
Anastasia Mironovich shared her impressions of her trip to India: cropped trousers, wraparound jacket, tunics, short tops should remind of the traditional Indian costume. To make the look more modern the designer rejected soft fabrics and gave preference to clear graphic lines. Combinations of colours green and pink, pink and yellow, purple and yellow refer not only to the colour traditions of the East but also to Yves Saint Loran's heritage.
Unfashionable collections of the fashion week
Parus Jeans, Polina Soloveyko, Monton, Candy Lady showed fine clothes. Yet it was not fashion. It's most likely that for these brands participation in the fashion week was nothing more but PR strategy, a way to escalate the recognition of the brand and attract new customers to the store. These brands don't set trends but follow them. They don't create new designer solutions but use popular styles and silhouettes. They don't experiment with combination of colours but simply choose the best selling hues. Sometimes the outcome was interesting sometimes it was boring. It is perceived from the fact that the collections are aimed at the mass production. Big-scale editions won't put up with designer refinements that can deter the average consumer. For instance, Polina Soloveyko made a collection for Belarusian Center of Fashion and it seems that she was undergoing a lot of pressure from the enterprise. It seems that an old-fashioned aged woman had to be the target image for her. The heroine of the collection must be a secretary in some public institution and spend the majority of time sitting behind a desk as decor elements are mainly situated in the upper part of the suit. It's a pity Polina had to restrain her creative outbursts. Yet these are the market rules. He who thinks in editions thinks in a highly different manner.
Parus Jeans demonstrated jeans, blazers, jackets and t-shirts for young and active townsfolk. There's nothing else to add.
Estonian brand Monton is different from Parus Jeans in the way it beats on more formal clothes.
The fashion show of Candy Lady brand by Olga Barabanschikova was one of the most anticipated ones. It was closing the fashion week event. Olga doesn't conceal the fact that she can be called the manager of the brand rather than the designer as the collection involved the work of a number of unknown professionals. Classic and utterly modern jackets, sleeveless jackets, blouses, loose pants of caramel hues are sure to be sold well and the name of Olga Barabanschikova should play its role and arouse the customer's interest. Olga is really patient by the way. She answered the question who she considers herself to be: a singer, a sportswoman or a designer three times in the row and didn't even get angry.
A team of designers also worked at Arctic Fox collection that made its debut at our fashion week. They managed to create very apprehensible and modern clothes (let's forget about dresses with bows) with hand-made elements. Young fashonistas will surely look for the selling points of the brand to add shorts and dresses of the noble golden hue to their summer looks.
A look-book and buffet for clients and friends would be enough to present all these collections. What was the point of demonstrating regular clothes from a store even though they are fine?
Belarusian glamour
While the world fashion is pacing towards relaxed looks, oversize silhouettes and unisex style, the designers of Harydavets&Efremova are sure that actually women should be women and wear form-fitting tops with basques, tight skirts and lush dresses, high heels and whipped hairstyles, eyelines and bright lips. The esthetics of the brand can be criticized. However it will always get its client.
The future of Belarusian fashion
An advantage of Belarus Fashion Week is the fact that besides the main runway there's the Off Schedule program where young designers can try their hands. Next season we will be closely follow at least two brands: Tanya Tur and Tikota Unique.
Tanya Tur was canny to show us warm fairy winter collection instead of a spring-summer one. You want to put on those clothes right now. Yet we will blind our eyes to this for the collection turned out to be wonderful. Tatyana buys over by the lack of fear to experiment. She's like a true creator and a designer tries to make something new, look at the common things from a different perspective and use the trivial materials in nontrivial way. Sweaters that look as if they were made of grandma's country doormats, coat-blankets, pictures and appliqués with touching fairy-tale characters and the dream hat – knitted forage-hat – will all appeal to those who appreciate irony and humour and believe in wonders. As for us, we believe in Tanya's talent and wish her success.
Tikota Unique pleased us with her striving for brevity and simple molds. The brand boasts of solid business-partners which makes it seem an object for serious investment. It means that even though given a feedback the grand design might not come out in the future collections.
Upon a critical and impartial look over the presented collections we can sum up that fashion is destroyed by parochialism and excessive commercialization. To feel the pulse of the contemporary fashion, get into the tendencies and forestall them, add folk motives step  by step without fanaticism, create clothes that will be clear to any person and remember about the design for the sake of quick profit are the features of a successful designer. We have such designers in our country.
Text: by Arina Alimova (TUT.by)
Photo: by Darya Buryakina (bfw.by)