It's Spring Time: a review of Belarusian fashion collections
Julia Babiy
Fresh like April rain collection by young Belarusian designer Julia Babiy (Julia Babiy brand) is a wardrobe story about minimalism, simplicity and meditative patience. Net and transparent fabrics and free, almost baggy, style… All of these things are combined in the concept of renovated and relaxed femininity, which has no need in proving anything due to is self-sufficiency. The designer's idea was aimed to reveal the aesthetics of contemporary choreography and it's inalienable part – an interaction between body and fabrics. That's why there is no decoration, attracting attention and instead of bright colors there are natural tints of a stormy sky and wet sand. But there is no story without omnipresent fringe: to tell the truth, in this collection it resembles the ribbons, dancing and repeating the moves of the body.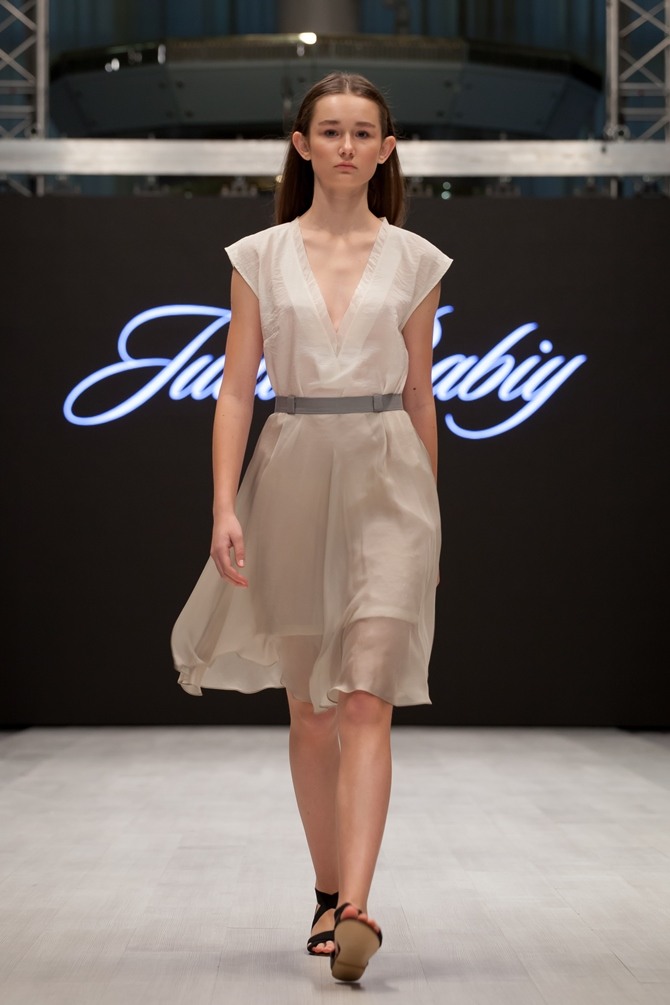 Davidova
Marina Davidova is known in the Belarusian fashion community as a virtuoso in combining the most complicated fabrics, she develops author prints and she approaches casual style to visual arts due to thorough handwork and original artistic vision. She truly knows How to choose a clothing manufacturer. Davidova dedicated her spring / summer 2016 collection to interaction between a woman and her car, which is seen thanks to the prints depicting car plates, retro cars and motor systems. The mechanical theme is smoothed with slow and corrugated lines, but there are also enough horizontal and vertical stripes. The indisputable advantage of her collection is its universality for any weather: you can find not only flying leaves but also a coat –pay special attention to the fact that there are prints of car on it.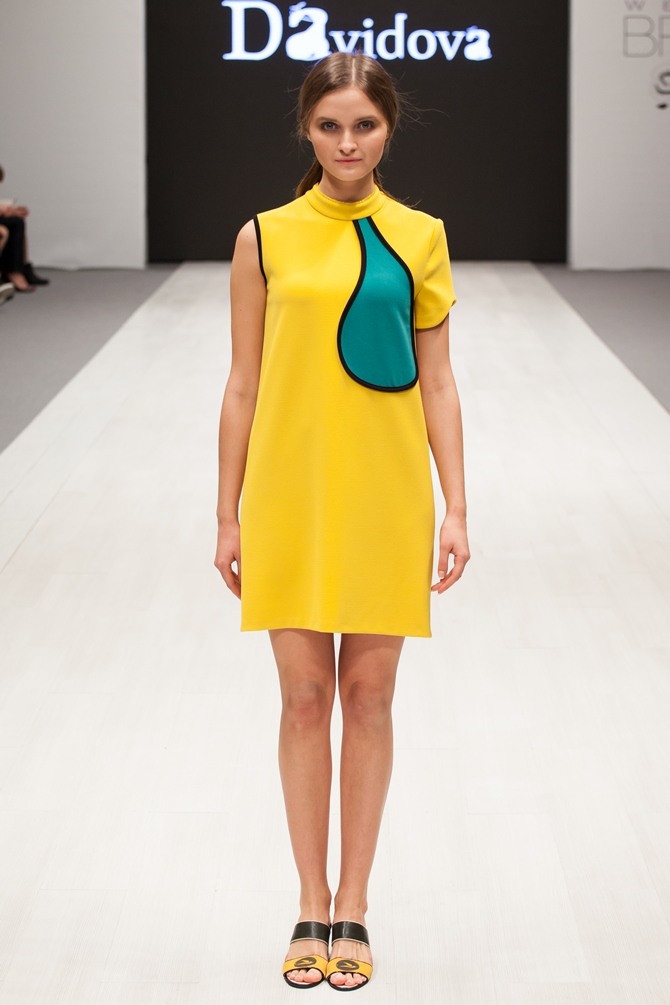 Fur Garden
Julia Gilevich's brand moves further and further away from exquisite games with style and details: it's obvious when you see a raincoat, a blouse or a sundress with an amazing "flouncy" back, different types of necks forming layers, straps of a sundress or a leather pencil skirt with an overlapping zip. However, regarding the mastery of design and spatial thinking, there were no complaints to Gilevich. Nevertheless, the spring/summer 2016 collection showed that the designer can work in the dress spruce style, most popular fashion trend. "To be beautiful in an easy and carefree way" is the essence of this progressive tendency, neglecting the statement that beauty is hard work; and this sparkling lightness of being is seen in any item of the Fur Garden collection.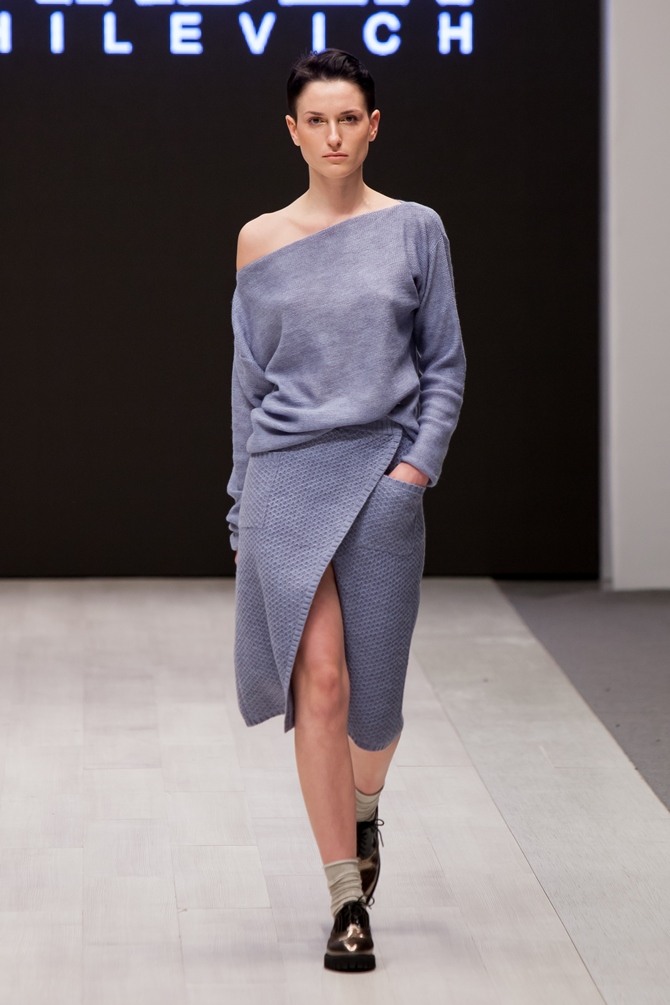 Kardash
Olga Kardash, having made a stork the motif of her collection, hit the bull's eye: got bored with the vishivanki's game without any clear designer's interpretation in the final, the audience misses the national and at the same time fashionable outfits.
The storks of Kardash have become a phenomenon : with TV hosts, IT specialists and stylish photographers wearing them and telling people to buy Hey Sara dresses online, it's clear to see the success. But the proprietary mark of any collection by Kardash is still her complicated, almost science intensive, style which can serve in learning geometry.
But you can simply learn the aerodynamics by the sundresses with an open back – they are so elegant in motion. The collection features not only ordinary wardrobe stuff but also less traditional trouser skirts, culottes and dungarees with cross straps. The collection by Kardash made a great success because in spite of complicated solutions it's clear for everyone due to its refinement.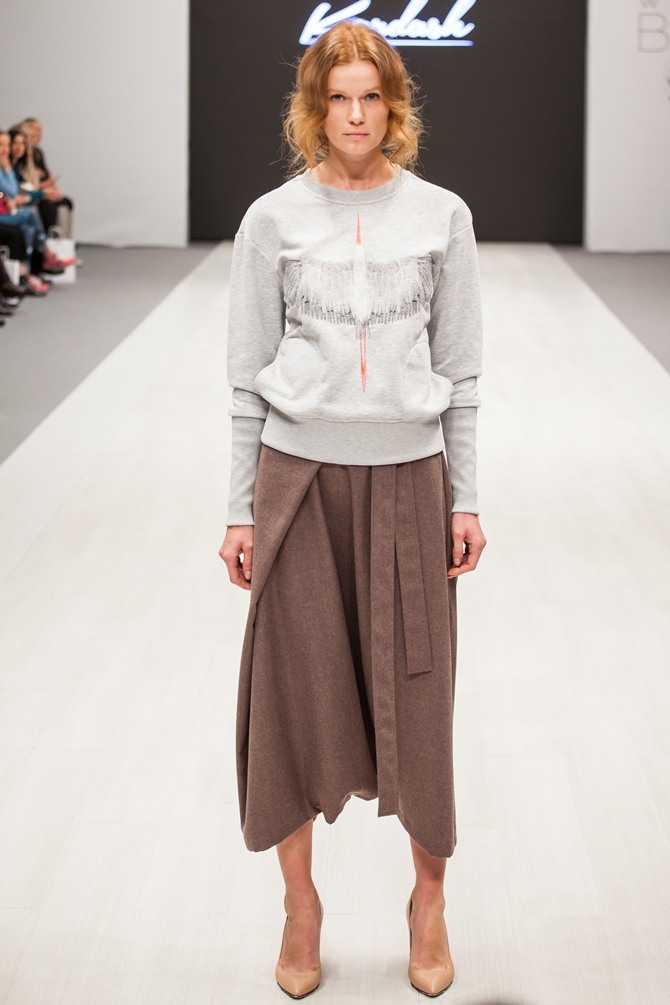 Kucherenko
The ideas of Olga Kucherenko, complicated for perception (conceptually andvisually), sound more clear and brighter than ever in her spring/summer 2016 collection. Without being concerned about the philosophical concepts of the collection, it's worth mentioning that there is a lack of metaphors: complicated lines of armholes resemble a bird's wings and the collars, moved by a designer to the back, look vanguard, but in a fresh and well-timed way. The amateurs of graphic prints will definitely appreciate the collection: there are many black and white lines in both a parallel and crossing in a chaotic way. Kucherenko preserves her specific status of a designer who prefers complex allusions, combination of materials and a game with transparency (there is enough of it in a new collection), but she essentially expanded a range of her clients by this work. Besides the highly creative clothes there are also familiar casual dresses.
Tanya Tur
Tanya Tur in her spring/summer 2016 collection demonstrates how important it is to be
unserious, and how to play in fashion and how to write fairy tales. Sure, for the most part her collection may seem to be infantile, but there are numerous world top brands that work in such a positive way and are successful. Thus, a designer obviously has a great future: irony in fashion is one of the hottest offers, especially if it's combined with a fully distinct work with materials and techniques. The stop signs of the collection are voluminous embroidery, wool pompons of different bright colors and some incredible knitted and felt textures. All these sweaters, skirts and dresses look cosy, fabulous, solidly made with great care and attention – and without any exaggeration you can trully feel the energy of the laborious handiwork. It will always be warm, especially in the conditions of a Belarusian spring.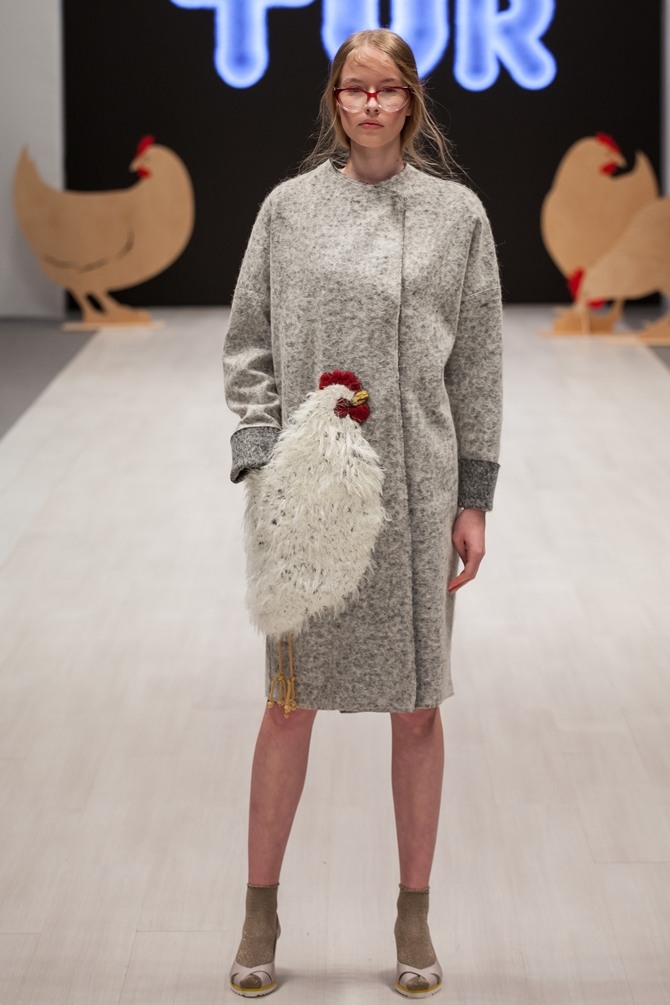 Samoschenko
Olga Samoschenko is considered to be one of numerous Belarusian designers for export: of course, as Evelina Khromtchenko (Russian fashion expert, TV-presenter, journalist, writer) wears her outfits. Why is it so? It is simple: Samoschenko can do the things that the others don't, for example, to make a fleeting trend in a piece of art. In her spring/summer 2016 collection she staked on a fringe (it's predictable due to a strong tendency) and an appliqué in style of Joanna Maro. The most interesting aspect of her work is how skillfully she brings together the two accents, having got a full-fledged art object: thus, when the current trend goes out of style, the dress by Samoschenko will remain original and self-sufficient. In her style the nobleness of fabrics is apparent – it should be appreciated in dynamics, and her purity of style and drapery skills and texture combination are being praised endlessly in the fashion community.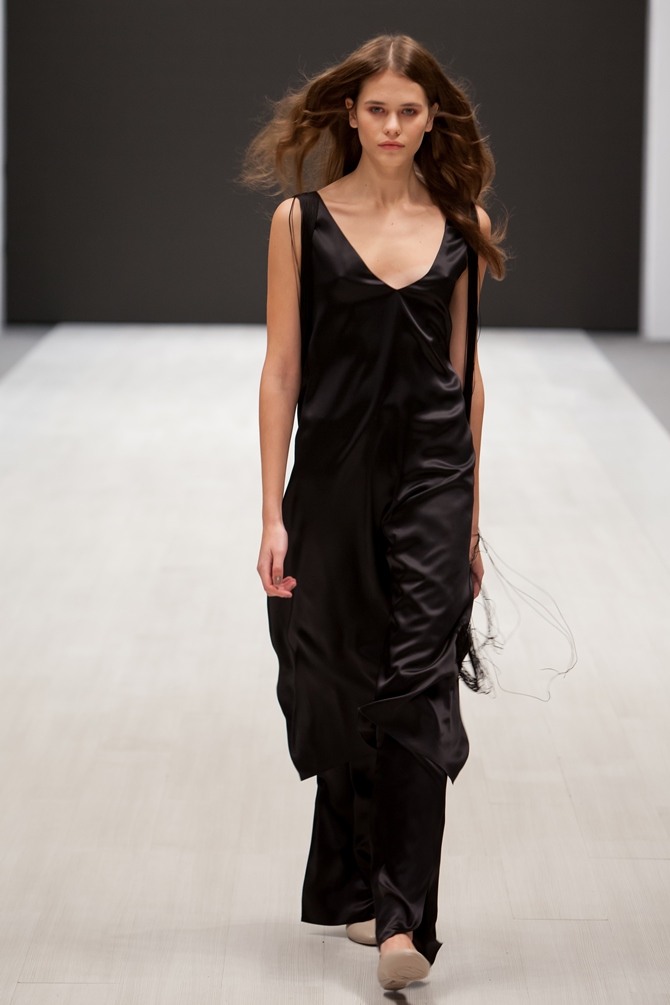 Ton-in-Ton
The brand of Olga Novik is specialized in knitted fabrics, so the designer's attention is focused on the quality of wool – from tactile up to optical features. The designer presented the results of her experiments with cashmere, silk, alpaca and viscose and new, unusual solutions for these materials in her new collection spring/summer 2016. For instance, the "denim" optical effect of knitted fabric: it really looks like denim, and it's not the only impressive dimension in her collection. The knitted shorts and trousers really impress, as these elements are too complex and capricious for knitted fabric. The knitted coat-cardigan and dove-colored trouser suit and a netty dress in a sports style are the milestones of this collection, though the most important are not certain pieces of clothing, but the wool, which will serve for creating a full-fledged wardrobe for any weather.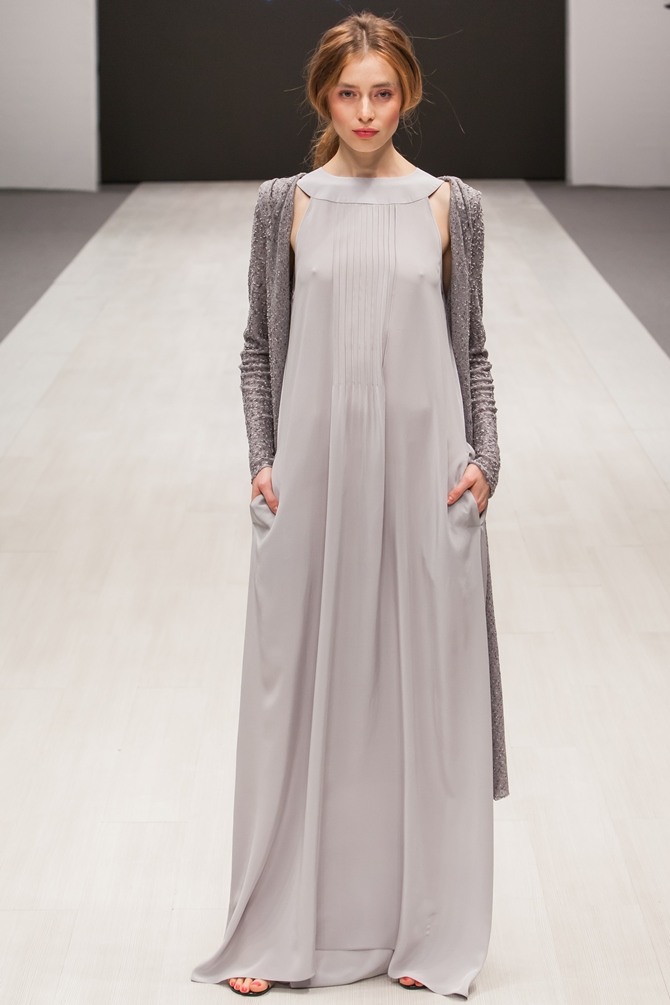 Among the accessories being mostly discussed in the Belarusian fashion community are the leather rucksacks by Max Mironov: delicate, slightly rounded square form looks sportlike and elegant, but the main feature of this model is décor. The most noticeable accent of the rucksack is a pocket woven from leather laces, and this pocket is a detail which makes a designer's design, really the one, thus, enriched with function. The net looks like a decoration trifle, but it can hold a magazine, a pocketbook or some newspapers.
Photo are provided by Belarus Fashion Week
Text by Irina Zhukova