Junior World Biathlon Championship starts in Raubichy 18th of February
This will be the  first start on the renewed complex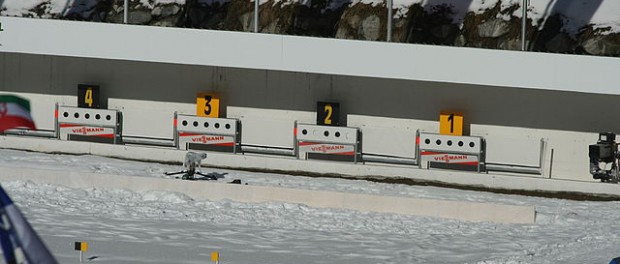 The junior World Biathlon Championship will take place in sport center "Raubichy" from February 18 to February 24. The ceremony of opening of a sports forum will take place in Minsk on February 17 on the square of National flag of Republic of Belarus. It is planned that action will begin at 20.00.
It should be noticed there are the first competitions of so high level after large-scale reconstruction of the republican center of the Olympic preparation for winter sports.
In 2013 Reconstruction of "Raubichy" began according to the state investment program. The ski roller route, biathlon stadium and a shooting range are completely reconstructed, reconstruction of engineering networks is carried out and the boiler room, practically newly built up judicial pavilion, locker rooms, shoe-polishes cabins and many other things.
We will remind that  Belarus acquired the right for holding the junior World Cup-2015 in biathlon in September, 2012. The program of the championship includes competition of juniors and young men, juniors and girls on four competitive disciplines of biathlon: individual race, sprint, pursuit and relay.
In the morning on February 18 to a distance in individual race on 10 km there will be girls (till 19 years), and young men (till 19 years) will run 12,5 km. On February 19 juniors will define the best in individual race on 15 km, girls – on 12,5 km. On February 20 young men and girls (till 19 years) start in sprint races respectively on 7,5 and 6 km. Sprint at juniors will take place on February 21. On February 22 young men and girls, and also juniors will reveal the strongest in pursuits, relay competitions will take place on February 23 and 24. In total participants of a world championship will award 16 sets of medals.
The European broadcasting Union transferred the rights for a TV broadcast of the world junior championship to Belarus TV». The Belarus TV Channel 5  will send live all races in the territory of Belarus. After February 5 it will become known, what foreign companies will also broadcast the championship.
According to BELTA, the trainer's staff of the junior national team of Belarus already decided on preliminary structure on a world forum. The junior team (till 21 year) is represented by Victor Krivko, Maxim Vorobey, Oleg Litvinsky, Vladislav Medyukho, Evgeny Lipay, Roman Malukho will become spare. The youthful team (till 19 years) included Roman Shinkevich, Vadim Radyuk, Pavel Poplavsky, Anton Smolsky, Igor Karpyuk.
At juniors (till 21 year) Tatyana Trifonova, Svetlana Markovskaya, Evgenia Yakovleva, Anastasia Kunets, Diana Babitskaya plan to participate in the World Cup in "Raubichy". At girls (till 19 years) – Anna Sola, Darya Blashko, Christina Mazurina, Dinara Alimbekova, Anastasia Anufriyeva.
Reference information
After commissioning in 1974″Raubichi" hosted the World Biathlon Championships in 1974, 1976, 1982 and 1990, the biathlon European championships in 1998 and 2004, the World Cup on cross-country skiing (1991), European cup stages on freestyle (1995, 2006). In 1996 the International Biathlon Union appropriated to sport center "Raubichy" category "A" and granted the license for competitions of the highest level without any exceptions.
Full extent of the routes "Raubichy" – 7,5 km, the maximum circle – 5 km, there is a sprint circle (for discipline of skiing). All routes conform to the international standards. The main shooting range is equipped with 36 electronic and mechanical target installations. Near the main shooting range in short terms the covered shooting gallery for training occupations was built. In it ten installations located at procedural 50-meter distance with which biathlonists conduct firing at competitions.
Besides, there is a ski slope in a sports complex, a complex of ski jumps (20, 40 and 60 meters) and an acrobatic slope on which passed European cup stages on freestyle.
The indoor ice rink was opened in 2009.
Text: Belmarket.by
Photo: Wikipedia Commons