Alexander Hleb: After Barcelona I could have played in Dynamo Kiev
Alex Hleb interview to Football.ua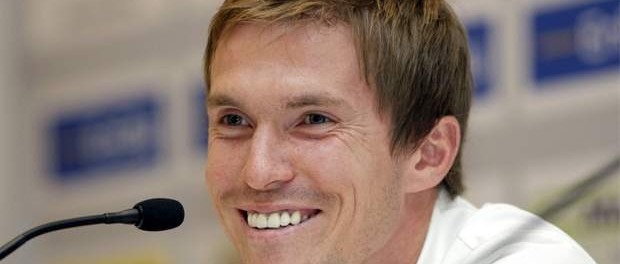 Ukrainian site Football.ua did an excellent inteview with Alexander Hleb, one of the most prominent Belarusian football players. He tells about chances of Team Belarus in Euro 2016 qualification, and shared some interesing details about his career. They  called Alexander Hleb in Minsk, where the ex-player of VfB Stuttgart, FC Barcelona and Arsenal FC is having a holiday, to find out the Ukrainian mark in his career. Alex  Hleb has never played in any Ukrainian team, but he told us how he refused  FC Dynamo Kyiv twice, who the Serbian footballer Radosav Petrovic is and some other interesting things.
You have seen the present Ukrainian national team on TV, twice – against Belarus and Spain. What has caught your eye?
The Ukrainian national team is the same as the Belarusian one. There is no substantial difference. It's simply, because of the coaches' decisions the situation for our team is not good. We've lost many points, the suboptimal team composition played last times. Anyway, it's our fault. If Ukraine is higher than we  are at the standings now so, they deserved it.
The Ukrainian fans will hardly agree with you on the first statement.
Hm, why? This is a good team, nobody argues. But it is not anything special. I mean it's not top team, not grand.
Do you remember the story when you claimed that the Ukrainians had bribed  the referee before the game Belarus – Ukraine?
Yes, I do.
Nobody got it if it was a true?
Did you really? It was a joke. Yes, there was everything, sometimes the referees put me at a stand, but it was a joke.
Is it usual for you to comment plays in a manner like "not failed completely" as you said after loss to Spain?
I speak how I like. How I want. That would be all. I don't think if it is normal or not, how it creates waves in public and etc.
The broadest statement in your career is …?
Lately I have had an interview with a French correspondent. We met and did it. Then he promised to send me a final variant before publishing – but he didn't, he lied. And he has written such things – I don't know how to comment.
Remind the moment when the Belarusian National Football team had the closest position for going to the qualification at the World Championship or the European Championship.
When our team coach was Baidachny. It was the strongest command at all. If the managers could have given him another cycle – we would be in a qualification, I think. The good integration of youth and experience was created, but he didn't get a chance to continue working – then everything went haywire.
What did you feel first when you'd heard the Alexander Khatskevich's promotion?
When the gossips had just appeared – I was totally for him! The young coach with the fresh view to football is great. And we began to play good football with him.
What did Khatskevich impress the player who worked with the best coaches in the world? Maybe the special exercises or the mood to the play?
Hm, no, nothing is special. Alexander Khatskevich talks with us, tells the tactics. The man who has worked with Lobanovsky for a long time has a lot of experience. To the youngers he explains attacking and defensive tactics, how to move on the field. Such nuances.
Last season you played for Genclerbirligi together with Radosav Petrovic, who has signed a contract with Dynamo. In Ukraine nobody has noticed him any great abilities in playing football. Tell us about the player.
He is a nice guy, sees the field not badly and plays keep-ball well. He is a tall, so heads great. This is a team player.
They say he can be compared with Nemanja Matic according to his manner of playing. Who does he remind you among the European stars?
To tell the truth I can't say they are similar. He is just a good holding midfielder, plays for the National team – it conveys a great deal to. He will strengthen Dynamo.
The general conclusion of Kiev fans concerning Nemanja Matic is that the player of Genclerbirligi can't strengthen the team of Champions League group stage match.
His level is rather higher than Genclerbirligi's one in everything. I think he is a new potential for Dynamo.
I'm sure you kept company with each other out of the field. If a Belarusian and a Serbian were in Turkey, it would be logical.
We were friends. At all I was having a contact to the Serbians there. He is sociable, with a good sense of humour. Anyway is a team player.
15 years ago you went to the casting of FC Dynamo Kyiv, being a player of BATE. What the first thing pops up in your memory now?
Nothing. It was too long ago.
Nothing?
I remember, we were met badly.
How did it happen?
There was a situation. By that time I had got an agreement with Stuttgart. But the BATE President asked to go there. I thought "OK, why not? I will and see with my own eyes how it is". We were lodged at… Do you remember a childish camp of 80's? That it was. Everything was old and creaky. There was an impression that nobody had lived there before we arrived. What concerned sleeping it was impossible.
Didn't you ride at the Dynamo's ground?
Yes, we did, but at another building placed near it. We had been for 2-3 days there, but the wish to stay longer had lost. I left this place with goalkeeper Vasya Homutovsky.
Did Dynamo want you to stay?
I approved myself well. The casting was continuing, I was asked to stay. But New Year was coming, I wanted to be with my family on that holiday – and went to, of course. To tell the truth, I don't palter, the worst thing was how we
were met.
What did you expect in particular?
I was a young man, but anyway I wanted to be met well. As a result I had an impression like we were taken out of unknown place, of jungles. No, I was not fussy about, I didn't like it, that would be all. Then I haven't had a wish to return. In Kiev there is a great club, famous one. And I had been waiting for something good. I was not a star, but I wanted to be met well. It could have been normal.
Had the creaky beds helped you to make a decision or had you already made up your mind on the Western Europe?
I was set to play for Germany but anyway wanted to see Kiev. If the situation happened in another way my decision could have been changed – at least I would think of. When my coach was Lobanovich I was always a fan for Dynamo, Belkevich and Hatskevich were playing for it at that time. I looked up to them when I was a teenager. But after it had happened I was very upset.
Was it different in Germany?
Yes, it was, apart from Belarus, BATE.
Have you ever been invited to play on Ukraine?
For Kiev again.
Before Arsenal or after Barcelona?
After Barcelona.
You were asked it by journalists. You said: "It is the first time I've heard it".
So, I wanted to answer like that.
Please, tell it in details. Why did it not happen?
We did not agree on the money.
And what was your choice?
I prefer to return to Stuttgart.
I think you demanded more conditions from Dynamo than from Stuttgart.
No, they were the same.
It's strange. I seemed Dynamo was able to pay the same as Stuttgart.
I just wanted a salary the same with Barcelona's one. Stuttgart agreed, Dynamo didn't. That's all.
Who offered it to you?
The club president.
Dmitry Chigrinsky says he could have shown his worth more in the second season, but he was sold. Was your story the same as his?
No, absolutely not. It was my fault. I don't want to explain the reasons of it. I behaved in a wrong manner, conflicted a lot and etc.
Why did you do it?
I won't tell you. It's private. But it was absolutely my fault. If I took it in another way – I could have been in a progress, played several seasons.
Have you got the bird from the tribunes, as it was with Chigrinsky?
I was told by Henri it happens with foreigners only. Apart from Messi, of course. And it is really, if something goes wrong – public whistle. They request a lot.
Your last two clubs were Konyaspor and Genclerbirligi. Why Turkey?
I love the atmosphere, stadiums. How people fan. I want to enjoy from playing on stadiums at full capacity. I like football, it is my life. I like what I do. I'm just relishing. This is the main thing.
Wow. You are 34!
Yes, I am. I am glad to get up in the mornings, go to train to do my favorite job. Thanks to God for everything has happened like it has. At 20, of course, the motivation was bigger, but today it is rather enough. I feel well. Touch
wood!
Which the most interesting offers have you ever had?
Many things happened. From India, Australia, Dubai, Arab Emirates, China and etc.
What are you planning to do this summer?
See. I don't know exactly. Everything is possible.
Everything is as it was expected.
It often happens that famous footballers go to politics – Shevchenko in Ukraine, Kaladze in Georgia, Weah in Liberia. Will the Belarusians support you if you want?
Haha, I am interested in politics, worry about my country, but… I haven't had this idea yet.
How is your business with education? Haven't you graduated?
I'm a fourth-year student; I have just passed the exams. Everything is ok and everything is serious.
Did you really?
Yes. I am asked and I prepare for this. Maybe I am not as serious as other students. But anyway I like it. One day I have wanted to get a legal education, a friend advised me, so, I'm here.
Could you give an example of the most educated footballer?
Senderos from Arsenal. I remember, he was 20 or 21, and he spoken 5 languages. And he did it in parallel – with one person in English, with another one in French, with the third man in German. The most intelligent is Arsene Wenger, of course, but that man impressed me so much. He is a footballer, not an A-student.
About the future – one day you claimed you would never be a coach. Guardiola was becoming grey day by day and you didn't want. Haven't you changed your mind?
I say honestly, I don't know how it will be. At that moment I thought so. Now I have not thought of it. If I want to – I will go learning to be a coach. Now it is like this.