Alexander Hleb leaves the Turkish FC Konyaspor
 Belarusian footballer is planning to join FC Genclerbirligi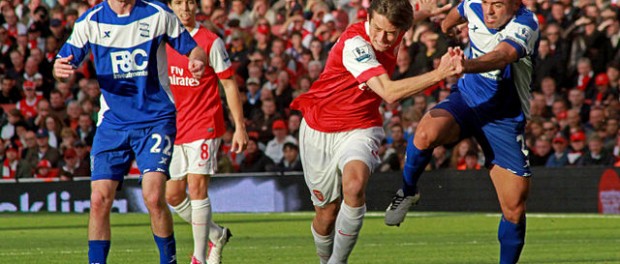 Alexander Hleb, a 33 year-old Belarusian halfback, is going to cancel his contract with FC Konyaspor this Monday, says futbolarena.com.
According to a Turkish web site Fanatik it's possible that Hleb will start working with FC Genclerbirligi.
Alexander has played in FC Konyaspor since January, 2014, but recently due to the conflict with the team coach Aykut Kocaman the Belarusian has started to play rarely in the Turkish Premier League and in the Turkish Cup.
The Konyaspor's press officer confirmed the information about Hleb's leaving. As the officer admits, the contract will be cancelled on the 2nd of February. "We expect the contract cancellation with Alexander Hleb and the goal-keeper Vid Belec this Monday", says the press officer to ajansspor.com.
The transfer window in Turkey will be closed on the 2nd of February. After the first round of the Turkish Premier League FC Konyaspor is the 15th in the list of 18 teams and it has only 4 points ahead of the worst League team.
Alexander Hleb became a member of FC Konyaspor in January, 2014 and on the 29th of May, 2014 he prolonged the contract with the football club.
The Belarusian player participated in 28 matches and scored 2 goals. Some time he led the team as a captain.
Earlier Alexander played in FC BATE, where he came back in 2012 after 12 years of playing abroad. He played in the German FC Stuttgart (2000-2005, 2009-2010) and in FC Wolfsburg (2011), in England he played in FC Arsenal (2005-2008) and in Birmingham City Football Club (2010-2011), he also was a football player of the Spanish FC Barcelona (2008-2011), and the Russian FC Krylia Sovetov (2012).
Alexander Hleb was named the best football player of Belarus six times (2002, 2003, 2005, 2006, 2007, 2008). He became the first Belarusian player who played in the UEFA Champions League final match (being a member of Arsenal, 2006).
Apart from the conflict with the Turkish coach Alexander had other misfortunes in 2014. Among them are a divorce with Anastasia Kosenkova, a singer from Topless musical group and a fight with one of the team mates in October.
Hleb has no game practice and it is a problem for the Belarusian national team coach Alexander Khatskevich who plans to return the experienced player into the national team. Khatskevich's official debut will be on the 27th of March in the World Cup qualifier in FYR Macedonia.
Text by TUT.BY, Pressball
Pictures by konyaspor.org.tr