Goalkeeper Kevin Lalande: "Maybe I will finish my career in Minsk"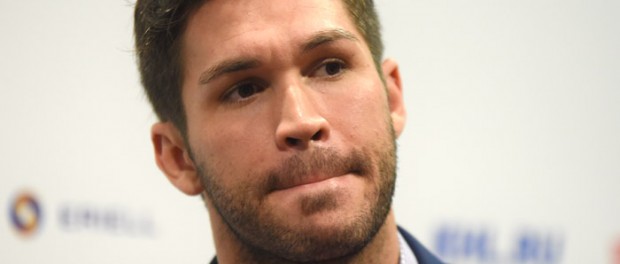 Kevin Lalande was one of the Belarus' national heroes during this year IHF World Championships in the Czech Republic. With CSKA Moscow he played in the final of Gagarin Cup and then tried his luck in NHL. But now he decided to comeback to Minsk and join Minsk "bizons"
– When did you start discussing your possible return to the team?
– 4-6 weeks ago.
– That means before the training camp with HC Minnesota Wild?
– Yes. The negotiations have been lasting for long, so I had the opportunity to join the NHL team camp.
– To which degree did your training in Minnesota influence your decision on competing in Dinamo?
– It's just my decision.
– Are you disappointed by the fact that you weren't given a chance to play in exhibition matches in Minnesota?
– Of course, I am. But I was aware of the situation I turned out to be in. HC Minnesota Wild had a contract with three goalkeepers. The club sent me from American Hockey League (AHL) to the farm club. I was not happy about that, so, I came back to Dinamo-Minsk.
– Why did you abandon the chance to play in AHL? You could get to National Hockey League (NHL) after spending some time there.
– I had some reasons for that – a lot of "ifs". And what if suddenly I got injured in Iowa? In that case, HC Minnesota Wild wouldn't invite me, and I would be of no use for Dinamo-Minsk. Sometimes one should mull over before making a choice.
– Are you going to occupy the position of the first goalkeeper in Dinamo? Did you discuss that?
– My goal is to have good statistics. My rivals in Dinamo have great results. But I am in Minsk to do my job.
– Are you ready to take to the ice hockey rink in the upcoming match?
– Physically, I'm ready. The main problem is the acclimatization, because I have just come from America. Moreover, it's up to coaches to decide who will play.
– Which number will you have?
– Number 33. Why am I in love with 33? In my childhood I had that number. My idol Patrick Roy played with the same number.
– Do you know Jeff Glass?
– I have recently got acquainted with him personally. He's a well-known goalkeeper in the Kontinental Hockey League (KHL). But before that, we haven't met.
– What were your first three seasons in Dinamo-Minsk about?
– It was a marvelous time, I've reiterated that. I liked Minsk, the club staff's excellent work and great fans in KHL. Minsk is the best city. However, I also felt comfortable in Moscow. Thanks to my play in CH CSKA, I got invaluable experience that I will try to use here.
– Only the first season, spent in Dinamo-Minsk, was really cool for you. What about the other two?
– During my second season in Minsk, we faced a lockout; I had to give way to a goalkeeper from NHL. At that time, it was psychologically hard for me to cope with the situation. And during my last season, Dinamo introduced a legionary formula, which also influenced my performance in the regular season.
– One Russian proverb says: "You can not enter the same river twice."
– I hear it for the first time. The river is the same, but the stream has changed. Now I just need to get another boat.
– Did Dave Lewis participate somehow in your transition to Dinamo?
– No, I had a conversation with him about a month ago. But we didn't touch upon the club and the team. However, when Dave found out I signed a contract with Dinamo, he sent me a short message by phone, wishing good luck.
– Last year, being part of CH CSKA Moscow, you fought for the Gagarin Cup in the final match. What about your current plans?
– I want to help the team in every new match. But I should admit that one gets used to good results quickly. It will be hard to break the habit of winning matches with CSKA Moscow. All in all, Dinamo is also a promising team. We should just work.
– On Sunday, Dinamo Minsk will have an away match against CSKA Moscow…
– Of course, I want to see the familiar rink, familiar faces. It would be wonderful to play against the Russian club.
– Do you know how to confront Geoff Platt (CSKA forward – ed.)?
– I will just close my eyes to hope he strikes me instead of scoring a goal (laughing).
– Is NHL your main objective? Will HC Minnesota Wild be your last attempt to get there?
– I have a long-term contract with Dinamo Minsk. Maybe I will finish my career in Minsk. In such a situation, it's quite difficult to dream of NHL.
Text and pictures by tribuna.com