Belarusian FC BATE draws against German Bayer Leverkusen at Borisov Arena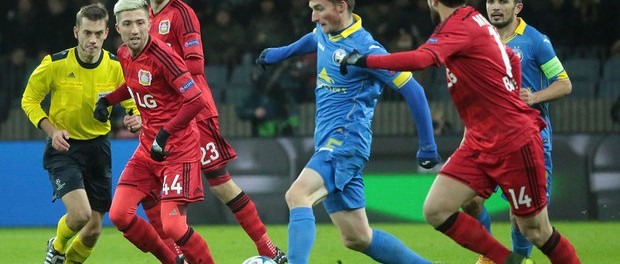 The football players of BATE Borisov have drawn their home match against FC Bayer Leverkusen, 1:1, within the Champions League.
The Belarusians brightly started the match. FC BATE has opened the scoring in the second minute. The author of the goal was Mikhail Gordeichuk, who following Alexander Volodko's shot, reached the penalty area, outperformed one of Bayer's defenders and directed the ball into the net centre. Bayer's goalkeeper Bernd Leno seemed to pick up the ball without any problems, but the latter treacherously slid through the legs.
Let us remind you it is not the first goal of this season Leno has missed in such a funny way. In October, in a match against FC Augsburg, Bayer's goalkeeper did not get the ball after his teammate's shot.
The first half was an equal fight, but after the break the Germans seized the initiative, which eventually led to a goal made by Ahmed Mehmedi in the 68th minute.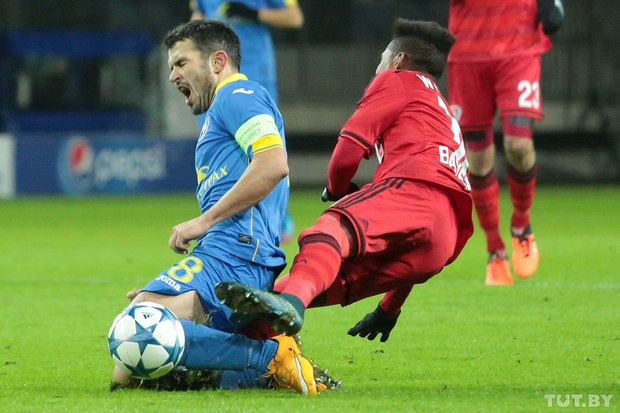 At the end of the meeting, FC Bayer Leverkusen attacked a lot, but BATE managed to defend with success.
The Belarusian football club has four points from five games and the players could still clinch their first knockout stage berth in Europe's elite club competition but they are considered outsiders.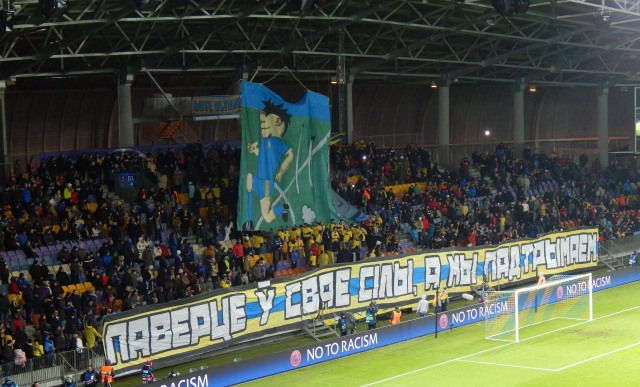 To advance, BATE needs to knock out AS Roma on December 10 in an away match and hope that FC Barcelona will defeat Bayer.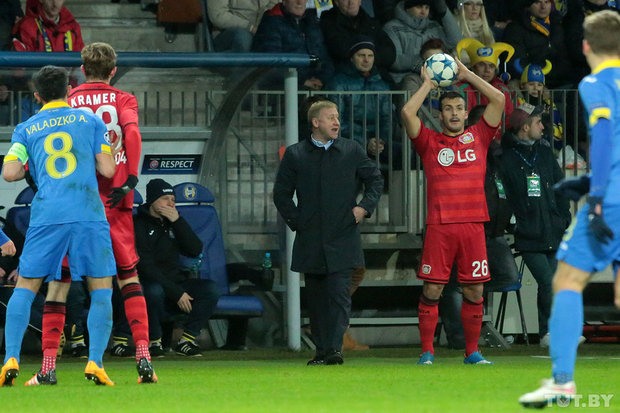 After the match against Bayer Leverkusen, BATE Borisov head coach Alexander Yermakovich expressed the hope that Borisov will reach the play-off stage of the Champions League or UEFA Europa League.
Are you disappointed to miss a victory in the match?
Of course, having a 1:0 lead, fighting hard and missing a goal we could have avoided is an unpleasant thing. Our goalkeeper Sergey Chernik was great, not allowing the rival to score. We are to praise him. In some moments, we turned to be lucky enough.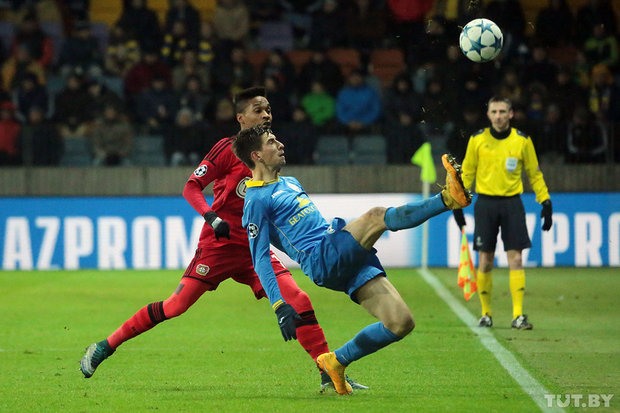 Do you agree that today Alexander Hleb has been the best player on the field?
Sasha played well, indeed. However, I think Cernik had a wonderful match. In general, I can't give any comments so early. It is necessary to review the game and analyze it.
Would you like to have Hleb in your team next season?
Sure I would.
Are you going to compete against AS Roma the same way you did against Bayer Leverkusen?
We are not willing to play differently against such teams. We know how we can play and how our opponents can perform. At the moment, I believe, it's not time to play open football.
Why did you replace Hleb? It was clear he was unhappy with the replacement…
I thought I had to do that. I saw Sasha was tired. I decided that a fresh player would speed up the game.
How did you manage to turn 1:4 of the away match into 1:1 at Borisov Arena?
Today, we have not missed an early goal, and it's always a great pressure on the team. On the other hand, we scored in the second minute, and that helped a lot.
Many players got yellow cards…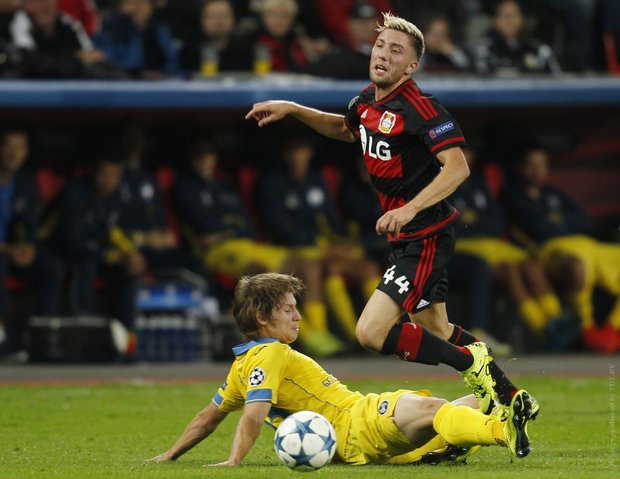 We were aiming to stop the opponents on their half of the field. When the players are exhausted, they have to play so as to prevent the rival from counterattacking. Although, I suppose a few yellow cards were unnecessary.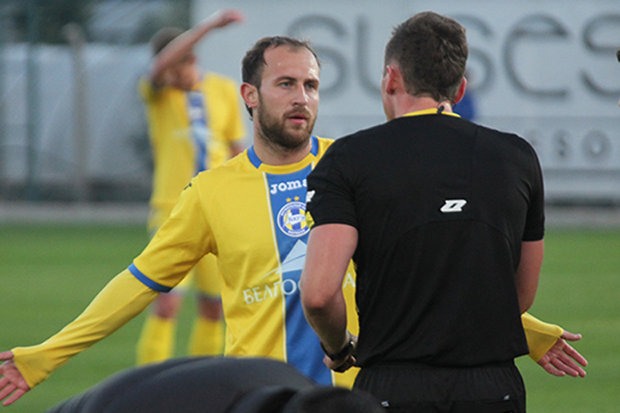 BATE always plays better in the first half, and in the second one, the team is faded. Why so?
It is highly tough to play matches against strong contenders. Totally, we have six such games per season. In the Belarusian Premier League we are not pressed. Of course, we are not strong enough for the whole match. We have to play a lot without the ball, which makes the players get tired quickly.
Would you comment on Alexey Rios replacement during a break?
Rios has an injury, so he was replaced.
In the end, BATE was not willing to attack, trying to clinch a victory. Chernik was kicking the ball into play for a long time. Is it okay, what do you think?
It was not. We knew that a draw would not give us an advantage. We understood we would have fewer chances to advance to the Champions League last 16. Cernik was just trying to give his teammates the chance to recover composure. After all, we had to run a lot without the ball.
What do you expect from the match in Rome?
We hope BATE will be able to secure its participation in the Champions League last 16. It will be difficult to achieve, but we must believe we'll succeed.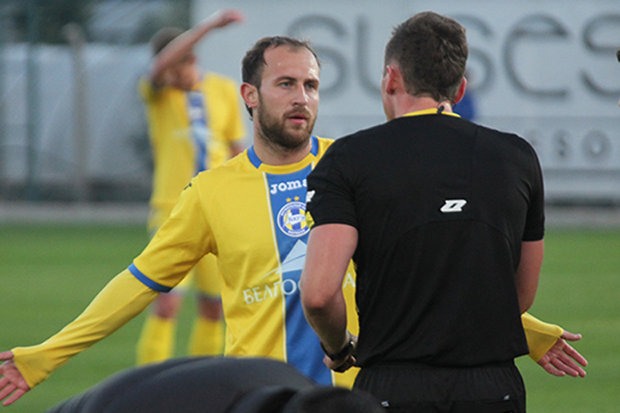 BATE Borisov forward Mikhail Gordeichuk also commented upon the match.
At first, I did not believe that the ball would hit the net, but when it became clear that the goalkeeper missed the ball the only thing to do was to rejoice. One can't perform a goal without hitting the ball, so I had to hit strongly.
Was it a special home-made combination?
Not really, I just outperformed Bayer's defender and stroke.
If you had not scored in the second minute, would the team have continued to play as an outsider?
It's pretty tough to play as a favourite against any team within the Champions League group stage. So, it turns out we play as an underdog against any team.
Did you work out a counterattacking game during your practice sessions?
Of course, we did… (pause) I will not tell you… Well, of course we practiced. We didn't perform the way we wanted to, as we could have scored more at the end of the match had we been luckier.
What did Yermakovich say during a break?
It's the team business. I'm not going to tell about that.
Did you believe that BATE would fight to advance to the last 16?
BATE football players always believe in themselves.
BATE halfback Alexander Hleb also commented on the match of the Champions League group stage.
The draw against Bayer is neither good, nor bad. It's okay, but it would be nice had we managed to seal the win. In the Champions League, every match is highly important for me. This meeting, however, can be called a special one, as we played a home match and had a chance to get three points. But I do not worry a lot.
Could you touch upon your replacement?
It's just a game. I wanted to play more, maybe hitting the rival's net, but it's the coach's decision and I respect it. I was overwhelmed by emotions, it may happen to any sportsman.
What can you say about the rival?
Bayer Leverkusen is stronger than we are, but our team fought great. At the beginning of the second half, however, we lost the initiative… All in all, it was a good match for us.
What about your beard?
My beard? To be honest, I intended to shave last week, but I forgot.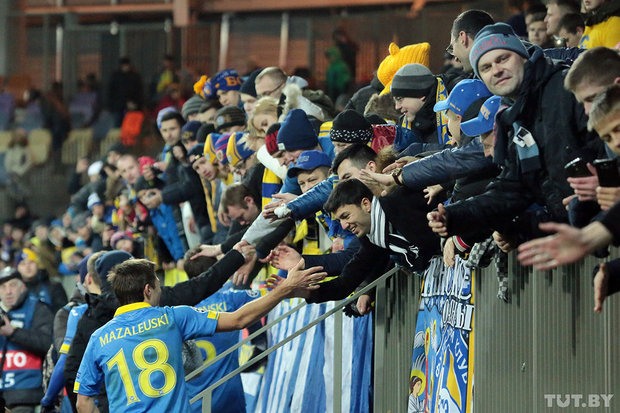 Text by TUT.BY, Pressball.by
Pictures by TUT.BY