FC Dinamo Minsk clinches a dramatic win over FC Viktoria Plzen within Europa League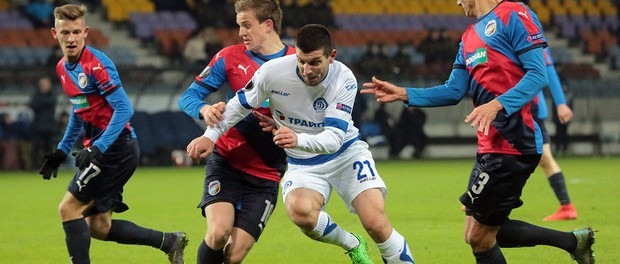 FC Dinamo Minsk has won the last home match of the 2015-2016 Europa League group stage. At Borisov Arena, the Belarusian football club defeated FC Viktoria Plzen of the Czech Republic – 1:0.
The match was an equal fight, and the referee didn't count a goal for each team due to offside positions. And, judging by the replay, Fatos Beciraj's (Dinamo's forward) goal was annulled by mistake.
In the last minute of the second half, Oleg Veretilo, who was being replaced, put off his shirt to show another T-shirt, saying "Thank you everyone for great years in Dinamo". Those were the words of gratitude to the football club from the defender, who leaves Dinamo Minsk this season.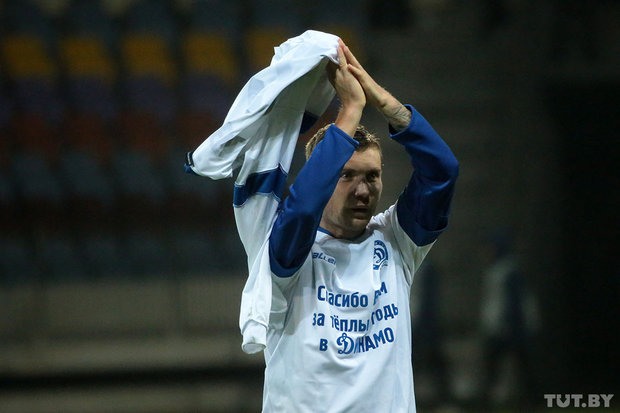 However, the referee did not appreciate that action and showed Veretilo a red card. After the match, Dinamo head coach Vuk Rasovic admitted he was unaware of the football player's intention.
All in all, even being short-handed, the Belarusians managed to seal a victory. During extra time, there was committed a foul against Fatos Beciraj (Dinamo) in the penalty area. Nenad Adamovic failed to score with a direct shot, but he did hit the net on the rebound, giving FC Dinamo Minsk a 1:0 lead.
Dinamo and Viktoria Plzen lost the chance to advance to the play-offs, having just three points each after the five matches.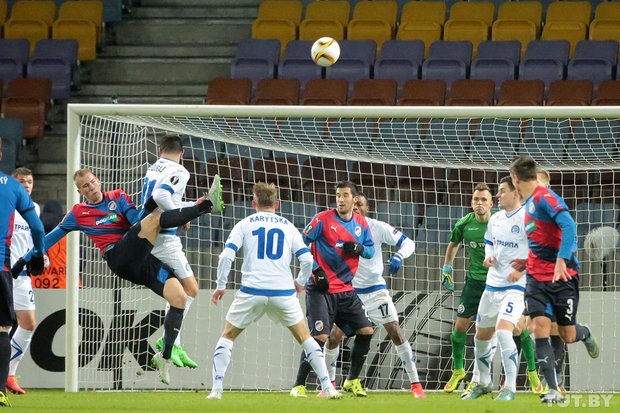 UEFA Europa League Group E. Standings:
1. Rapid Wien (Austria) – 12 points (after 4 matches)
2. Villarreal CF (Spain) – 9 points (after 4 matches)
3. FC Viktoria Plzen (the Czech Republic) – 3 points (after 5 matches)
4. FC Dinamo Minsk (Belarus) – 3 points (after 5 matches)
The Belarusian football club will hold its last match in the group against Rapid in Vienna (Austria).
According to Pressball.by, just a few thousand fans arrived in Borisov Arena to support FC Dinamo Minsk, but Belarusian military men improved the situation, filling in four sectors.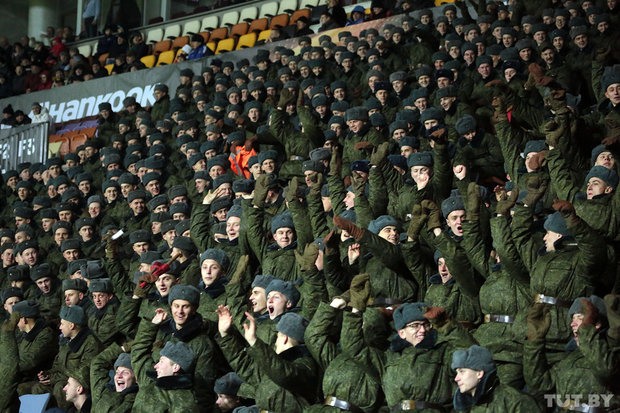 At a press-conference, Dinamo Minsk head coach Vuk Rasovic commented on the match against the Czech football club:
We were ready for a tough game. I think, we had great defence and attacked a lot. By the way, I believe that there was no offside in the episode with Fatos Beciraj. Well, it's amazing we managed to score, and FC Viktoria did not use the scoring chances. Thank you for the match.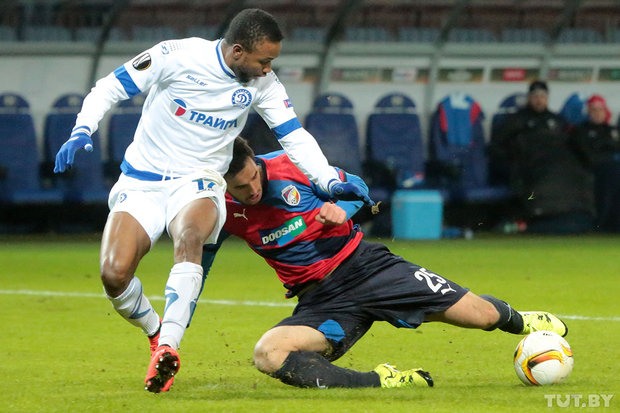 Would you comment on the episode with Veretilo?
I knew Veretilo had an injury, so I was ready to replace him. But what he did… Of course, it's not okay. Everyone knows we have difficult matches in the group, and we made much effort. The professional football players should not do such things.
Veretilo's T-shirt was saying "Thank you everyone for great years in Dinamo". Does it mean he leaves the team?
It is not time to talk about the transfer policy. We will talk about that at the end of the season. And now I will not answer this question.
It was Dinamo's last home match within the 2015-2016 UEFA Europa League. Could you draw conclusions?
One of the main positive aspects is the fact that newcomers Korzun, Rassadkin, Begunov, and Premudrov will play. I believe next year we will perform even better.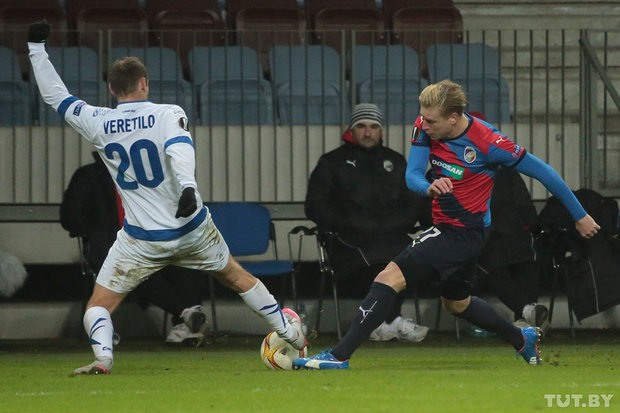 Why did Nenad Adamovic take the field so late?
Ha! To escalate attack, to turn the tide, and to score!
FC Viktoria Plzen head coach Karel Krejci highlighted Dinamo could have been happy with a draw:
I'm very disappointed with the result. The game should have resulted in a draw. Let's say, we made a very stupid mistake at the end of the meeting and allowed Dinamo Minsk to seal the win. The turning point was when Jan Kovarik had the chance to score, but failed. In the end, Dinamo seemed to be delighted with a draw, but we allowed them to snatch a victory. The Belarusian club did not surprise us. We knew they attacked well, and they just confirmed our knowledge.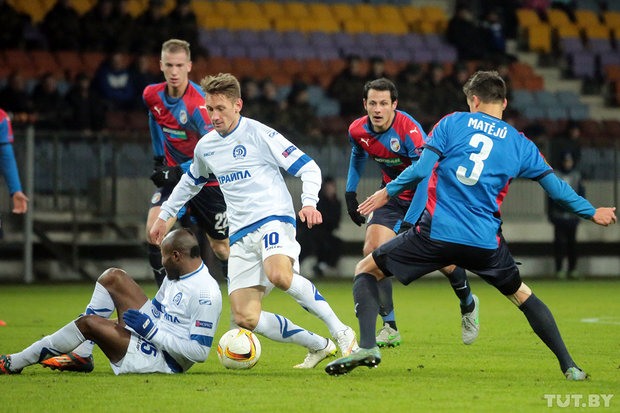 Dinamo's halfback Nenad Adamovic stressed the Belarusian club has not very tough group as it did last year.
Why did you hit the penalty?
I knew I would score.
Wasn't Chigozie Udoji offended?
He came up to me and asked: "Are you sure you'll hit the net?" I said: "Yes." That's it. And it does not matter who scored. It was important to win today and prove we can play in the UEFA Europa League. Moreover, we pleased the fans today, considering we had no success in our home matches against Spanish Villarreal and Austrian Rapid.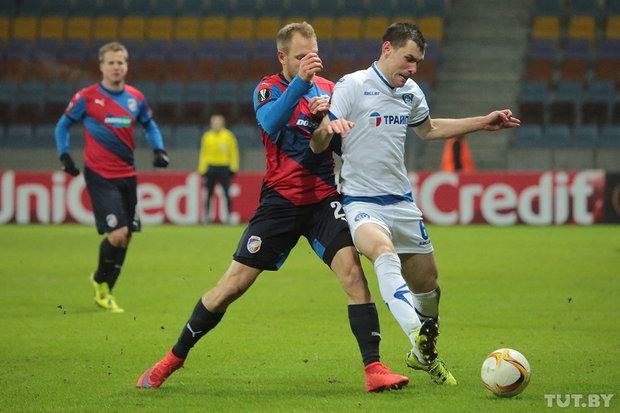 You started the match on the bench, again…
I don't know why. It's fair. Maybe I played badly against FC Neman (within the Belarusian Premier League – ed.), but I was not told anything. I did not worry.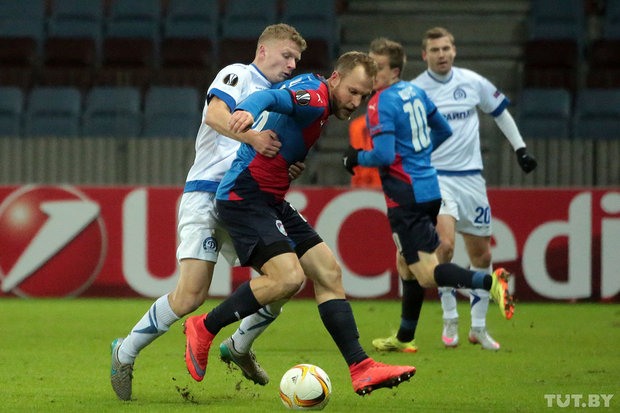 FC Dinamo Minsk got the same number of points in the Europa League as last year.
As for points, yes, it's true. But last year we played better. And the group was more difficult than this year's.
Dinamo's defender Oleg Veretilo confirmed he would leave the team at the end of the season, and also commented on the episode with his removal.
Did you say "farewell" to Dinamo Minsk?
Yes, indeed. I will play one more match, but I decided to say good-bye to the fans today. Maybe, I'll never see them again.
Are you sure to leave?
Yes, I'm sure. In which club will I play next? I don't know yet. We'll see later.
If it was not for your removal, would you be able to play another match, in Vienna?
Well, I think I could. But my stupidity let me down… Not even stupidity, just ignorance. Furthermore, I forgot about the yellow card I had got earlier in the match. That's it. Nothing can change the situation.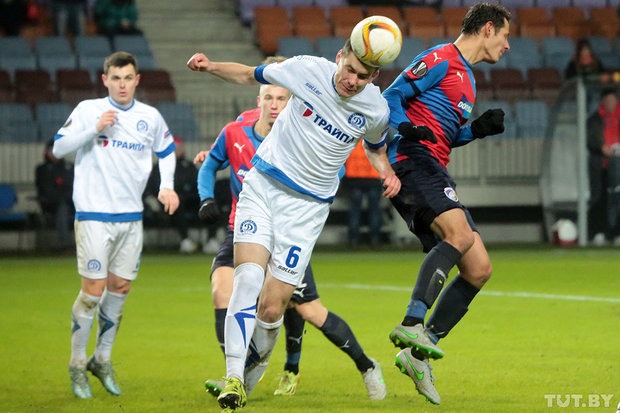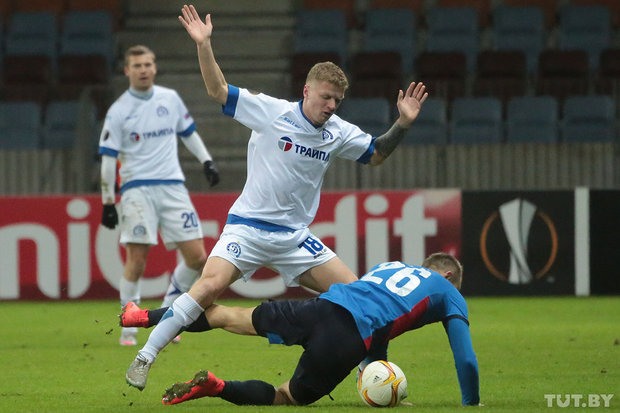 Text by TUT.BY, Pressball.by
Pictures by TUT.BY