Indian President on first official visit to Belarus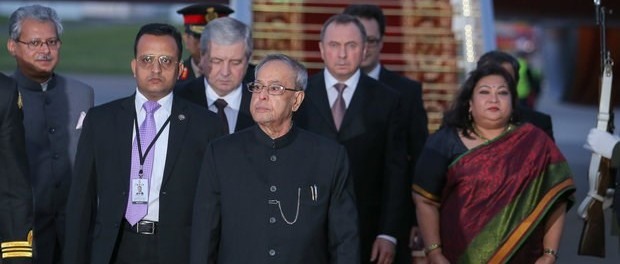 As the Indian Minister of Foreign Affairs Mr. Pranab Mukherjee met with Belarus President Alexander Lukashenko in 2007 during the Belarusian leader's visit to India. "Back then we discussed measures to develop ties between our countries. I therefore hope to carry forward discussions on our bilateral relations in Minsk," Mr. Pranab Mukherjee told BelTA ahead of his visit.
In his words, his visit is intended to take the Belarusian-Indian relations onto a higher level. India and Belarus are finalizing a roadmap of bilateral cooperation with the focus on economic and commercial cooperation. It is expected to be approved during Mr. Pranab Mukherjee's visit to Belarus. "Sectors such as conventional and small-scale power generation, new and renewable energy, metallurgy and mining, automotive and agricultural engineering, pharmaceuticals, oil and gas, agriculture and food processing have been identified as areas of high potential. We can also expand our links in a range of services such as IT, healthcare, financial services, transport and logistics," the Indian President noted.
In his words, India was one of the first countries to establish diplomatic relations with the independent Belarus and views it as an important international partner.
Belarus and India have been steadily developing their trade and economic ties. In 2014 the bilateral trade totaled $402.7 million, including the Belarusian export of $215.1 million. Belarus supplied 72 descriptions of products to the Indian market. In January-March 2015 the trade between Belarus and India reached $103.5 million, up 78.7%.
India is one of Belarus' most important partners in the Asian region. Belarus' main exports to India include potash fertilizers, dump trucks, bearings, leather and other products. Belarus imports Indian medications and pharmaceutical substances, tobacco, tea, spices, nuts, vegetable oil, some chemical compounds, cotton yarn, transformers and other goods.