Belarus' Victoria Azarenka and Nike at US Open: history in outfits and results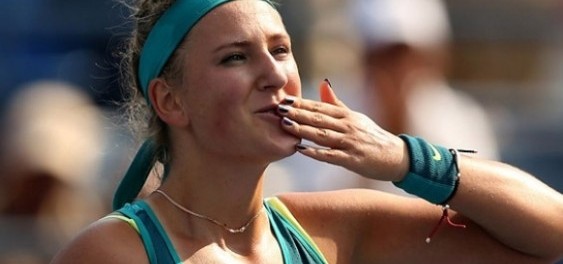 It has been a decade for Victoria Azarenka playing at the U.S. Open Championship and during this time the renowned American sport clothing manufacturer Nike created the sports attire worn by Belarus' best tennis player. Today, Azarenka has a vast number of sports outfits at her disposal courtesy of Nike, be it for night time or day time.
Victoria Azarenka represented the Nike brand during the entire duration of her career; Azarenka wore Nike during the best and the worst times of her playing tennis.  The American brand has supported the Belarusian player from the very first time she took to the playing court as a tennis player.
Year 2006
At her very first US Open Championship, 17-year-old Victoria showcased her ambitious character. During this very first game Azarenka demonstrated her skills and ability by managing to win against Russia's Anastasia Myskina and reaching the 3rd round of the championship where she then unfortunately lost out to Anna Chakvetadze of Russia.  In the early years of her career, Victoria's style was fairly simple and modest, she used to wear a grey costume with a geometrical print, and a similar light coloured one with shorts instead of a skirt. Azarenka had a penchant for Nike shorts and it was her staple piece, fortunately for her Nike were very accommodating of this.
Year 2007
During this year, the young tennis player appeared at her match in a black skirt and a white top but it was not so much her outfit that was the hot topic of conversation but her results of the year 2007. Azarenka did not achieve satisfactory results during this time. In the Grand Slam mixed double she was teamed up with Max Mirnyi. During this time according to Belarusian tabloids, Victoria hardly attained her majority and as such no one could have foreseen that in five years, it would be the same girl that would become an Olympic champion with Mirnyi as her reliable partner.
Year 2008
Up until this point Victoria's outfits did not go under any changes, the colour and the design remained the same. Azarenka mostly wore dark and dated colours such as black, grey and blue.  There was one particular outfit with a wide white fringe along the cut that made her look angular and awkward, and this pretty much summed up her results during this time as well, as she had lost out to her friend Caroline Wozniacki of Denmark in the 3rd round.
Year 2009
It was during this year that the designers at Nike finally took a different approach to the outfits that they had provided for Victoria. Creative minds understood that Victoria is a very beautiful and attractive young girl, and that bright colours suited her image more. Designers incorporated yellow into her outfit design- a top and a headband, with some yellow added in her footwear. The bright and vibrant colours together with the classic black skirt made the Belarusian player stand out on the tennis court. Despite this dramatic change in her image, unfortunately her results did not quite match and she failed to progress beyond the 3rd round.
Year 2010
This was a particularly dramatic year at the US Open Championships for Victoria; she ranked as number 11th and failed to play beyond the 2nd round of the tournament as it was at this point the young tennis player lost consciousness due to an earlier concussion. Azarenka in her black playing dress with a wide white detailing at the waist laid motionless out on the playing court in scorching hot sun and at this very point it felt like everything was working against this young tennis player. Fortunately Victoria recovered swiftly and there was no lasting damage. As for her attire, after this particular incident  designers decided against the use of black  as the main colour  as it appeared not to be the most suitable colour to play in during the hot weather for health and safety reasons.
Year 2011
In this year, at which point Victoria was ranked 5th in the Women's Tennis Rankings (WTA)  ranking list, she made an appearance at her match wearing a match brighter colour than before of light sea green with contrasting black wrist bands. The bright colour of her dress was also a reflection of how well Victoria was progressing in the world of tennis, at this point the future seemed very bright for this young tennis player as she had made great progress. In the 3rd round of the tournament Azarenka was a little bit unfortunate as she came face to face with Serena Williams of USA, and lost out to her only by two sets.
Year 2012
During this year Victoria was already a winner of the US Open and it appeared that she did not give much thought to her attire at the American Championship as playing a good game was the key factor here.  The WTA ranking leader appeared in a black and yellow outfit. Psychologically, the combination of black and yellow are considered to be the best for perception and processing information. It was apparent that the Belarusian player was in her element and was feeling good. Victoria managed to reach the finals but again lost her leading position to Serena Williams who won the tournament.  Despite her losing out to Williams, the energy and passion that Victoria demonstrated during this game will always be memorable.
Year 2013
During this year's tournament, the designers at Nike created their worst outfit yet. However, fortunately the outfit that Victoria wore was not a reflection of how she played as she managed to rank 2nd in the US open and compensated for this apparent 'fashion apocalypse' with a spectacular game. Despite putting on a sterling performance, Victoria was again beaten by Serena Williams of USA as per the 2012 game.
Year 2014
This particular year was a very complicated tennis season, and therefore it was important that Victoria emerged in a bright outfit in front of the New York audience, to boost morale. Nike designers were successful in creating a suitable outfit for Victoria during this time. They suggested a stylish combination of shorts and sleeveless top with a geometric print. The shorts were well suited to Victoria's figure emphasizing her long legs and athletic body.  Azarenka had the look of self confident and powerful woman and for some time this exterior coincided with her sports results, until she lost her quarterfinal match to Ekaterina Makarova of Russia.
 2015 year 
Year 2015  
Victoria will take to the court late at night; therefore we can only anticipate what her attire will be like. For the last 10 years Nike designers have experimented with an array of designs and colours until they found a winning combination of shorts and bright colours.
Below are the outfits for day and night matches.
At the moment it is unclear just how successful the US open will be for Victoria, but of course we wish her all the success there is.
Results of a new season: Victoria Azarenka's US Open 2015 run was ended by Romania's second seed Simona Halep in the quarterfinal. The Belarusian ranked 20th and lost 3-6, 6-4, 4-6 to the Romanian player in a rain-interrupted match in New York.
The text by Tatsiana Lukashevich, pictures by pressball.by